Small Press Expo Announces 20th Anniversary Guests Box Brown, Eleanor Davis, Michael DeForge and Roman Muradov
For Immediate Release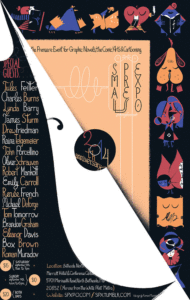 Bethesda, Maryland; July 10, 2014 – This year marks the 20th Anniversary of SPX, which will be held September 13 and 14, 2014 at the North Bethesda Marriott Hotel & Conference Center. For our 20th birthday, we are pleased to announce Box Brown, Eleanor Davis, Michael DeForge, and Roman Muradov as special guests to join us in our birthday celebration.
Brown, Davis, DeForge, and Muradov are joining the previously announced alt-weekly guests Jules Feiffer, Lynda Barry, James Sturm, Charles Burns, Jen Sorensen, Tom Tomorrow, and Ben Katchor, as well as SPX first-timers Brandon Graham, Emily Carroll, Drew Friedman and Mimi Pond.
Box Brown will be at SPX to sign his critically acclaimed book, Andre the Giant: Life and Legend, published by First Second  Books. Box has won a Xeric grant and his mini-comics have garnered two Ignatz Awards. He is also the founder of Retrofit Comics, where he publishes his own mini-comics as well as works from over 30 other creators.
Eleanor Davis' new compendium of short stories from Fantagraphics titled How To Be Happy will debut at SPX 2014. In 2013, Eleanor won the Society of Illustrators Gold Medal for Sequential/Series Work, and her book Stinky won the Theodor Seuss Geisel Award awarded by the American Library Association. She designed this years bookplate for the SPX Graphic Novel Gift Program, as well as this past Spring's Google Doodle.
Michael DeForge and Koyama Press will debut at SPX Lose #6, the latest in his award winning series of comics. Michael is the winner of multiple Doug Wright and Ignatz Awards and is one of the designers for the popular animated TV series, Adventure Time.
Roman  Muradov is both a comics creator and illustrator, with his artistic works appearing in The New York Times, The New Yorker, and The Wall Street Journal, amongst other esteemed publications. SPX will see the London and New York based publisher Nobrow debut Roman's latest book, (In A Sense) Lost and Found, and Retrofit Comics will debut his latest mini comic, Picnic Ruined.
About SPX
Small Press Expo (SPX) is the preeminent showcase for the exhibition of independent comics, graphic novels, and alternative political cartoons. SPX is a registered 501(c)3 non-profit that brings together more than 600 artists and publishers to meet their readers, booksellers, and distributors each year. Graphic novels, mini comics, and alternative comics will all be on display and for sale by their authors and illustrators. SPX also has a two tracks of of panel discussions and interviews with this year's guests that run through both days of the event.
The Ignatz Award is a festival prize held every year at SPX, with the winners chosen by attendees at the show. All works nominated for Ignatz Awards are donated to the Small Press Expo Collection at the Library of Congress, which is the first institutional collection in the United States dedicated to the indie comics field.
As in previous years, profits from the SPX will go to support the SPX Graphic Novel Gift Program, which funds graphic novel purchases for public and academic libraries, as well as the Comic Book Legal Defense Fund (CBLDF), which protects the First Amendment rights of comic book readers and professionals. For more information on the CBLDF, visit their website athttp://www.cbldf.org.
For interviews or other information contact –
Warren Bernard
Phone: 301-537-4615
E-Mail: warren@spxpo.com