Precious Rubbish Vol 2. No. 2
Kayla E.

SPX Table N11B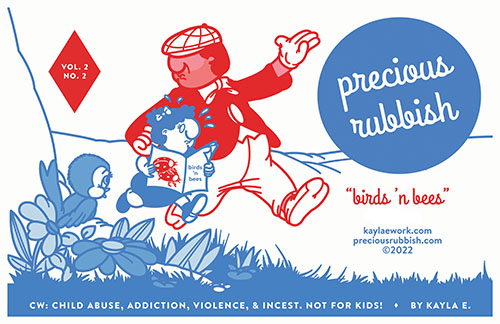 $10.00
Published by Self-published
https://www.kaylaework.com/
Adults Only
Category: Autobiographical and LGBTQ+
Precious Rubbish Volume 2 Issue 2 is the latest edition of a series of self-published mini-comics excerpted from Precious Rubbish, Kayla E.'s full-length experimental graphic memoir, set to be published by Fantagraphics in 2024. Precious Rubbish is an account of a childhood shaped by maternal emotional dysregulation, poverty, and sexual violence. Formally, it pulls heavily from the aesthetic codes of post–World War II children's comics, and the narrative is presented as a collection of semi-linear gag strips and single-panel cartoons punctuated by interactive elements like paper dolls, games, and puzzles. This comic is assembled, signed, and editioned (out of 200) by the artist.