The Lucky Ones - a WW2 Combat Engineers Story #1
M.M. Dumas

SPX Table D10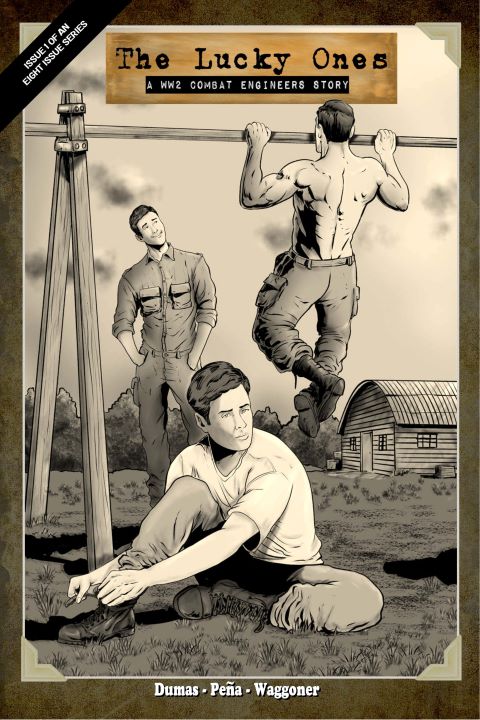 $10.00
Published by self
https://theluckyones-comic.com/
Young Adult (13–17 years old)
Category: History and LGBTQ+
They called themselves The Lucky Ones; a squad of Combat Engineers with the most dangerous jobs, keeping one of the most delicate secrets within their unit. This comic brings WW2 memories and dreams of a lifetime to a reluctant survivor's 50th Reunion.

Though this is a work of fiction, it is historically accurate, only the soldiers who were there can tell the full tale.

We've all heard of the Rangers and the Seals, but have you ever had time to learn about those who went in before the troops to build the bridges and roads, to destroy the enemy's escape routes and roadways, and to take obstructions out of the way for the soldiers who when in to the battles? Those men were the elite and tenacious members of the combat engineers battalions. Often they were deployed as squads of eight to twelve specialists who could accomplish a job on their own. But because of this they had one of the highest mortality rates of any groups in World War 2. No wonder those who survived any battled called themselves "the lucky ones."

Here are your trigger warnings:

This is story involves those in the Greatest Generation who suffered with PTSD before anyone put that name to it. Whether it was survivor's guilt or unfinished business, unhealed psychological wounds existed for decades.

This is the also the story about a certain percentage of the soldier, sailors, marines, and airmen of WW2, and of their combat buddies and friends who tried to protect them. There were men and women serving in this great war who had to hide who they could love, or be labeled Deviant then discharged without benefits. Today they are gay or LGBTQ+, back then, they were called many names, most of them insulting. These are your trigger warnings.