SPX 2012 Debut Books
Every year we're excited to see the numerous books that premiere at SPX. We've got somewhere around 150 books appearing for the first time at SPX 2012!  Incredible!  The full list is below in alphabetical order by book title.  This page is graphics heavy so please be patient while it loads up! Did we miss one?  Email us and let us know: spxdebut@spxpo.com
---
---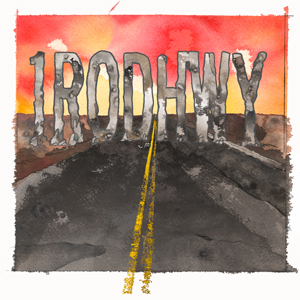 1RODHWY
1RODHWY is a group of five illustrators, writers, and performers who remain unduly preoccupied with the seedy side of modern life. They published four books of words and pictures in 2011, and are proud to present the latest installments in three different 1RODHWY series:
Dogs' Minds in Asphalt – Book Two: Ancient Breads' Synthetic Eggs by Michael Slatky $5.00
Seething With Hatred #2 by Jim Moscater and Dan Strauss $5.00
the young dissenter's handbook volume ii by Ryan Eggensperger and Dan Strauss. $5.00
---
---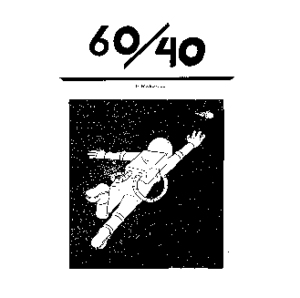 60/40
By Gary Bonesteel
Self-published
60/40 is a one man anthology of comics and illustrations by Bonesteel. It's got monsters, ice cream and Batman. All the things I love. Especially the ice cream.
---
---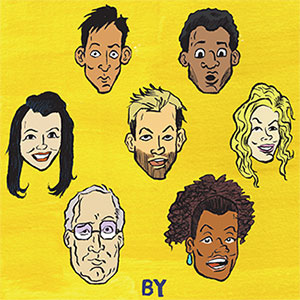 A Fan Comic About Community
By David Yoder
Self-published
24 pages
A Fan Comic About Community by David Yoder is just what it sounds like. It is a 24 page self-published color mini-comic about what my fears for thenew season of Community will be like since the creator Dan Harmon was fired from his show. It is lighthearted and fun and should entertain you even if you are only casually aware of the show.
---
---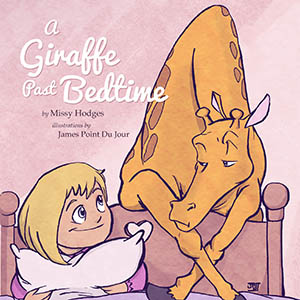 A Giraffe Past Bedtime
Writer: Missy Hodges
Illustrator: James Point Du Jour
Self-Published
32 pages
www.coffeeroll.com
It's way past Corinne's bedtime but she is seemingly kept awake by a parade of opinionated animals.
---
---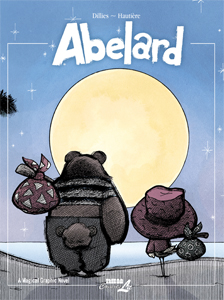 Abelard
Art: Renaud Dillies
Story: Régis Hautière
NBM Publishing
Distributed to the general trade by IPG
8 ½ x 11
128 pages
Full color hardcover
$19.99
ISBN 9781561637010
The charm of Renaud Dillies strikes again: after the mouse of the 2 time Eisner-nominated Bubbles and Gondola, here is another dreamer, little chick Abelard. To lure pretty Epily, Abelard sees only one solution: to catch the moon for her! So off he goes to America, the country which invented flying machines. Armed with his banjo and his proverb-sharing hat, he launches out on the country roads, meets Gypsies, then Gaston, a grumpy bear with whom he will share a good bit of his way. As opposed to dreamer Abelard, Gaston has his feet firmly planted on the ground. With this unusual animal road-movie where the absurd becomes poetry, Régis Hautière and Renaud Dillies offer us another small jewel. A BEA 2012 HOT GRAPHIC NOVEL.
---
---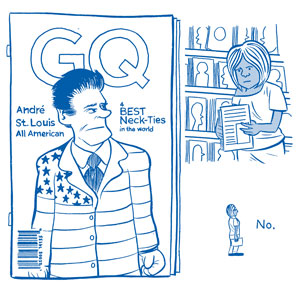 Ablatio Penis
By Will Dinski
Published by 2D Cloud
48 pages
6 x 7.8
Two-color cover, one color interior
$5
ISBN 978-1-937541-03-3
Andre St. Louis is a man of the people–dashing, eloquent, conservative, and out to fix that pesky economy. He's ahead in the polls. He's knee-deep in charming women. Even the protesters are on his side. What could possibly go wrong?
This new political story is from the creator of "Fingerprints" and "Covered in Confusion."
---
---
Aftermath
By Evan Dahm
rice-boy.com
Debuting at SPX in both a regular edition and a special edition hand-bound by Lela Graham, who is also exibiting. This book contains 13 images of surreal landscapes dominated by giant black bones.
---
---
All-Star
By Jesse Lonergan
Self-published
28 Pages
All-Star is a coming of age story about hitting home runs and striking out, both literally and metaphorically.
---
---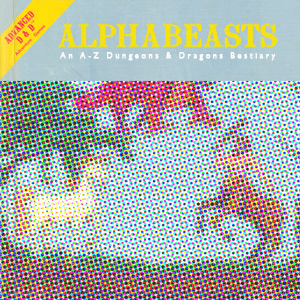 Alphabeasts
By Ben Towle
18 pages
Black and White
$3.00
AlphaBeasts – Ben Towle's self-published minicomic containing all 26 of his original illustrations from the online AlphaBeasts project. 18 pages of old school Dungeons & Dragons monsters–one for every letter of the alphabet.
---
---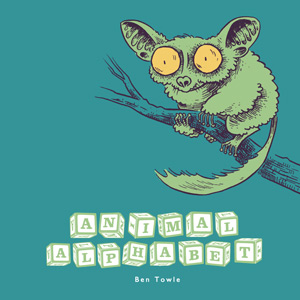 Animal Alphabet
By Ben Towle
18 pages
Full color
$5.00
Animal Alphabet – 26 beautiful India Ink and watercolor animal illustrations of animals A-Z, from Alpaca to Zebu. This 18pg minicomic collects all 26 of Ben Towle's contributions to the online Animal Alphabet project
---
---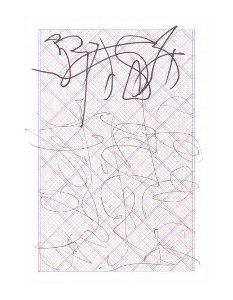 Ansemia
By RM Rhodes
Ansemia is either:
A typical commercial comic from the far-off fantasy land of Ansemia.
or
An art comic where all of the dialog balloons contain ansemic writing.
---
---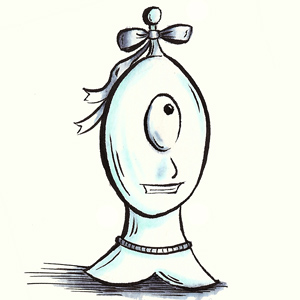 Arubadingle
Author: Saffron B-R
Artist: K. Sekelsky
Published by: Self/The Chair Parade
$4.pp
Written by a 4 year-old. Drawn by her parents' friend. Arubadingle is the story of a family of young robots who try to outsmart a monster and a wizard lawyer with the help of a good witch. Appropriate for all ages, as long as you're fine with the "potty humor" of a 4 year-old. That is to say, there's a robot named Baby Bum.
---
---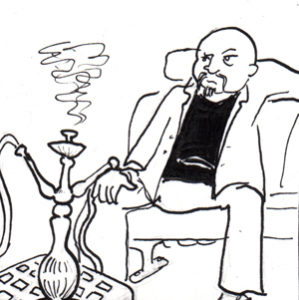 As Eavesdropped, Volume 4
By Suzanne Baumann
Fridge Magnet Concoctions
16 pages
Minicomic
$1.00
fridge-mag.com
Hot off the heels of April 2012's As Eavesdropped 3 and double the size! Overheard conversations, reinterpreted as single-page comics. Topics include roundhouse kicks, seagulls, funny hats, bloodstained upholstery, photogenic housing… all the bells and whistles (or at least the phrase "all the bells and whistles")!
---
---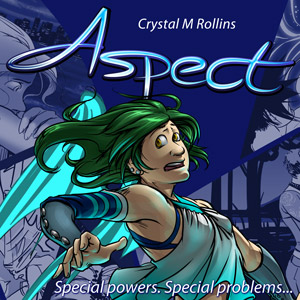 Aspect Book 1
By Crystal M. Rollins
Wayward Studios
$11.99
ISBN: 978-0-9858997-0-7
Seven billion people in the world, and among them are the special few: Aspects. These amazing people can each do something incredible. Enter Michelle, an awkward young girl who seems to have a limitless range of abilities. Her power set her at odds with the Breakers who seek to capture the Aspect generation, and her less talented peers.
---
---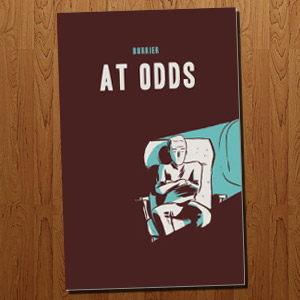 At Odds
By Mark Burrier
Self-published
$4.00
markburrier.com
This 24 page book collects 6 comic stories that have appeared in various publications in recent years including The Drama, Nashville Review, and Vice. At Odds shows a diversity in visual style while Burrier's dark humor tone remains consistent throughout.
---
---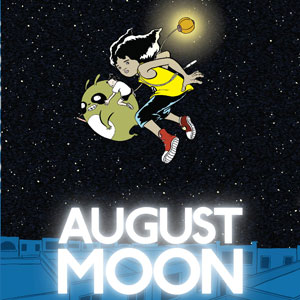 August Moon
by Diana Thung
Published by Top Shelf Productions
Website
320 pages
6" x 8"
$14.95 (US)
ISBN 978-1-60309-069-8
Young Adult (10+)
When eleven-year-old Fiona arrives in the town of Calico, she encounters a group of mysterious rabbit-like creatures, led by the peculiar street boy Jaden, who rarely speaks and claims to come from the moon. But when a creepy corporation starts bulldozing the nearby forests, she finds herself uncovering a whole world of secrets, and drawn into Jaden's battle for the soul of a community. Diana Thung's debut Top Shelf graphic novel is a true adventure, rooted in the diverse local traditions of Asian festival culture, with a modern sensibility and a hint of magic.
---
---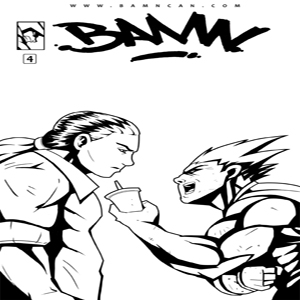 Bamn #4
Art by Jay Payne
Written by Troy-Jeffrey Allen
Publisher: Bamn Comics
$2.99
The eternal struggle between nerds and jocks rages on in Bamn #4. With their mentor missing in action, the geeks of Hyatts High think they are brave enough to fend for themselves. However, the bullies from the wrestling team are more than ready for a fight, even if it means…expulsion. Be sure to check out the Free Comic Book Day Bamn Story @ www.bamncan.com.
---
---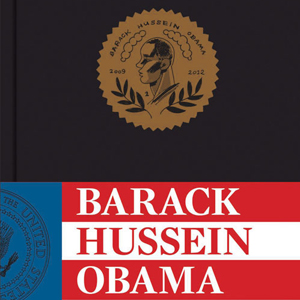 Barack Hussein Obama
By Steven Weissman
Published by Fantagraphics Books
112 pages
7 x 9
$19.99
Hardcover, full color
ISBN 978-1-60699-623-2
Barack Hussein Obama is not a graphic novel. It's neither a biography nor an experiment, but a whole, fully-realized parallel America, a dada-esque, surrealistic satirical vision that is no more cockeyed than the real thing, its weirdness no more weird, its vision of the world no more terrifying, where the zombie-esque simulacra of Joe Biden and Hillary and Newt and Obama wander, if not exactly through the corridors of power, through an America they made and have to live in, like it or not. Before you lose your will to vote, read Barack Hussein Obama.
"Barack Hussein Obama is brave, smart, humane, exciting and funny." – Bill Kartalopoulos
"Immediately attention grabbing… This comic isn't afraid to get weird and builds humorous private characterizations of these ridiculously public figures." – The Daily Texan
---
---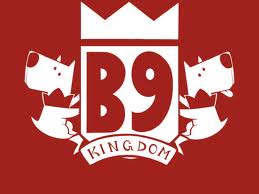 Benign Kingdom
Edited by Evan Dahm
Kickstarter Information
The Benign Kingdom Fall 2012 series, featuring Aaron Diaz, Emmy Cicierega, Danielle Corsetto, and Anthony Clark will be debuting at SPX. This includes four individual art books by the four artists, showing the best non-comics work they've made recently, and a compilation book of all four.
---
---
Bethesda
By Jess Ruliffson
Self-published
Mini-comic
Bethesda is a nonfiction comic that accounts several trips made by a group of illustrators to the Walter Reed Military Medical Center in Bethesda, Maryland in 2012 to document returning war veterans injured in Afghanistan.
---
---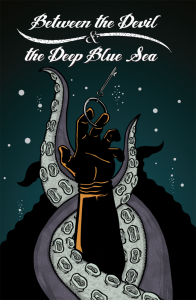 Between the Devil & the Deep Blue Sea
by Tony Sedani and Joe Daxberger
Published by The Draw Box
24 pages B/W
Color Card Stock Cover
6.6″ x 10.25″
Between the Devil & the Deep Blue Sea is an anthology comic featuring original stories and artwork from local Boston artists: Tony Sedani and Joe Daxberger. Filled with 24 pages of glorious art, this book follows the theme of "The Sea" from beginning to bitter end. Available for purchase.
---
---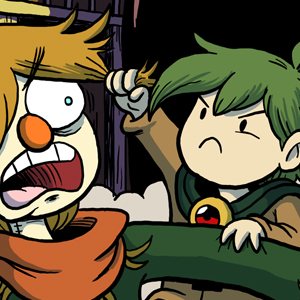 Beyond the Canopy Volume 2: Straw Man Argument
By Jonathan Griffiths
178 Pages
$10.00
ISBN #978-0-615-67506-0
Beyond the Canopy follows the story of a forest Sprigg named Glenn, who ends up getting more than he bargained for when he stumbles across a magical tree branch! Book 2 picks up with Glenn still stuck at Chez Cluck-Off, where he's being forced to compete in a fighting competition to pay off a debt to the owner, Greliz. But when he finds himself pitted up against an old nemesis, will his newly awakened magic branch give him the firepower he needs to win the match? More importantly, what are Greliz's real motives for holding this competition, and will be be able to hold it all together with the arrival of an unseemly skeletal trio?
---
---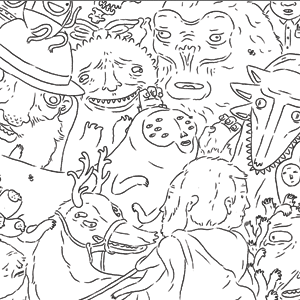 Bezoar
Edited by David Mack
Hand made mini-comic
40 pages
$5.00
Bezoar is a mini-comic anthology about monsters by comics artists living in Athens, GA. This issue contains contributions by Joey Weiser, Patrick Dean, Michele Chidester, David Mack, Eleanor Davis, Drew Weing, and Aaron Fu.
---
---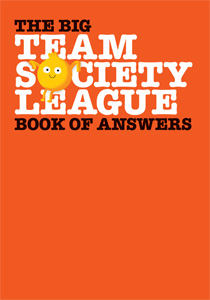 The Big Team Society League Book of Answers
by Aaron Costain, John Martz, Steve Wolfhard,and Zach Worton
Published by Koyama Press
ISBN: 978-0-9879630-1-7
7 x 10 inches
48 pages
b&w interior, colour softcover.
$10.00 CDN
The Big Team Society League Book of Answers by Toronto jam comics collective Team Society League is an absurd blend of priapic comic pantomimes that feature an adorable cast of characters doing abominable things. Ridiculously violent and unabashedly immature, The Big Team Society League Book of Answers is a comic destined to be hidden between, and confiscated from, the pages of history textbooks.
---
---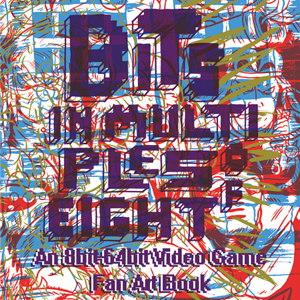 Bits in Multiples of 8: An 8Bit-64Bit Video Game Fan Art
Edited by Jimmy Giegerich
Published by JG Illustration
J.G. Illustration
Book-Bits in Multiples of 8: An 8Bit-64Bit Video Game Fan Art Book is a book dedicated to the days when the power of a video game system was judged by how many bits it boasted, and how much excellence could be crammed on a single cartridge! The book is perfect bound and has grayscale interiors, and will feature piles of pixel-fueled radness from over 60 high-scoring artists! Artists include Zac Gorman, Kali Ciesemier, Sam Bosma, Campbell Whyte, as well as many others!
---
---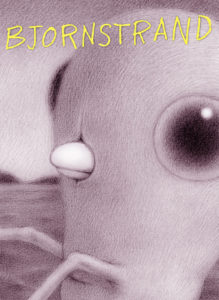 Bjornstrand
By Renee French
PictureBox
$12.00
A limited edition signed and numbered risograph novella by Renee French tracking the reactions to an enormous and mysteriously cute creature as it emerges into view.
---
---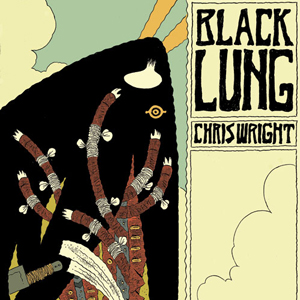 Blacklung
By Chris Wright
Published by Fantagraphics Books
128 pages
9 x 12
$24.99
Hardcover, B/W
ISBN 978-1-60699-587-7
Chris Wright's Blacklung is unquestionably one of the most impressive graphic novel debuts in recent years, a sweeping, magisterially conceived, visually startling tale of violence, amorality, fortitude, and redemption, one part Melville, one part Peckinpah.
After an act of terrible violence, the teacher is brought before the ship's captain and instructed to use his literary skills to aid him in writing his memoirs.
As the captain's protected confidant, finding his only comfort in the few books afforded him, the teacher bears witness to monstrous brutality, relentless cruelty, strange wisdom, and a journey of redemption through loss of faith. Blacklung is a story that lives up to the term graphic novel, that could only exist in sequential pictures — densely textured, highly stylized, delicately and boldly rendered drawings that is, taken together, wholly original.
"I could not have imagined how impressive a work Blacklung would turn out to be. It's a graphic novel, both in its vernacular term and in a more literal sense, violent and horrible and poetic at the same time – the sort of thing McCarthy might write if he were more interested in pirates than cowboys or Appalachians. Blacklung is a great book; canonically great."
—Chris Schweizer (Crogan's Adventures)
"A truly organic and interesting way to cartoon, the complete package of verbal cadence and informative visual style." – Tom Spurgeon, The Comics Reporter
---
---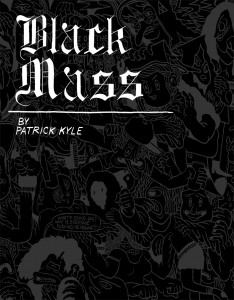 Black Mass
By Patrick Kyle
Published by Mother Books
9 x 7, 208 pages, B&W, Perfect bound
ISBN: 978-0-9881463-0-3
Black Mass collectes issues #1-6 of Patrick Kyle's critically acclaimed
self-published comic book series of the same name. *Black Mass* follows the
stream of consciousness mis-adventures of protagonist Turdswallo Blackteeft
and his roomate/brother/best-friend/spouse, Dingball as they stumble
blindly through a multitude of the stickiest situations like the Fred and
Barney of a bizarre nightmarish version of The Flintstones with way more
beer drinking and wizards.
"Patrick Kyle's sock puppet punks and noodle-nosed wizards take you on a
drip trip through the inter-dimensional potential of drinking forties and
raising some Transylvanian hell.* Black Mass* is much like your favorite
Halloween decorations coming to life and filming a remake of *The Decline
of Western Civilization* in a haunted house – wild, gnarly, scrappy,
hilarious and witchy: it's pretty much the best." – Edie Fake, Author of
Gaylord Phoenix
---
---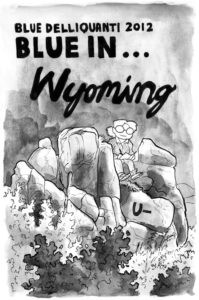 Blue in… Wyoming
by Blue Delliquanti
18 pages
$2.00
bluedelliquanti.com
In August 2012, Blue Delliquanti kept a sketchbook during her 4 week artist
residency in Wyoming. This minicomic reproduces choice excerpts from her outdoors
adventures, including her interactions with Brownie Scouts, baby bears, and loaded
firearms.
---
---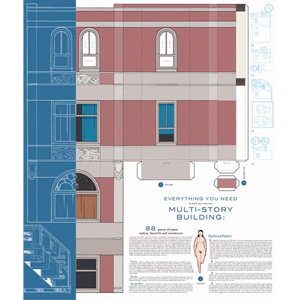 Building Stories Portfolio
By Chris Ware
Published by Drawn and Quarterly
$79.95 USD/CDN
ISBN: 978-1-77046-113-0
Presented as an absolutely unnecessary addendum to the already-unmanageable Building Stories graphic novel (Pantheon Books: October, 2012) this outrageously expensive signed limited edition print will find few interested parties or adherents to its demanding, labor-intensive brand of rainy day leisure though it offers to the discriminating and unsocialized reader the promise of a complete 11″ x 16″ x 18″ reference model of the multi-unit apartment building imagined therein.
---
---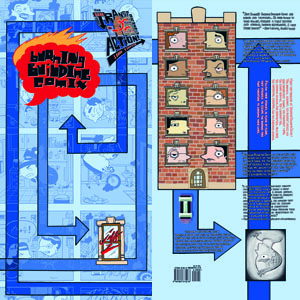 Burning Building Comix
By Jeff Zwirek
Published by Imperial Press
$19.95
Hardcover
ISBN 978-0-9858751-3-8.
Burning Building Comix is the graphic novel collection based on the Ignatz nominated mini comic series by Jeff Zwirek. The innovative format of this book allows readers to follow the plight of the trapped tenants, with each tier of panels representing 1 "story" in the ten story burning apartment building. Presented for the first time under one cover and in full color, Burning Building Comix is a comics art object and reading experience like no other.
"I once engaged in a multi-part debate with Jeff about how to draw a burp without the crutch of a sound affect. He obsessed over it. He drew it, redrew it, and re-redrew it. Through non-cartoonish sweat, he worked that burp into submission. And he brings that kind of painstaking dedication (often on matters more serious than the expulsion of gas) to everything he does. I salute him. Burp." – Paul Hornschemeier, Life with Mr. Dangerous
Jeff Zwirek's Burning Building Comix is funny and tragic, as any burning building comics might be, but it takes a chapter or two to figure out just how interesting it is. The complexity of the intertwined narratives builds floor by floor, and I can't wait to see how it reads when it's all finally joined in one very tall book.
– Jessica Abel, Mastering comics
---
---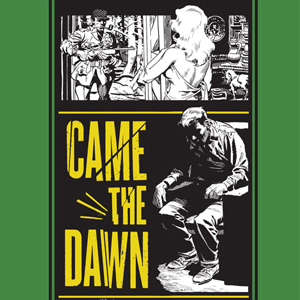 Came the Dawn
Written by Al Feldstein, Illustrated by Wallace Wood, ed. by Gary Groth
Published by Fantagraphics Books
240 pages
7 x 10
$28.99
Hardcover, B/W
ISBN: 978-1-60699-546-4
Working within the horror, war, crime, and science fiction genres, publisher William Gaines and editor/writer Al Feldstein combined a deliciously disreputable, envelope-pushing sensibility with moments of genuine, outraged social consciousness, which shone a hard light onto such hot-button topics as racism, anti-Semitism, mob justice, and misogyny and sexism. The 1950s were also a launching pad for some of the greatest comic book artists in history, many of whom worked for EC — including Wallace Wood, whose hypnotically detailed, lushly expressive brushwork brought to life menacing thugs, ominous cityscapes, and small-town America, as well as Everymen grappling with profound moral issues — not to mention some of the most heart-stoppingly beautiful women ever to sashay across a comic book page. Came the Dawn collects all 26 Wood-drawn horror and crime stories — including the full baker's dozen of EC's most courageous and politically charged dramas, such as "The Whipping" or "Terror Ride."
---
---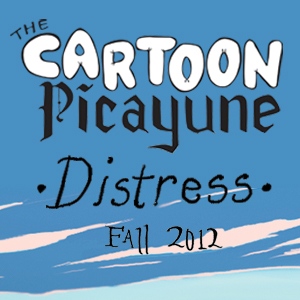 The Cartoon Picayune: Distress
Ed. by Josh Kramer
40 Pages
8.5 x 5.5
$4
The Fall 2012 issue of The Cartoon Picayune, debuting at SPX has an theme of "Distress." With stories by Darryl Holliday and E.N. Rodriguez, and Editor Josh Kramer, your favorite comics journalism anthology is back with its best issue yet. New contributors include Jess Ruliffson on wounded warriors and New Yorker Cartoonist Matt Diffee on Texas rattlesnake racing.
"A growing number of artists and writers are creating reported, researched, factual work these days, and a doing brilliant, memorable job of it. They're also finding an audience, and that audience wants more! So Josh Kramer has tapped into something significant by making The Cartoon Picayune a new home for this vibrant subgenre, and he keeps proving it with each issue."-Rob Walker, The New York Times Magazine, DesignObserver.com
---
---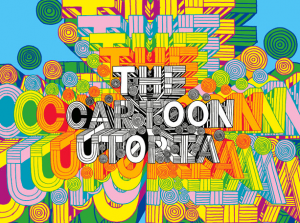 Cartoon Utopia
By Ron Regé, Jr.
Published by Fantagraphics Books
144 pages
10 x 12
$24.99
Hardcover, B/W
ISBN: 978-1-60699-596-9
Ron Regé, Jr. is a very unusual yet accomplished storyteller whose work exudes a passionate moral, idealistic core that sets him apart from his peers. The Cartoon Utopia is his Magnum Opus, a unique work of comic art that, in the words of its author, "focuses on ideas that I've become intrigued by that stem from magical, alchemical, ancient ideas & mystery schools." In The Cartoon Utopia, the "Utopians" of the future world are attempting to send messages through consciousness, outside of the constricts of time as we understand it. They get together to perform this task in a way that evolved out of our current system of consuming information and entertainment. It other words, the opposite of television. Instead, these messages appear in the form of art, music and storytelling.
"Drawn in an idiosyncratic, gorgeous, dense style; beings from the future try to help us evolve, sending us messages, trying to show us what life can be like without "forced entertainment" (i.e. television)."
---
---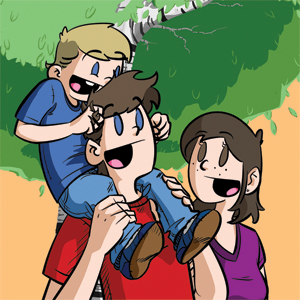 Christopher Volume One
By Chris Williams
Publisher: Monster Feet Press
Details: Paperback, 8″x10″
Price: $15
christophercomic.com
How does someone go about bringing a child into this world, when they haven't quite grown up themselves? Christopher Vol 1: The True Story of a New Father is a collection of auto-biographical comics by Christopher
Williams that were produced from the moment that he announced to everyone that he and his wife were pregnant, all the way up to his son's first birthday. Along the way, he struggles to find the balance between spending time with his family, working a full-time job, and baby-proofing an entire house while somehow finding a few hours to work on his own hobbies and get some sleep.
The book ends with a short story of Christopher's own memories of childhood abuse that he suffered at the hands of his mother, and how it helped shape him into the father he wants to be, vowing to never repeat the same mistakes.
"A super sweet webcomic that makes me feel better about humanity." – Suzannah Rowntree, Editor for Archie Comics and Womanthology
---
---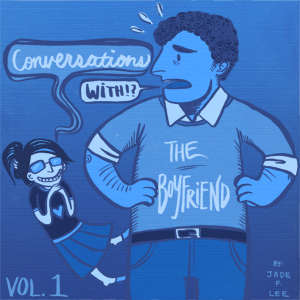 Conversations With The Boyfriend Vol. 1
By Jade F. Lee
Self-published
$2
5 x 5
www.stego-taco.com
A comic zine collecting short strips featuring some funny, endearing, and (mostly) true conversations I've had with the boyfriend over the years.
---
---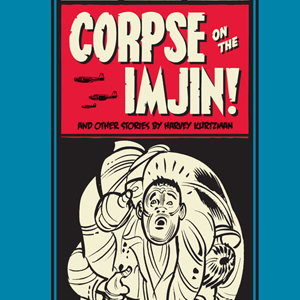 Corpse on the Imjin!
By Harvey Kurtzman, ed. by Gary Groth
Published by Fantagraphics Books
240 pages
7 x 10
$28.99
B/W with some color
ISBN: 978-1-60699-545-7
The creation of MAD would have been enough to cement Harvey Kurtzman's reputation as one of the titans of American comics, but Kurtzman also created two other comics landmarks: the scrupulously-researched and superbly-crafted war comics Two-Fisted Tales and Frontline Combat. Here were finally war comics without heroic, cigar-chomping sergeants, wisecracking privates from Brooklyn, or cartoon Nazis and "Japs" to be mowed down by the Yank heroes, but an unflinching look at the horror and madness of combat throughout history.
Kurtzman employed some of the fines of the EC artists including Jack Davis, John Severin, and Wallace Wood, but his vision came through clearest in the dozen or so stories he both wrote and drew himself, in his uniquely bold, slashing, cartoony-but-dead-serious style ("Stonewall Jackson," "Iwo Jima," "Rubble," "Big 'If '," and Kurtzman's own favorite, "Air Burst") — as well as his vividly colored, narratively-dense covers, all 23 of which are reproduced here in full color in a special portfolio.
---
---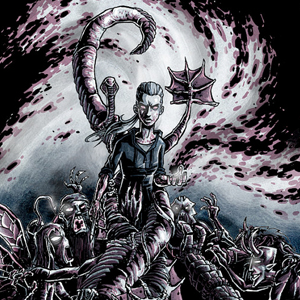 The Creators
By Michael S. Bracco
Self-published
44 pages
Full Color
$9.99
ISBN: 978-1-62407-113-3
spaghettikiss.com
In the near future, several young people across the globe develop the ability to literally bring their imaginations to life through their drawings.
This power, fueled by raw adolescent emotion can be awe inspiring or massively destructive and dangerous, depending on who wields it. Feared by the world and hunted by the B.C.E. (The Bureau of Creative Enforcement), The Creators fight to understand their abilities and carve out their place in the world.
---
---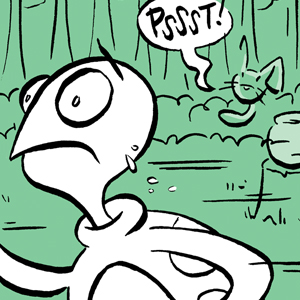 Curls: Turtle Derby
By Carolyn Belefski
Published by Curls
curls-studio.com/curls
"Clever, crisp and original in all it's utter glory. A surreal and whimsical journey into one's angst as seen through the eyes of Curl's charming alter ego, Carolyn Belefski. With a fresh, unique sitcom approach to storytelling well worth your while… Simply HILARIOUS!" – Rafael Navarro, creator of Sonambulo
"It's one super cute comic. I want to put it in my mouth." – Shannon Wheeler, creator of Too Much Coffee Man
---
---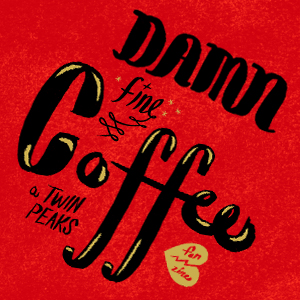 Damn Fine Coffee! A Twin Peaks Fan Zine
By Andrea Kalfas
Self-published
60 pages
Grayscale, screen-printed cover
$10
"Damn Fine Coffee! A Twin Peaks Fan Zine" is the result of nearly 30 illustrators expressing their love of David Lynch's notorious TV series Twin Peaks in the form of some gorgeous works of art all bound up with a screen-printed cover by Andrea Kalfas. Grab a hot cup of black coffee, a slice of pie, and feast your eyes on artwork by Roman Muradov, Dadu Shin, Ping Zhu, Sam Bosma, Alex Fine, and many more!
---
---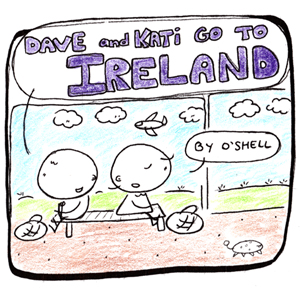 Dave and Kati Go to Ireland
By Dave O'Shell
Published by the author in the state of Maryland.
Dave and Kati Go to Ireland is a comic book travelogue about a trip the author took with his wife. See them fight, make up, and fight again! In glorious black and white with panels all equal in size.
---
---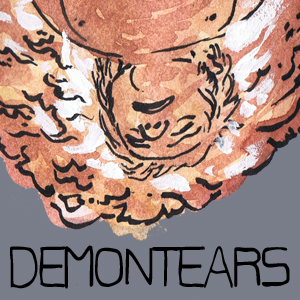 DemonTears
By Bernie McGovern
Hick & Hoc Publications
48pages
$6.00
DemonTears, the new comic book by Bernie McGovern from Hic & Hoc Publications, follows his real life adventures through battling addiction and tricky life-circumstance. Split between the dream world and the real, this story presents the reader with some of the victories and failures found on the road to sobriety. Floating spinal cords, burning skulls, and mountains of wine bottles await within.
---
---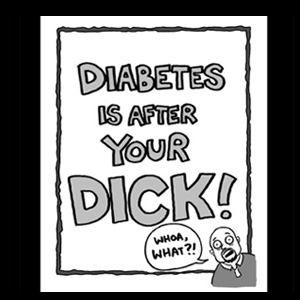 Diabetes is After Your Dick!
By Cathy Leamy
16 pages
Black and white
$2.00
Sure, diabetes can lead to some bad-news health problems, but did you know that one of them is erectile dysfunction?! This humor minicomic gives you the info on what diabetes is, how it can lead to woody issues, and what you can do to reduce your risk. Appropriate for guys and for dick aficionados of all kinds!
---
---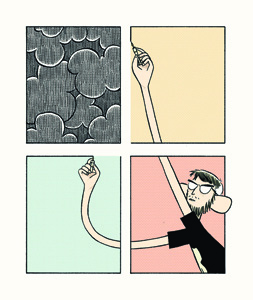 Diary Comics #4
By Dustin Harbin
Published by Koyama Press
88 pages, 4.25 x 5
$10 CDN
B/W interior with full color covers with French Flaps
Dustin Harbin's Diary Comics may have begun as a sketchbook exercise, and first seen print as a quotidian daily journal, but over their lifespan they've morphed into something more meaningful. They've become an exploration, not only of a person's life, but of their own changing perception of that life. While the comics are no longer a daily-style journal, they still meander through whatever is on Harbin's mind, warts and all, using the everyday events of his life to comment on the world and what it all might mean to one dumb cartoonist.
---
---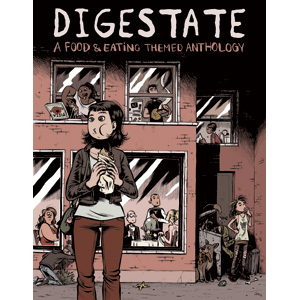 Digestate
Published by Birdcage Bottom Books.
288 pages
Color cover with b&w interior.
Distributed by Diamond (will be listed in September's 'Previews' for shipping in November)
Also available at birdcagebottombooks.com
$19.95.
ISBN #978-0-9826595-1-9
"DIGESTATE: a food & eating themed anthology" collects over 280 pages of comics by 55 artists including Jeffrey Brown, James Kochalka, Renée French, Alex Robinson, Marc Bell, Box Brown, Sam Henderson and many more. Each artist was given free reign to interpret the them in any manner they wished, so there is a wide variety in both style and tone.
---
---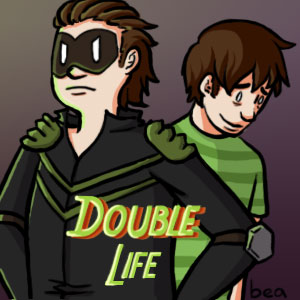 Double Life
By Beatriz Bravo
20 pages
$5.00
Leading a double life means trying to separate parts of your life that may make you who you are. For Gordon that means keeping his civilian life separated from his Superhero life. He needs to go from being on the B-Team
of Heroes to being on the Gold Tier of Intergalactic Heroes just like the rest of his family. Oh and he also has to ignore the glares from fellow Heroes trying to make it to Gold Tier, avoid being smashed by a giant robot dinosaur, and figure out a way to ask out the guy of his dreams without looking too dorky. Shouldn't be too hard…
---
---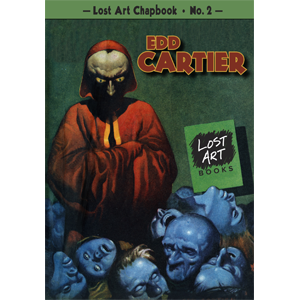 Edd Cartier — Lost Art Chapbook (No. 2)
Picture This Press
24 pages
color cover / b&w interior
5″x7″
hand saddle-stitched
LostArtBooks.com
Others can debate who the king of the pulp cover artists was, but when it comes to the pen-and-ink illustrations inside those now musty magazines, one name rockets to the top of the list: Edd Cartier. This Lost Art Chapbook offers a sampling of Cartier's 1940s illustrations…some macabre, others funny, but all masterful. (Lost Art Chapbooks are handcrafted curious collecting esoterica from the Lost Art Books archives.)
---
---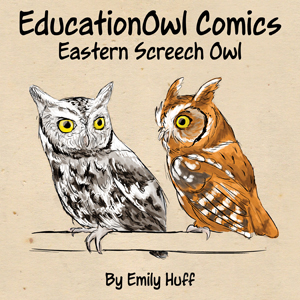 EducationOwl Comics: Eastern Screech Owl
By Emily Huff
Self-published
4.25×5.5
12 pages
$2.00
birdsofyay.com
EducationOwl is a new series of minicomics about different species of owls in North America. This first issue takes a look at eastern screech owls and their habitat, diet, and nesting habits.
---
---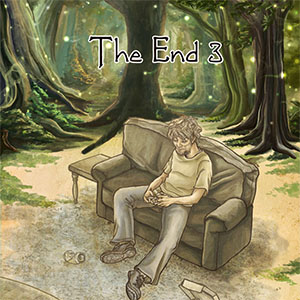 The End #3
Writer: Shawn Padraic Murphy
Artists: Jacob Warrenfeltz, Wu-Gene Hong, Marcella Kim
Shawn Padraic Murphy / Padraic Productions
Price: $2.99
ISBN: 978-1-9369-21-00-3
If the world was going to end in seven days, how would you spend your last week? This is the concept behind "The End", as each story deals with how normal, everyday people react (or don't react) to the end of their world. This issue contains 3 different tales:
Change of Mind: Chris will fulfill every dream he's ever had; he will win the heart of his best friend, and he will reunite his broken family. He will make his dreams reality.
Must Play: The end of the world is a minor inconvenience for David. David had only one goal for the rest of his life; play video games. Now he has only one week to play them all.
---
---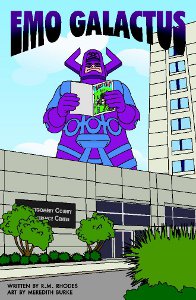 Emo Galactus
Written by RM Rhodes
Illustrated by Meredith Burke.
Emo Galactus is a 16 page conversation between Galactus and The Watcher about indie comics and reality television – Galactus makes the former and The Watcher only consumes the latter. Emo Galactus was written by RM Rhodes and illustrated by Meredith Burke.
---
---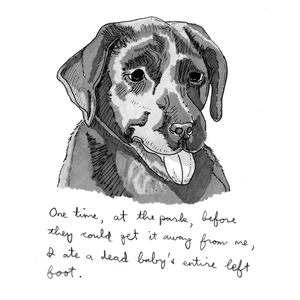 Emotional Distance
By Zach Mason
Your first opportunity to put Emotional Distance comics in a drawer and forget about them… unless you've already printed some from the site, put them in a drawer, and forgotten about them; in which case, I have nothing to offer you but a long, slow nod of deferential respect followed by a possible misread of your hug-me / do-not-hug-me body language. (That dog ate a baby's foot and it was the happiest day of her life.)
---
---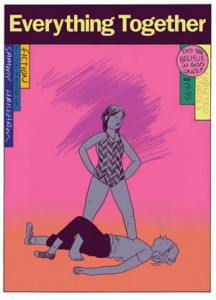 Everything Together: Collected Stories
By Sammy Harkham
PictureBox
$19.95
Sammy Harkham is regarded as one of the most influential cartoonist/editor of his generation. After a decade of work and groundbreaking anthologies, Everything Together collects his short stories. These comics condense vast amounts of emotion and information into nuanced cartoon narratives. Harkham's classic style is both articulate and expedient. At the center of the book are two vastly different tales: "Poor Sailor", a sea-faring myth of a man gone to find wealth for his love; and "Somersaulting", a kind of fever dream of teenagers in love, wiling away the summer.
Around these stories shorter comic strips tackling everything from Napoleon (if he was a tortured artist) to touching examinations of Jewish mysticism and life in a shtetl, to satires of contemporary university life. Through all these works, Harkham maintains a light touch and emotive wit.
---
---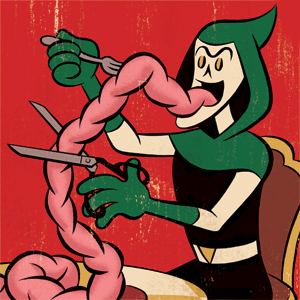 The Face Skull, Issue Two
By Pat Dorian
The Face-Skull battles the Black Widow Twins, Shit Head, and other bizarre foes in this second installment of the his ghoulish adventures.
---
---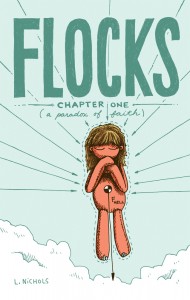 Flocks #1
by L. Nichols
Retrofit Comics
L. Nichols honest and beautiful memoir about struggling with sexual identity as a Christian child.
---
---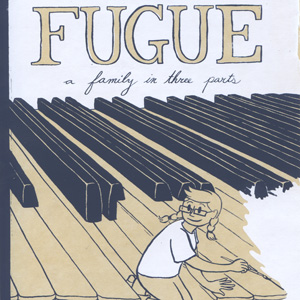 Fugue: A Family in Three Parts
By Beth Hetland
Self-Published
32pages
Screen printed cover
$6.00 (or $15.00 for all three)
The final installment of "Fugue: A Family in Three Parts" by Beth Hetland sees the light of day! The three part series is an autobiographical fiction using music as a metaphor for growth, acceptance, and self actualization. Each book has a self contained story that highlights one family member as they discover themselves.
---
---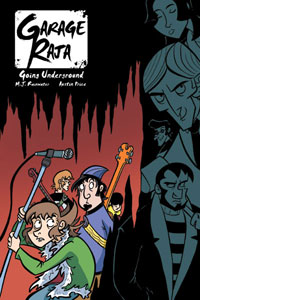 Garage Raja: Going Underground
Writer, Austin Price
Artist, Matthew Rainwater
Published by Stone King
$15.00
An adventure story in the tradition of such classics as Herge's Tintin and Eiichiro Oda's One Piece, Garage Raja: Going Underground follows the adventures of Ned, Reginald, and Ghurnst — members of the titular band — as they encounter everything from an underground city of Mods to a tribe of barbaric Lizard-People in the search for their missing drummer. Collected here in high-quality print, this first volume contains over 200 pages of content, including scenes, commentary, and sketches that cannot be found anywhere else! If you're looking for a break from the glut of humor based webcomics, an alternative to the superheroics that dominate the industry, or a comic that loves music and music history as much as you do, then look no further than Garage Raja: Going Underground!
Launched in June of 2009, GarageRaja.com is writer Austin Price and artist Matthew Rainwater's love letter to comic books and music, an epic-in-the-making they plan to continue for years to come.
"Brilliant!" – Rebecca Seung, getbent.fm
---
---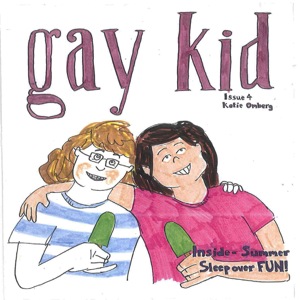 Gay Kid
By Katie Omberg
Self-published
$3.00
Gay Kid is a mini-comic series by native DC cartoonist Katie Omberg. The newest issue made it's debut at the DC Zinefest, and is now at SPX in all it's glory.
Read about the trials and travails of sleepovers and friendships when you know you're not just like everybody else. And as long as you're at it, pick up the whole set and learn what it's like to grow up for this Gay Kid.
"The Gay Kid series is so very important for anyone who has struggled with their identity, whether sexual or otherwise…this is a must-read comic" -Rob McMonigal, Panel Patter
---
---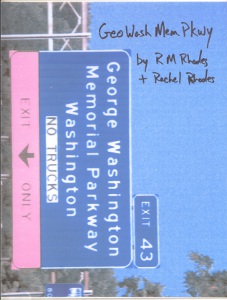 GeoWashMemPkwy
Written and designed by RM Rhodes
Photographs by Rachel Rhodes
GeoWashMemPkwy is scrapbooked together from photos taken on the George Washington Memorial Parkway in an attempt to convey a sense of what driving on the Parkway is like on a typical summer day. GeoWashMemPkwy was written and designed by RM Rhodes using photos by Rachel Rhodes, who also added embellishment and lettering.
---
---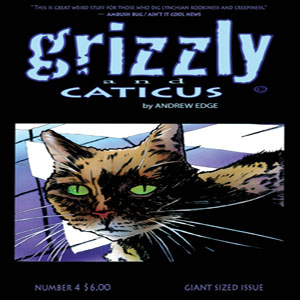 Grizzly and Caticus #4
By Andrew Edge
Cool Monkey Press
Full-Color
48 pages
$6.00
The Hiding Faces storyline continues as Armani Behops and Mike Urine finally meet the mysterious Goose Henry! Thelma Root gets a makeover and sisterly advice from Tracy, while her cats anxiously await her return. The police stop Jonathan but death is in the air. And finally, at the state asylum … the Black Stool! The madness continues…dive in!
About Grizzly and Caticus #3 – "Another issue of the real deal surreal adventures of creator Andrew Edge's multifaceted dramatic series is out and this book gets better with every issue. Having read this one from the get-go, I have to say that the confusing bits in the early issues have paid off. Once again, the narrative leaps around to a huge cast of characters, but the transitions are much more fluid here. It's good to see Edge grow as a storyteller. There's an especially effective scene in a park at night that will send shivers down your spine. This is great weird stuff for those who dig Lynchian kookiness and creepiness." — Ambush Bug/Ain't It Cool News
---
---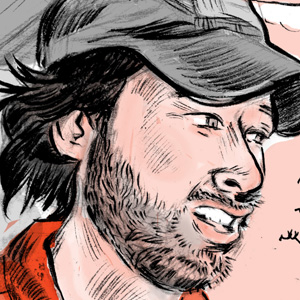 Haditha Katrina
By Jess Ruliffson
Self published
Mini-comic
Haditha/Katrina is a nonfiction mini-comic based on interviews with seven-year Marine veteran Nathan Galster. After Nathan returns from his first tour of duty in Iraq in early 2006, he finds his hometown on the Gulf Coast of Mississippi decimated by Hurricane Katrina. Nathan grapples with these loses with humor, dignity and intelligence, and offers readers insight on the experiences of a soldier returning to America from the devastating theater of combat.
---
---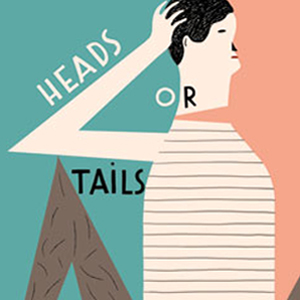 Heads or Tails
by Lilli Carré
Published by Fantagraphics Books
180 pages
7 x 9
$19.99
Paperback Original with French Flaps, Full-color
ISBN: 978-1-60699-597-6
Carré's elegant short stories read like the gothic, family narratives of Flannery O'Connor or Carson McCullers, but told visually. Poetic rhythms – a coin flip, a circling ferris wheel – are punctuated by elements of melancholy fantasty pushed forward by character-driven, naturalistic dialogue. The creator of 2008's acclaimed graphic novel *The Lagoon* – named by many annual critics' lists including Publishers Weekly and USA Today's Pop Candy – is back with a stunningly designed and packaged collection of some of the most poetic and confident short fiction being produced in comics today.
---
---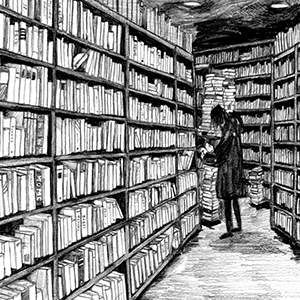 Her Name Was Prudence
by Cathy G. Johnson
Self-published
16 pages
Grayscale interiors with screen-printed cover
Soomin is an unenthusiastic twenty-something who doesn't know what to do, but does it well. She's apathetic and gets laid and is reasonably social. At a used bookstore she finds an 18th-century poem by William Jameson and she thinks she likes it, but her friends are just kinda cynical about it. 'Her Name Was Prudence' is about trying to enjoy something when no one, not even yourself, really cares.
---
---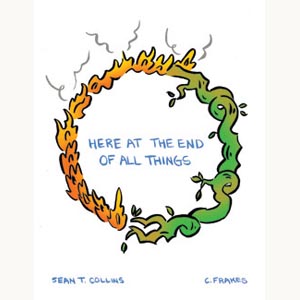 Here at the End of All Thing
Written by Sean T. Collins (seantcollins.com)
Drawn by Colleen Frakes (tragicrelief.com)
Self published
28 pages
5.5x 4.25
$4.00
Here at the End of All Things is a short story about driving home from work…during the apocalypse.
---
---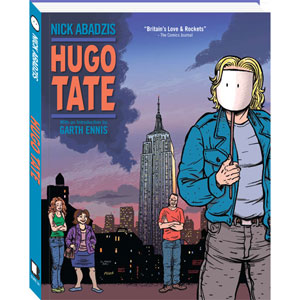 Hugo Tate
By Nick Abadzis
With an introduction by Garth Ennis
Blank Slate Books
192 pages
217 x 216mm
Softcover with flaps
Black & White
$19.99
ISBN 978-1-906653-26-2
ISBN-10: 1906653267
Nineteen years after Hugo Tate drew to a close within the pages of Deadline magazine, publisher Blank Slate is collecting the celebrated strip's entire run in a single graphic novel for the first time ever. Running in the influential music and comics magazine between 1988 and 1994, Hugo Tate was an integral part of a wave of cutting-edge work that redefined the potential of the form for a generation of readers.
Collected in its entirety for the first time, this graphic novel brings together every page of the story and includes over 60 pages of never-before reprinted work. Also included is the critically- acclaimed final story arc O, America!, in which Hugo finds himself on a road trip across the nightmarish underbelly of the United States. Featuring a gallery of rare extras, all-new commentary from Abadzis and Deadline editor Frank Wynne, as well as a special introduction by Garth Ennis (Preacher, Hellblazer), there's never been a better time to read – or revisit – this genuine classic of British comics.
"Britain's Love and Rockets" – The Comics Journal
"An ambitious, sprawling work with the sensibility of a modern novel" – Tom Spurgeon, The Comics Reporter
---
---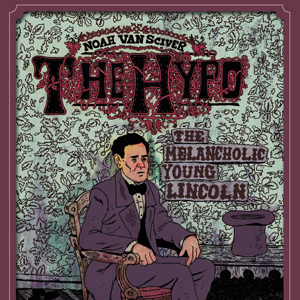 The Hypo
by Noah Van Scriver
Published by Fantagraphics Books
192 Pages
$24.99
Hardcover, B/W
The Hypo follows the young Abraham Lincoln as he loses everything, long before becoming our most beloved president. Struggling to make something of himself while battling a dark cloud of depression brought on by a chain of defeats and failures that spiral him into a breakdown that threatens his life and sanity.
This true life and completely original telling of a man driven by an irrepressible desire to pull himself up by his bootstraps, overcome all obstacles, and become the person he strives to be. All the while, unknowingly laying the foundation of character he would use as one of America's greatest presidents.
---
---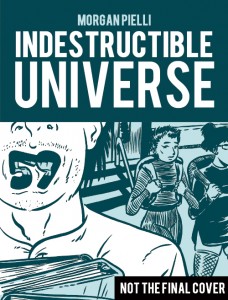 Indestructible Universe
By Morgan Pielli
S.O.S.! INDESTRUCTIBLE UNIVERSE sends out the signal; across space, across time! Twenty-two stories cry out: A man kills himself across realities, a woman yearns for a lover twenty light-years away, a disease twists the
mouths of the infected into prime numbers. Author Morgan Pielli weaves fables out of the stuff of science fiction in this collected volume of his long-running series. Debuting at SPX 2012! Find it at the red table!
---
---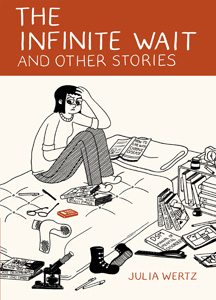 The Infinite Wait and Other Stories
by Julia Wertz
Published by Koyama Press
ISBN: 978-0-9879630-4
$15.00 CDN
6.5 x 9 inches
288 pages
b&w interior, colour softcover.
The Infinite Wait and Other Stories is latest book from Julia Wertz, the critically acclaimed author of The Fart Party Vols. 1 and 2 (Atomic Books, 2007 and 2009) and Drinking at the Movies (Random House, 2010). In contrast to her last book, which was a full-length graphic memoir, The Infinite Wait is not a sustained narrative, but rather a collection of three short stories or graphic novellas. The stories in this collection contain Wertz's signature acerbic wit, ribald humour and keen eye for the everyday, but they also find the cartoonist delving into the personal. The collection's title, The Infinite Wait and Other Stories, intentionally and ironically recalls the vacuous and pretentious book titles of the literary elite, but these stories are the polar opposite of pretension. They are comics born out of illness, but not defined by it, and they are filled with the sometimes messy, heartbreaking and hilarious moments that make up a life.
---
---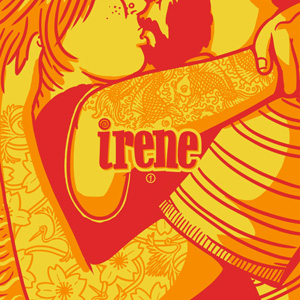 Irene #1
Published by members of Irene
64 pages
$10.00
Irene is a comics and art collective founded by schoolyard chums Dakota McFadzean (contributor to Best American Comics 2012, creator and publisher of Last Mountain and his online strip, The Dailies), Andy Warner (contributor to Slate.com and Samandal and creator and publisher of The Creeping Things) and dw (contributor to Samandal, creator and publisher of Kid Clampdown and creator of Hic and Hoc's forthcoming Abzernad).
Irene is a comics and art anthology created, edited and published by the members of Irene. Irene 1, the debut issue of this publication and flagship project of the collective, is a limited-edition, hand-made minicomic with silk-screened covers and content written and drawn by the three editors, as well as exciting, brand-spanking-new contributions from really f**king talented artists Rachel Dukes, Jon Fine and Nate Wootters.
---
---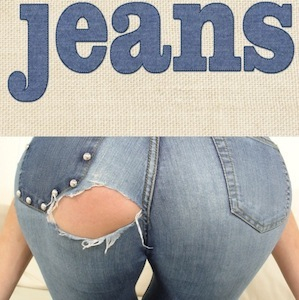 Jeans #1
Edited by Harris Smith
Negative Pleasure Publications
SPX price: $5.00
Available online from: thespithouse.bigcartel.com
Website: tumblr.com/jeanscomics
Jeans is an anthology of graphic narratives featuring a varied roster of unique new voices from across the comics community.
Edited by Harris Smith, the first issue features work from Benjamin Marra (Night Business), Robyn Chapman (True Porn), Alex Degen (Area CC), Leah Wishnia (Happiness Comix), Madeleine Bliss (Scepter Gem), Claire Donner (Electric Ant), Laura Perez-Harris (Throat Zine), Jessica Hansen (Slaves Out of Dogs), Ripley Hayden (Breakfast Every Day) and Amy Searles (Super Right Ons), who also provides a silkscreened color insert.
---
---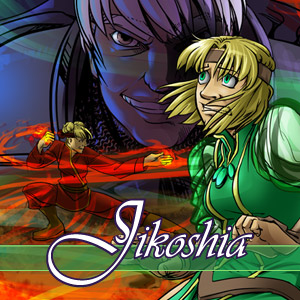 Jikoshia: Volume One
By Emily Gillis
Wayward Studios
$20.00
ISBN 978-0-9858997-1-4
Nifty was just a normal girl trying to breeze her way through high school. That is, until she took a dare. After opening a seemingly harmless door. Nifty is thrust into the world of Jikoshia where she encounters wonderous
new adventures and potential death at every turn. How will Nifty survive? How will she get home? And how will she pass her math final?
"It's like Alice in Wonderland meets Narnia meets Last Airbender, yet totally unique. " – Andre Owens, BuyIndieComics.com
---
---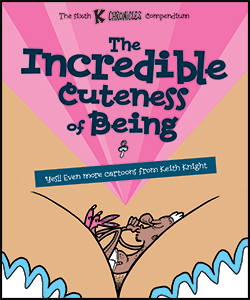 K Chronicles: The Incredible Cuteness of Being
By Keith Knight
Published by his own damn self
$15.95
Distributed to better bookstores, schools, libraries and prisons by the artist
ISBN 978-1-4675-3661-5
kchronicles.com
The 6th K Chronicles Compendium by Harvey, Inkpot and Glyph Award-winning cartoonist Keith Knight.
The sixth collection of the award-winning comic strip finds ye olde gentleman cartoonist welcoming his progeny into the world alongside America's first Black president!!
Will America's premier comic strip commentator on race issues mellow out now that he's a new dad in a "post-racial" world?
WHAT DO YOU THINK?
---
---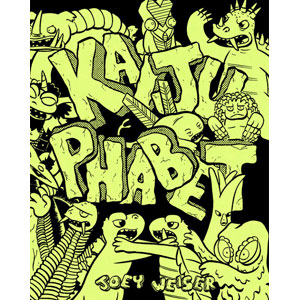 Kaijuphabet
Joey Weiser
Self-Published 'Zine
Black & White
28 pages
$2.pp
www.tragic-planet.com
Kaijuphabet is a collection of alphabetical illustrations of Japanese movie monsters originally created for the online drawing project, AlphaBeasts. This mini will help you learn your ABC's while preparing you to identify the next rubbery behemoth to rise from the ocean and destroy your city!
---
---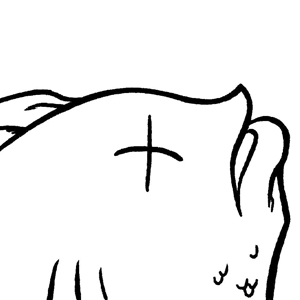 La Poubelle: La lutte éternel
By Brian Canini
Drunken Cat Comics
$2.99
Fish or poison? Sustenance or death? And so begins Michel's epic quest for purpose in a seemingly meaningless void known only as… life. It is in French and it is beautiful. One reviewer actually shed a tear when we kicked him in the balls.
---
---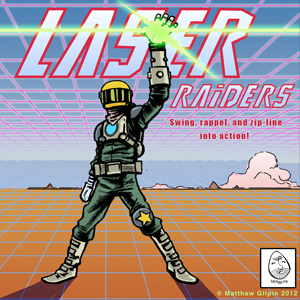 Laser Raiders
Comic book art and figure illustrated and sculpted by Matthew Gilpin.
Published by Hoboegg Press
Each 16 page book comes with 4" figure.
$10.00
hoboegg.com
Laser Raiders is an homage to 80's "toy branding" comics. Follow Laser Raider Number 5 as he uses his laser web to swing, rappel, and zip-line his way through Baron Soultech's Space-Pyramid, in search of the star princess Nova. Each 16-page comic comes with a limited run, hand casted 4" plastic figure of Number 5 – one of the Laser Raiders featured in the comic.
---
---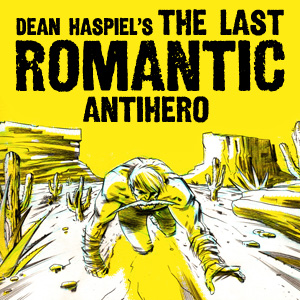 The Last Romantic Anti-hero
By Dean Haspiel
Published and distributed by Dean Haspiel.
Color
24-pages.
Ten Dollars [$10] per unit.
While living through a modern apocalypse sparked by apathy and indifference, love titans Billy Dogma and Jane Legit are sent a message from the future and learn they have to "make the new love."
"Pekar meets Tarkovsky" – Douglas Rushkoff
"Masterful cartoons from comics' greatest epic-poet" – Nick Bertozzi
---
---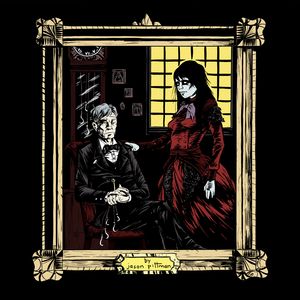 Leftovers Book 3
By Jason Pittman
Published by Leftovers Ltd.
$3.00
This issue of Leftovers examines the price of loss and emotion, with four stories of Horror, and Suspense. Walter Thurman is a coal miner from Ohio, in 1878, who lost his wife, Margaret, to a painful cancer 14 years before. Every year on the anniversary of his wife's death, he mourns, and honors her in his own twisted way. But this year will be different. Leftovers Book 3 is the latest book, in a series of self-contained, short stories about the process of letting go, and coming to terms with what life can have in store for us.
---
---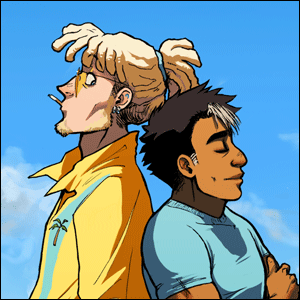 The Less Than Epic Adventures of TJ and Amal, Volume 2
By E.K. Weaver
Self-published
$15
ISBN: 978-0-9838755-1-2
www.tjandamal.com
TJ and Amal are two strangers who have made a pact to travel from Berkeley, CA to Providence, RI. The agreement is simple: Amal does all the driving; TJ pays the way… but a 3500 mile journey leaves plenty of time for things to get complicated. Part comedy, part romance, part road-movie-on-the-page. Mature readers.
"Smart, insightful, and sexy… More like an American indie movie on the page than anything you might expect to find on a manga shelf. The art style is beautifully cartoonish, but TJ and Amal is… naturalistic, understated, and well paced." – Comics Alliance
"Funny and poignant… Weaver's writing sparkles as the pair argue, deal, slowly reveal themselves, and get into travel-related misadventures." – The Library Journal
---
---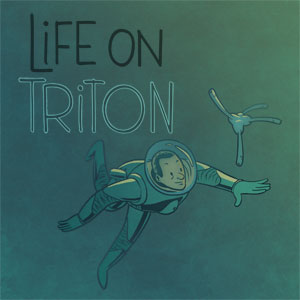 Life on Triton
By Braden Lamb and Shelli Paroline
Self-published
28 pages
$5
On a ball of ice orbiting the wrong way around a distant gas giant, two scientists make an incredible discovery, but only one of them realizes its full significance. A sci-fi adaptation of the traditional fable, "The Fisherman and His Wife."
---
---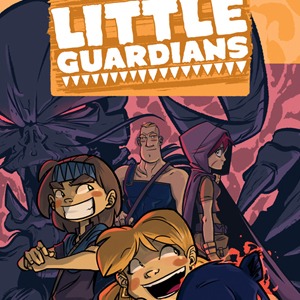 Little Guardians
Written by Ed Cho
Illustrated by Lee Cherolis
www.littleguardianscomic.com
$15.00
First Edition: 2012
Perfect Bound – Paperback
104 pgs Black & White
ISBN: 978-0-9856634-0-7
What if you were born with someone else's destiny? Little Guardians tells the story of two young people switched at birth and now unknowingly living each other's lives. Subira was supposed to be the next Guardian of Yowza Village, but she was born a girl. Instead she lives a quiet life working at The Item Shop never knowing what should have been. Idem trains to be the next Guardian and tries his best to be the warrior he was never meant to be. How will the next generation survive the choices made for them as strange incidents start plaguing the village and demon attacks appear to be on the rise?
---
---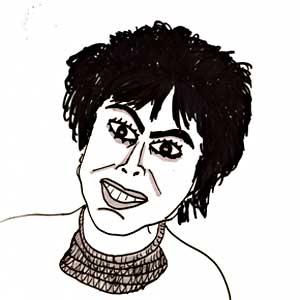 Liz Taylor Touched My Grandma
By Steve Hickman
$5.00
Steve Hickman makes his self-published, mini-comic debut at SPX with this poignant, mostly-true memoir about family loss, celebrity culture, and hell demons. Actually "poignant" might be a stretch, but he is totally serious about the hell demons. Totally serious.
---
---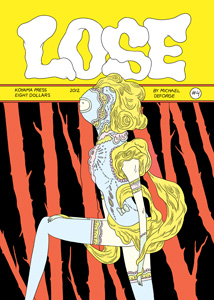 Lose #4
by Michael DeForge
Published by Koyama Press
ISBN: 978-0-9879630-0-0
$8.00 CDN
7 x 10 inches
44 pages
b&w interior, colour softcover
The fourth instalment of Michael DeForge's award-winning, one-artist anthology series Lose is another genre-defying mix of visual styles and cartooning. This issue—"The Fashion Issue"—features a post-adolescent punk's leather-and-spike-laced metamorphosis, a look at the lives and fashions of the exquisite corpses that make up the Canadian Royalty, and a town that is haunted by its past, which happens to look a lot like its present. Along with these longer stories, Lose #4 also features shorter strips and pin-ups including Abbey Loafer whose adventures also grace the pages of Toronto's Offerings zine. Lose #4 is a comic that blends the banal with the bizarre to create a mélange that is filled with horror and discomfort, humanity and humour.
---
---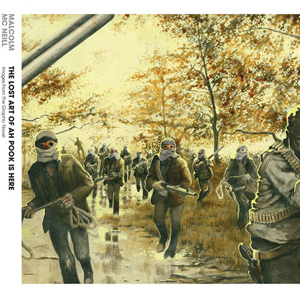 Lost Art of Ah Pook is Here: Image from the Graphic Novel
Illustrated by Malcolm McNeill
Published by Fantagraphics Books
168 pages
11 x 13
$39.99
Hardcover, full color with B/W
ISBN: 978-1-60699-445-0
In 1970, William S. Burroughs and artist Malcolm McNeill began a small collaborative project on a comic entitled The Unspeakable Mr. Hart. Soon after, Burroughs and McNeill agreed to collaborate on a book-length meditation on time, power, control, and corruption that evoked the Mayan codices and specifically, the Mayan god of death, Ah Pook. Ah Pook Is Here was to include their character Mr. Hart, but stray from the conventional comics form to explore different juxtapositions of images and words. Ah Pook was never finished in its intended form. However, Malcolm McNeill created nearly a hundred paintings, illustrations, and sketches for the book, and these, finally, are seeing the light of day in The Lost Art of Ah Pook. (Burroughs' text will not be included.) Even in a context divorced from the words, they represent a stunning precursor to the graphic novel form to come.
---
---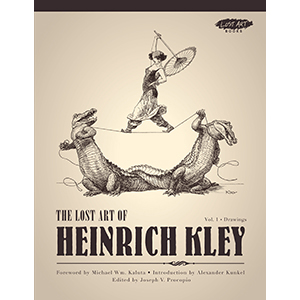 The Lost Art of Heinrich Kley, Volume One: Drawings
Picture This Press
Approx. 200 pages
Black & White
8.5 x 11
Paperback
ISBN: 978-0-9829276-5-6
BOOK TRAILER
LostArtBooks.com
The Lost Art of Heinrich Kley, Volume One focuses on Kley's ink drawings and reprints for the first time a substantial selection of his illustration work for children's books and adult genre fiction, a side of Kley's career previously unexplored in other collections. This volume also includes a wide sampling of Kley's cartoons and magazine work, with newly collected examples taken directly from a variety of rare sources such as "Jugend," "Simplicissimus," and the historic "Der Orchideengarten" (the world's first fantasy fiction magazine). In all, over 300 Kley illustrations and cartoons fill this first volume, with a Foreword by Michael Wm. Kaluta and the latest scholarship on Kley's life and work.
"There'll be a lot of excitement throughout the world once these books are available to the throng." — Michael Wm. Kaluta
---
---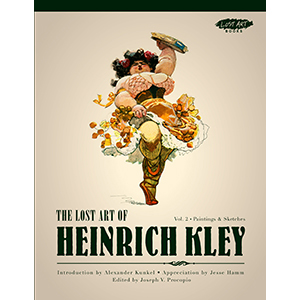 The Lost Art of Heinrich Kley, Volume Two
Picture This Press
Approx. 128 pages
Color
8.5 x 11
Paperback
ISBN: 978-0-9829276-7-0
BOOK TRAILER
LostArtBooks.com
The Lost Art of Heinrich Kley, Volume Two breaks new ground by being the first book to present a large number of Kley's paintings and preparatory drawings, some reproduced directly from the original art. These color works reveal a rarely glimpsed pool of talent and expand on the subject matter traditionally associated with the artist. This volume's preparatory drawings are culled from the untapped Kley archive of the Library of Congress and show the artist working out concepts for book illustrations, reworking ink drawings into color paintings, and doodling for his own amusement. Approximately 150 drawings, many in color, appear in this volume, along with an incisive appreciation by artist Jesse Hamm.
"There'll be a lot of excitement throughout the world once these books are available to the throng." — Michael Wm. Kaluta
---
---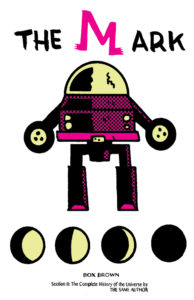 The Mark
by Box Brown
Retrofit Comics
What if our sex lives were dictated by a birth mark? Also: Drugs + Mecha Robot fun!
---
---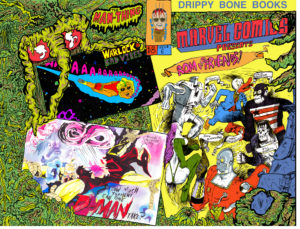 MCP6
By Josh Bayer
MCP6 is a collaborative tribute to d list Marvel characters with Keenan Keller, Pat Aulisio Mike Hawkins and Marc J Palm from Drippy Bone Books Three New mini Comics, Hand Of Blood, Transformer and Don't Look Back. And I will have 15 copies of The Quentin Rowlan's book Never say Goodbye, from Yeti Publications, with 17 pages of Illustrations by Josh Bayer.
---
---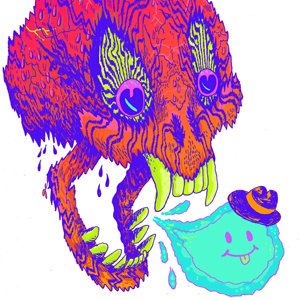 Monster
Published by Hidden Fortress
This year at SPX, the Hidden Fortress Press will be debuting the first of the three-part MONSTER 2012 anthology. MONSTER first appeared in 1996 as the Fort Thunder house anthology, but has since grown to envelop much of it's surrounding scene. This latest volume features close to 200 pages of comics from over twenty comic artists, printed in two colors on the Hidden Fortress offset printing press. MONSTER 2012 will be available at SPX with a limited edition silk screened dust jacket exclusive to the Small Press eXpo.
---
---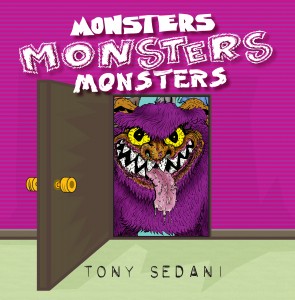 Monsters Monsters Monsters
by Tony Sedani
Published by The Draw Box
20 Pages Full Color
Card Stock Cover
8″ x 8″
Recommended for Ages 13+
Dive into a closet of your biggest fears and face some of the most creepiest and most disgusting looking Monsters. This art book by Tony Sedani 20 pages filled with monsters from all walks of life. Not responsible for regurgitation.
---
---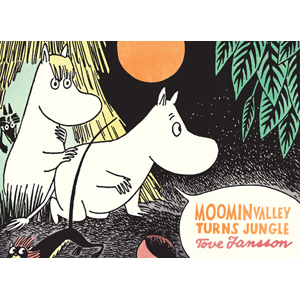 Moomin Valley Turns Jungle
By Tove Jansson
Published by Drawn and Quarterly Enfant
Paperback
$9.95 USD/CDN
ISBN: 978-1-77046-097-3
A classic Moomin story, available in an affordable kid-proof but kid-friendly flexicover, and in full color for the first time! A crate filled with tropical seeds washes ashore, and when Moominmamma plants the seeds, a lush rainforest erupts in Moominvalley. Stinky liberates some exotic animals from the zoo, and chaos ensues!
---
---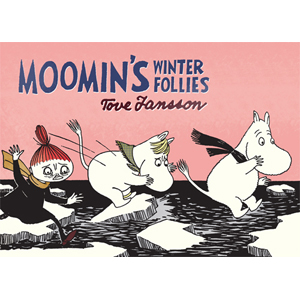 Moomin's Winter Follies
Tove Jansson
Published by Drawn and Quarterly Enfant
Paperback
$9.95 USD/CDN
ISBN: 978-1-77046-098-0
A classic Moomin story, available in an affordable kid-proof but kid-friendly flexicover, and in full color for the first time! Moomin wakes up one morning to find the pond frozen over, and rather than hibernate, the family decides to brave the winter weather. At first, their wintry adventure seems to be going swimmingly, until Mr. Brisk of the Great Outdoors Club takes over and forces everyone to embrace the winter sports, whether they want to or not.
---
---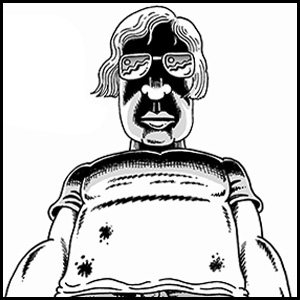 My Friend Dahmer
By Derf Backderf
Abrams ComicArts
Hardcover, trade paperback and ebook.
Trim Size: 6 x 9 1/4
Page Count: 224
Digital download available at Comixology.
ISBN: 1-4197-0216-5
EAN: 9781419702167
You only think you know this story. In 1991, Jeffrey Dahmer—the most notorious serial killer since Jack the Ripper—seared himself into the American consciousness. To the public, Dahmer was a monster who committed unthinkable atrocities. To Derf Backderf, "Jeff" was a much more complex figure: a high school friend with whom he
had shared classrooms, hallways, and car rides. In My Friend Dahmer, a haunting and original graphic novel, writer-artist Backderf creates a surprisingly sympathetic portrait of a disturbed young man struggling against the morbid urges emanating from the deep recesses of his psyche—a shy kid, a teenage alcoholic, and a goofball who never quite fit in with his classmates. With profound insight, what emerges is a Jeffrey Dahmer that few ever really knew, and one readers will never forget.
"A well-told, powerful story. Backderf is quite skilled in using comics to tell this tale of a truly weird and sinister 1970s adolescent world." —R. Crumb
"Astounding. The psychedelic wavy highlights Backderf draws on glass are like Proust's madeleine to anybody who was alive in the 1970′s. As you get deeper into the book, My Friend Dahmer gets darker and darker and more and more airless, until it feels like you're watching the action deep underwater — but you can't stop watching. Slowly, by inches, a person is dying and a monster is being born, in plain sight, and nobody's doing anything about it. The overwhelming emotion that My Friend Dahmer evokes isn't horror, it's a deep, crushing, sadness. But the sadness is not for Dahmer. It's for a world that has Dahmers in it." – Lev Grossman, Time Magazine
---
---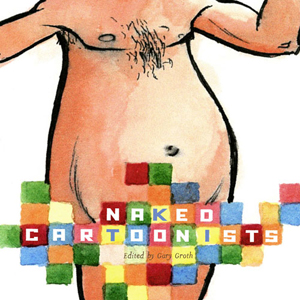 Naked Cartoonists: Drawers Drawing Themselves Without Drawers
By Various Artists
Published by Fantagraphics Books
156 pages
6.25 x 8.25
$22.99
Hardcover, Full color
ISBN: 978-1-60699-538-9
At last! Cartoonists — Naked! In an irreverent twist to the fine art tradition of The Nude, this unique and original collection presents a "stripped" down version of the infamous "Gallery of Rogues" exhibit of cartoonist self-portraits at Ohio State University. The cartoonists inside aren't afraid to bare all. Here you'll find: Scott Adams (Dilbert), Sergio Aragonés (MAD), Will Eisner (The Spirit) , Will Elder (MAD), Jules Feiffer (Village Voice), Al Jaffee (MAD Fold-Ins) , Lynn Johnston (For Better Or For Worse), Bil Keane (Family Circus), Russell Myers (Broom-Hilda), Charles Schulz (Peanuts), Jeff Smith (Bone), Art Spiegelman (Maus), Mort Walker (Beetle Bailey), Gahan Wilson (The New Yorker), and over 50 more!
---
---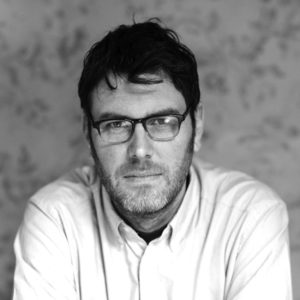 The Nao of Brown
By Glyn Dillon
Published by SelfMadeHero|
$24.95
SBN 9781906838423
Website
Twitter: @naobrown
Glyn Dillon is a graphic novelist who lives and works in London. He is from a family where his father and older brother are artists. Glyn has worked in comics including on Deadline Magazine, Neil Gaiman's Sandman: 'The Kindly Ones' and Peter Milligan's take on Shade, the Changing Man. Glyn debuts his hotly-anticpated graphic novel The Nao of Brown at SPX2012 alongside the collectible vinyl toy, FrogLegs.
---
---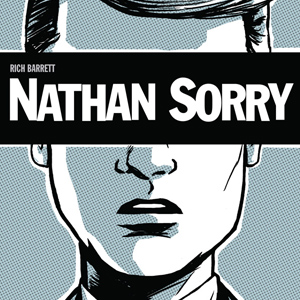 Nathan Sorry Vol. 1 and 2
By Rich Barrett
Self-published
$10
Richbarrett.com
Nathan Sorry is a thriller about a man who should have been in the World Trade Center on 9/11 but a missed flight and a stolen laptop sends him on the run with $20 million and a
 new identity. While hiding out in a small town he begins to lose sense of who he really is while getting caught up in the lives of some of the town's residents, each of whom are looking for their own escape. These are the first of five projected, self-published print collections of the currently running webcomic that appears at NathanSorry.com.
In addition I will be debuting a set of postcards of my AlphaBeast drawings as seen here.
---
---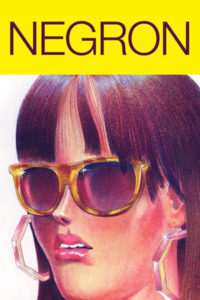 Negron
Jonny Negron
PictureBox
$19.95
Jonny Negron, acclaimed "master of voluptuousness" in the tradition of Robert Crumb and Tom of Finland, makes highly erotic drawings that occupy a space that draws from fashion drawings, video games, manga, and street art. Negron is his first book and explores the ample proportions of his vision. It features all-new drawings of his signature zaftig women and gangsta men, placed in fantastical, raunchy scenarios involving multi-fluid lactation, demon-faced copulations and exaggerated accidents with various condiments. This is a guide to his brave new world, produced in as lush a package as the women in his work: printed on high-gloss paper, this dust-jacketed paperback is an art object unto itself.
---
---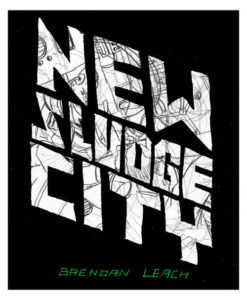 New Sludge City
By Brendan Leach
Retrofit Comics
Brendan Leach takes a look into the dystopian future of Manhattan exercising his inner Paul Verhoeven.
---
---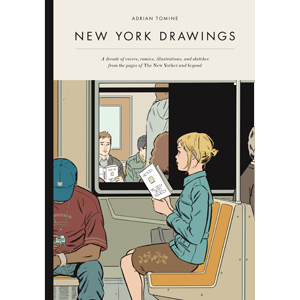 New York Drawings
By Adrian Tomine
Published by Drawn and Quarterly
$24.95 USD/CDN, hardcover
ISBN: 978-1-77046-087-4
Adrian Tomine's illustrations and comics have been appearing for more than a decade in the pages (and on the cover) of The New Yorker, and are instantly recognizable for their deceptively simple and evocative style. NEW YORK DRAWINGS collects illustrations and comics from the award-winning cartoonist, and is a loving homage to the city that Tomine, a West Coast transplant, has called home for the past seven years.
---
---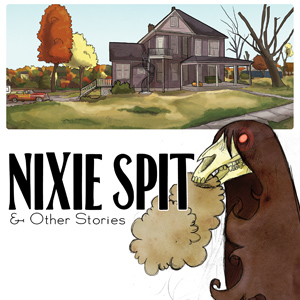 Nixie Spit & Other Stories
By Kory Bing
Skin Deep Comics
Nixie Spit & Other Stories is a collection of 5 short *Skin Deep* comics by Kory Bing. *Fiddler's Cave* (a ghost story), *Homecoming* (the reunion between a mother and a daughter who is no longer quite human),* Nixie
Spit*(a magical experiment), *The One-Eyed Bear* (a Halloween adventure with demons and corn mazes), and
*Ridiculous Creatures* (a stupid conversation between monsters) are all collected in this brand new book. You can read more about *Skin Deep* at www.skindeepcomic.com.
---
---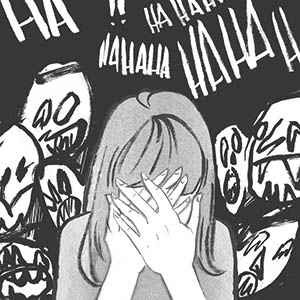 NOW YOU DIE!!
By Zach Worton and Britt Sanders
Published by Primitive Urges
Size: 8.5×11
44 pgs
Full colour covers, B/W interiors
$8.00
zachwortoncrustclub.tumblr.com
supersecretpowwow.com
"NOW YOU DIE!!" is a new, ongoing horror anthology that will host a revolving door of mentally disturbed cartoonists. In this inaugural issue of "NOW YOU DIE!!", we witness Zach Worton ("Black September"), and Britt Sanders ("The Haunted Mask") pick fetid chunks of scum from their brains and smear it across the page. "NOW YOU DIE!!" contains such creepy, horrible, and disturbing images of satanism, violence, psychosis, and mutilation that readers will probably die of shock and fright. We the publisher, PRIMITIVE URGES, claim no responsibility for your lily liver, or weak, sissy heart.
---
---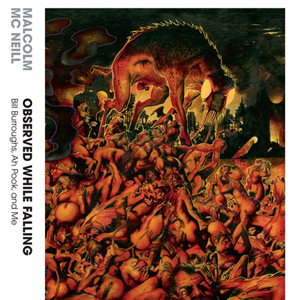 Observed While Falling: Bill Burroughs, Ah Pook and Me
By Malcolm McNeill
Published by Fantagraphics Books
304 Pages
6 x 9
$29.99
Hardcover, B/W
ISBN: 978-1-60699-561-7
Observed While Falling is an account of the personal and creative interaction that defined the collaboration between the writer William S. Burroughs and the artist Malcolm McNeill on the graphic novel Ah Pook Is Here. The memoir chronicles the events that surrounded it, the reasons it was abandoned and the unusual circumstances that brought it back to life. McNeill describes his growing friendship with Burroughs and how their personal relationship affected their creative partnership. The book is written with insight and humor, and is liberally sprinkled with the kind of outré anecdotes one would expect working with a writer as original and eccentric as Burroughs. Observed While Falling presents a unique view of the creative process that will be of interest to artists, writers and general readers alike. A perspective evoked by a literary experiment that has endured for forty years and still continues to "happen."
---
---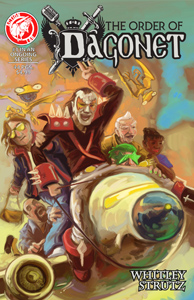 The Order of Dagonet #1
Writer Jeremy Whitley
Artist Jason Strutz
Action Lab Comics
48 pages
$4.99
Diamond Distribution
ISBN: 978-0-9854952-6-8
actionlabcomics.com
Action Lab Comics and Firetower Studios are proud to debut their new ongoing series, The Order of Dagonet, at SPX. "Princeless" writer Jeremy Whitley and artist Jason Strutz bring you a tale of high fantasy and low brow comedy that you're sure to love. When the mythological creatures of Britain return, the only people who can stop them are the knights of England. Unfortunately, The Order of Dagonet (an order of celebrity knights) are the ones who enter the call. Now our fates are in the hands of a burnt out rock star, a washed up actor, and a writer of children's books as they take on the hoards of Faerie. God save the queen, because they probably never will!
Reviews:
"The Order of Dagonet *is a fun and eye catching debut issue that mixes fantasy and humor with a dash of horror. Sprinkle in some political and social satire along with plenty of wit, and the end product is worth checking out, and hopefully only a taste of what's to come." — Comicbookbin.com
"Not only does this series feature spectacular writing but it also displays some breath taking artwork, each panel explodes to life with a large array of vivid colors, while paying close attention to minor details that really make each panel pop visually and add an extra level of realism. — Comicsforge.com
---
---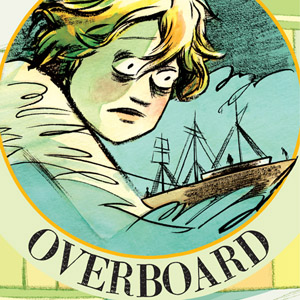 Overboard
By Laura Terry
Self-published
bravesailor.com
Laura Terry's Xeric award winning comic Overboard begins when the protagonist Di-Di wakes up from a dream of shipwreck to find herself in bed with her girlfriend and cat Chester. Little does she know that tiny people hide in her apartment and are out to destroy her. First, they break her leg, disable her phone, and when she is at her most helpless, they go in for the kill.
---
---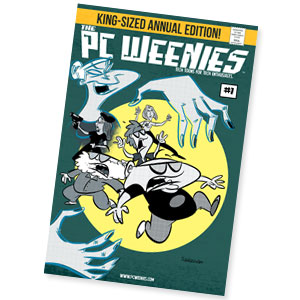 PC Weenies Annual #1
By Krishna M. Sadasivam
$8.00
14 years in the making! The PC Weenies Annual #1 is a jumbo-sized 48 page rollicking comic book annual featuring the Weiner clan. Bob and Milton discover a mysterious box in Grampa's yard. A box that contains the clues to his long lost Mom ….and that's when the trouble begins! Who is Maude Weiner and why does she want Grampa dead? Find out the answers and learn about Bob Weiner's past!
---
---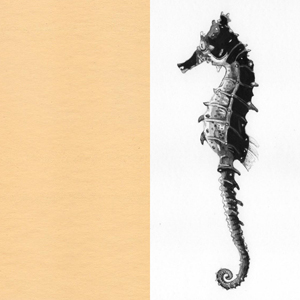 Period
By Christopher Adams
Published by 2D Cloud
32 pages
Black and White
5.5 x 8.5
$5
Adams' Period surfs sine waves of pencil and gouache harmonics. Voyeuristic rhythms; TV dinners, celibate sinners, and paranarrative bread winners. Run-ons, also-ran — cross the finnish line and gulp down some of that red wine.
---
---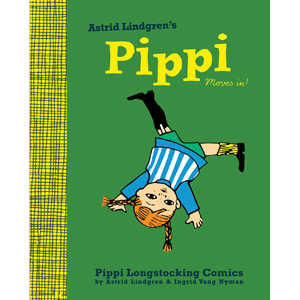 Pippi Moves In
By Astrid Lindgren and Ingrid Vang Nyman
Published by Drawn & Quarterly Enfant
$14.95 USD/CDN, paperback
ISBN: 978-1-77046-099-7
PIPPI MOVES IN makes these legendary Pippi Longstocking comics available in English for the first time ever. The outspoken strong-girl with the carrot-colored pigtails and the mismatched socks has enthralled generations of children the world over with her fabulous exploits at Villa Villekulla, where she lives with her horse and monkey. These stories, which meld Lindgren's brilliant storytelling and Vang Nyman's bold, prescient illustrations, are a long-lost masterpiece of mid-century cartooning.
---
---
Pizzula
Art by Jason Strutz
Written by Dave Foland
Publisher: Firetower Studios
10.00
StrutzIllustration.com
The desperate struggle of man versus pizza dracula. The story
contained within these pages is not for the faint of tummy, and though
you may quake with fear and your very gut might burst at the
pulse-quickening horrors it reveals, the story must be told. It is a
spine-tingling fright fest of extra large proportions topped with
delightful characters, a sprinkling of fierce monsters, and a titular
vampire villain. This is pizza-related entertainment Supreme.
---
---
Plastic Farm #21
By Rafer Roberts
Plastic Farm Press
Mini-comic
$2.50
plasticfarm.com
Written and (mostly) drawn by Rafer Roberts, PLASTIC FARM follows the life of a man named Chester and his slow descent into complete insanity and chronicles how that madness reshapes the world around him. In PLASTIC FARM #21, "The New Zero", The Thixotrope takes Chester on a surreal and disturbing trip where old friends are re-introduced and new mysteries abound. As Chester himself says in this issue, "Listen. I don't know if any of this is real, or where I am, of if this is some f–ked up dream, or if maybe I got slipped something at the party, or I took
something on purpose and forgot about it, but this is the weirdest crap ever and I don't like it and I'm about to lose my s–t."
---
---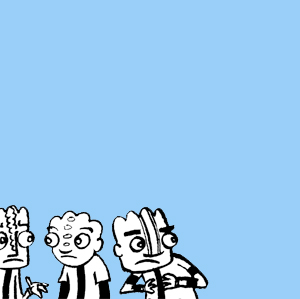 The Plot #2: Your Curiosity Will Get You Killed
By Neil Brideau
Self-published
Minicomic
40-pages
Photocopied
Hand-bound
Stamped covers
$4.00
In the second issue of the Plot, three friends, Eena, Fib, and Atchi, have accidentally lead a monster from the forbidden forest into their isolated village! Where did this beast come from? What are its intentions? How much will the villagers risk to learn the answers? Neil Brideau will also have comics debuting in the comic anthology
Digestate (a back story to the Plot), and the Ro-Cor minicomic pack.
---
---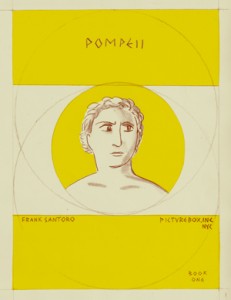 Pompeii
By Frank Santoro
PictureBox
$12.00
The life and intrigues of a painter's assistant just before the eruptions. A new story by Frank Santoro presented as a lushly printed risograph booklet, signed and numbered edition of 300.
---
---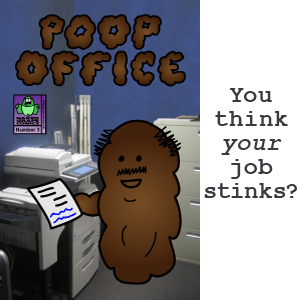 Poop Office #3
Written & Drawn by Ben
Naked Grape Comics
$3.00
nakedgrapecomics.com
Ever had a crappy job? Then you must've worked at Poop Office, an office staffed entirely by poop! Poopert is back in this thrilling third issue with his officemates Fecelia, Alpoop, Buttany, his boss Mr. Poopson, and many more! Find out what happens when Poopert falls asleep in a meeting. Learn what happens when Poopert's asked to take
notes at the next big meeting. And get ready for the big Poop Office 4th Anniversary celebration!
---
---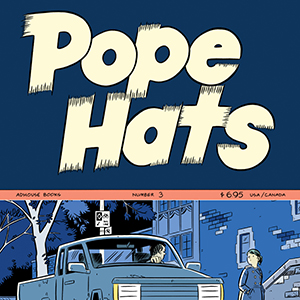 Pope Hats #3
By Ethan Rilly
Published by AdHouse Books
4C cover
40 1C pages
7 " x 10 " saddle stitched
$6.95 US funds
ISBN 978-1-9352332-0-6
Working, working, working! Frances Scarland continues to search for a perfect balance in her career as a law clerk, where the only certainty seems to be flux. Yet she loses footing as her close friend Vickie rides an unrelated wave of opportunity.
Pope Hats #3 offers the lengthiest instalment yet in Rilly's ongoing story about the give and take of professional success. With some extraneous strips and a new letters page.
---
---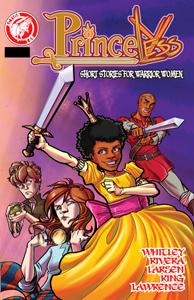 Princeless: Short Stories for Warrior Women #1
Writer: Jeremy Whitley
Illustrators: Emily C. Martin, Nancy King, Quinne Larsen, Jules Rivera,
Elsa Kreose, Tressa Bowling, Janet Wade, Laura Guzzo
Action Lab Comics
24 pages
$3.99
Diamond Distribution
ISBN – 978-0-9854952-5-1
actionlabcomics.com
Last year's three time Glyph award winning and two time Eisner Nominated breakout all-ages hit is back! This time Action Lab Entertainment is bringing you a collection of short stories from an amazing slate of great
young female artists. Princess Adrienne, the princess who saved herself, will be back and ready for more adventures. Also, be one of the first to get a sneak preview of the upcoming Princeless Volume 2.
Reviews:
"There's a reason that *Princeless* is Eisner nominated and it's because of the ease with which Whitley presents Adrienne and others like her. The supporting characters in the work are also fleshed out well, creating a universe that's both lighthearted and thoughtful at the same time." — Omnicomic.com
"If you liked *Princeless* — and everyone who read it has — then you'll want these glimpses into the family history to prep you for the next miniseries." — Comicsworthreading.com
---
---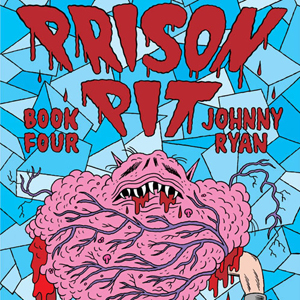 Prison Pit: Book 4
By Johnny Ryan
Published by Fantagraphics Books
104 pages
6.5 x 8.5
$12.99
Softcover, B/W
ISBN: 978-1-60699-591-4
As always, a plot summary of the latest installment of Johnny (Angry Youth Comix) Ryan's hugely popular sci-fi-prison-planet-gore-fest-slugfest-a-thon serial must, in order to be presentable to normal, decent human beings, be cut into fine Belgian lace. And so, with apologies: "Cannibal F***face discovers the only way to escape the Caligulon is to brainf*** the Slorge and create a giant, brainless oafchild that only knows how to annihilate everything in its path. And what happens when the Slugstaxx show up and use their nightj*** to turn this mindless monster against CF? Total F***ing Mayhem."
"Prison Pit is the black metal of comics…. If it doesn't make you sick, you shouldn't be allowed to walk among the public in the first place. If it doesn't make you giddy for the next one, you don't deserve comics." – David Harper
"Hey are you doing any more scary guys made out of tar ripping each other's dicks off? You know why I like those? Because you don't have to read all them stupid words and stuff. Right? Haa ha, hey Johnny wanna come over and play? Ha Ha!" – Tony Millionaire
---
---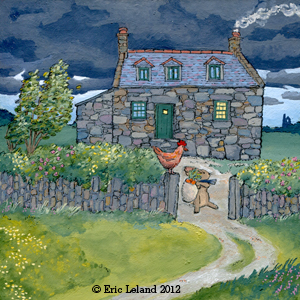 The Produce Is Not Safe: A 2013 Calendar
By Eric Leland
Self-published
$12.00
www.lelandmanufactory.com
Following on the fuzzy heels of last year's twelve month tribute to vegetable thievery, Eric Leland's Manufactory presents twelve new illustrations of two very cultured and very mischievous rabbits as they snatch up and snack on the finest produce from around the world. Also, keep an eye out for two other 2012 products of the Manufactory: "A Blaze of Glory" – a letterpress printed fairytale – and "Bridge to the Isles of Silly" – an epic visual chronicle of engineering accomplishment.
---
---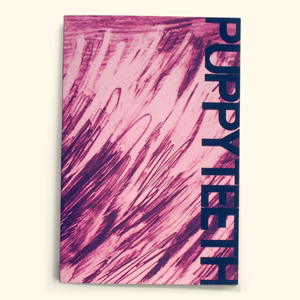 Puppyteeth #3
Czap Books
112 pages
Full Color
$15.00
Puppyteeth is a collection of short comics by a roughly consistent group of young artists – this is the third issue. The full-color artwork ranges the spectrum between the poetic and the hilarious. Each of the 15 contributors presents their best work, which taken together creates a meditation on the mysteries of death, loss, and the fabric of the universe. Featuring work by Alex Martin, Brandon B, Cherry Au, Eric Kubli, Jessi Zabarsky, Jory Griffis, Katherine Verhoeven, Keith Pakiz, Kevin Czapiewski, L. Nichols, Liz Suburbia, Liz Valasco, Mandy Sampson, Matt Czapiewski and Niki Smith, with cover art by Cathy G. Johnson and a forward by Dan Tallarico. For more information, please see puppyteethcomics.com.
---
---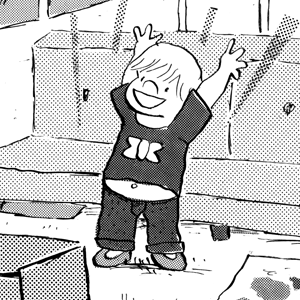 R.L.
By Tom Hart
Self-published
24 page digest-sized comic
No ISBN
Tom Hart's memoir about the death of his daughter. Available through Retrofit Comics online and at SPX.
---
---
By Justin Skarhus
Published by 2D Cloud
24 pages
3.25 x 4.25
Black and White
2D Cloud presents RDCD Fist 1.5, the accidental follow-up to the ghost of a comic that was RDCD Fist 1. TV Casual T. Nelsons in a pocket-size pamphlet. Limited run, multiple covers to bore you. Appearing in Jason T. Miles' NOME later this year.
---
---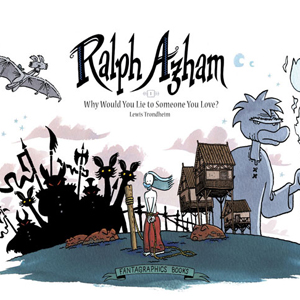 Ralph Azham Vol. 1: Why Would You Lie to Someone You Love?
By Lewis Trondheim
Published by Fantagraphics Books
96 Pages
8.25 x 6.375
$14.99
Hardcover, Full color
ISBN: 978-1-60699-593-8
Within his tiny village, Ralph Azham is considered an insolent good-for-nothing layabout, a virtual pariah — particularly since he was supposed to be a Chosen One. (Things didn't work out.) Yet his odd azure coloration and a few unique abilities (he can predict births and deaths) suggest that there may be more to him than meets the eye. And when the terrifying Horde stages one of its regular raids on his village, Ralph takes the young Raoul under his wing and sets out for a series ofadventures… Witty and fleet-footed like all of Trondheim's work, madly inventive in terms of characters, creatures, and events, Ralph Azham is scheduled to run for at least six volumes and is presented in a distinctive "landscape" format.
---
---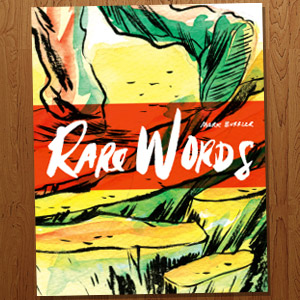 Rare Words Vol. 2
By Mark Burrier
Self-published
$19.95
rarewords.org
In April of 2012, Mark Burrier and Flying Dog Brewery sent out a call for submissions to Burrier's drawing blog, rarewords.org. Two months later, Flying Dog hosted an exhibition of watercolor illustrations inspired by those words. This collection contains 20 full color illustrations from that exhibition as individual, frameable prints.
---
---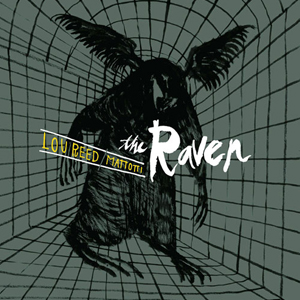 The Raven
By Lorenzo Mattotti & Lou Reed, based on the work of Edgar Allen Poe
Published by Fantagraphics Books
166 pages
9 x 9
$19.99
Softcover, Full color
ISBN: 978-1-60699-585-3
An ambitious combination of Edgar Allen Poe's poems and stories and Reeds reinterpretations of same (with a few classic Reed songs such as "Perfect Day" and "The Bed" integrated for good measure, POEtry bridged the centuries to provide a unique vision of beauty and horror for the dawning 21st century. In 2003, Reed released (under the title The Raven) a double CD reprising the musical, featuring an all-star cast of singers and actors including Steve Buscemi, David Bowie, Laurie Anderson. Willem Dafoe, and the Blind Boys of Alabama, as well as an edited single-CD version focusing on the songs. Now, for the definitive book version compiling the songs, verses and narratives that comprise POEtry/The Raven, Reed has personally commissioned legendary Italian illustrator and cartoonist Lorenzo Mattotti (Dr. Jekyll and Mr. Hyde, Stigmata) to visualize this extraordinary collaboration. Mattotti's vivid, abstracted and enigmatic
artwork brings out all the terror and beauty of this centuries-spanning masterwork.
---
---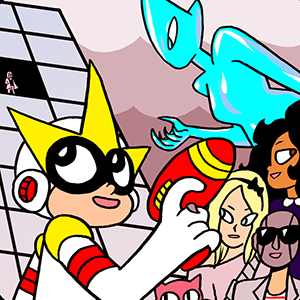 Remake 3xtra
By Lamar Abrams
Published by AdHouse Books
4C cover
128 1C pages
5.75 " x 7.75″ SC
$9.95 US funds
ISBN 978-1-935233-21-3
Shipping December 2012
Max Guy and all his crazy REMAKE cohorts return to WOW you with not one, but THREE tales of adventure, intrigue, love and all types of stuff! That's how we came up with the name 3xtra. Gettit? We are sooo witty. Anywaze, check this book outs. Xoxo.
---
---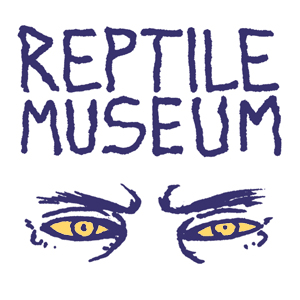 Reptile Museum #1
By Cody Pickrodt
Self-published, Special Preview Edition
32 pages
Black and White
5.4″x8″
Price: $5.00
codypickrodt.com
Generations have passed since global cataclysm reshaped the world. On the island of Seawanhacky, thirteen tribes struggle in isolation. But when one inhabitant known as Pants mysteriously returns after a ten-year absence, everything changes once again. Hailing from the Reptile tribe, he calls his home the Reptile Museum.
"Reptile Museum by Cody Pickrodt is one of the most promising mini-comics I've picked up this year. Really looking forward to seeing where the story goes cause Cody is a fucking maniac." — Box Brown, Everything Dies/Retrofit
"Attractively drawn and well-cartooned, this tale moves along at a pleasant clip, confidently revealing a disturbing world I am eager to spend more time in." — Mike Dawson, Freddie and Me/Troop 142
---
---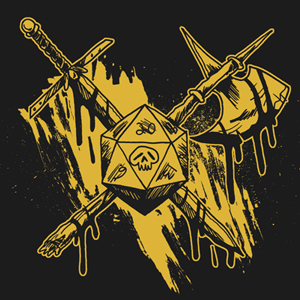 Roll for Initiative!
By Jimmy Giegerich
Published by JG Illustration
J.G. Illustration
Roll for Initiative! is a zine by Jimmy Giegerich themed around the classic table-top role playing game Dungeons and Dragons, and is focused on capturing the old-school feel of the artwork of the earlier editions of the game. The zine features a screen printed cover and is full of black and white illustrations of warriors, magic, blood, guts, and bugbears. Look for it at this year's SPX and ROLL FOR INITIATIVE, YOU'RE SURROUNDED BY LIZARDMEN!
---
---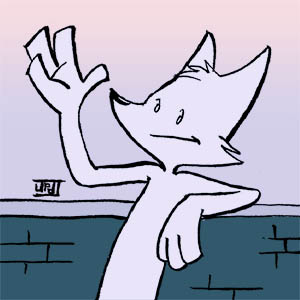 Roquefort
By James Point Du Jour
Self-Published
28 pages
Roquefort and his buddies take a road trip to the lair of the legendary Dance King in an attempt to impress a girl.
---
---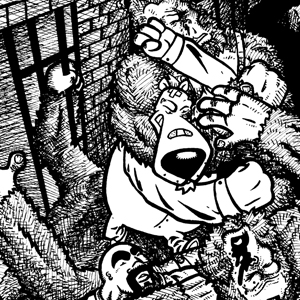 Ruffians #8
By Brian Canini
Drunken Cat Comics
$1.99
The violence has finally boiled over as Stonegate Penitentiary explodes in a riot. And at the center of it all is Scar desperately battling for his life in a sea of Malts. Will Scar finally find peace within these hate filled walls or is he destined for oblivion?
---
---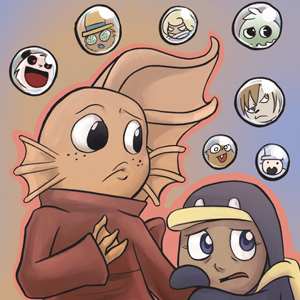 Run Lil Jared 8: Rest
By Jennifer Weber
Self Published
$3.00
runliljared.com
With Jared and Pancrazio's dorm life being disrupted by Rasbutain, Ranna offers them to come over for an afternoon of quiet. Problem is, her roommates are not fond of penguins. This is the 8th chapter of the Webcomic: Run Lil Jared by Jen Weber.
---
---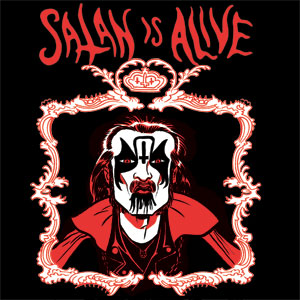 Satan is Alive: A Tribute to Mercyful Fate
By Mark Rudolph
Published by CV Comics and Monster Worship
152 pages
$10.00
Satan is Alive: A Tribute to Mercyful Fate is a 152-page book featuring comics, prose and illustration inspired by the music of Mercyful fate. Featuring work by: Tom Neely, Roger Langridge, Chuck BB, Ed Luce, Kim Holm, J.T. Dockery, Tim Sievert, Johnny Ryan, Ben Marra, Vasilis Lolos, Bruno Guerreiro, Mark Rudolph and many more. Also Forewords by Fenriz (Darkthrone), Scott Carlson (Repulsion) and Trevor Strnad (Black Dahlia Murder).
---
---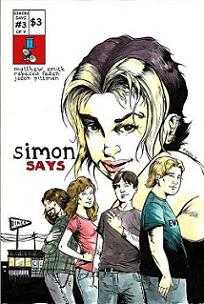 Simon Says #3
Written by Matthew D. Smith
Penciled by Rebecca Fedun
Inked & Lettered by Matthew D. Smith
Cover by Jason Pittman
Price: $3 (or get the first chapter bundle…issues 1-3 for only $8!)
The hit coming-of-age, slice-of-life series continues with issue 3, the final part of the first story arc! Simon has won the concert tickets and asked out long-time crush Morgan to be his date. However, when he finds out his new friend Angela may want to be more than just his pal, Simon has a difficult decision to make. Does he finally go out on a date with Morgan or call it off to test the waters with Angela? Don't miss the conclusion to chapter 1 of this hilarious, dramatic look back at being a high schooler in 1996.
"8.5 out of 10…combines the slice of life elements brought in such books as 'Love and Rockets' and 'American Splendor', and combine them with good high school angst brought to you in John Hughes high school films." – Dan Nokes, review on "The Splash Page"
---
---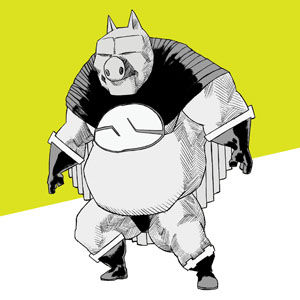 Sketches and Streams
By Antonio Romero
Artichoke Press
Cover price: $20
SPX price: $10
ISBN#: 978-0-9823778-5-7
artichokepress.com
These unusual and eloquent short stories mark the beginning of Antonio Romero's career as a comic book maker. Touching upon various genres, he explores the playful and poignant aspects of sequential art to produce a collection of unique and thought provoking works.
---
---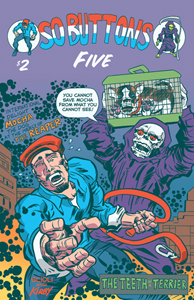 SO BUTTONS #5
Written by Jonathan Baylis
Cover by Tom Scioli
Art by Noah Van Sciver, Thomas Boatwright, Lisa Rosalie Eisenberg, & Paul Westover
Full color digest (5.5×8.5)
Self-published
$2.00
So Buttons is an auto-bio anthology in the tradition of Harvey Pekar with many artists interpreting different stories by Baylis. This short, accessible, entry-level issue features funny and heart warming stories about coffee obsession, making brisket, dog dentistry, and the value of a best friend.
---
---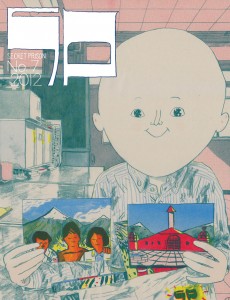 SP7
Edited By Ian Harker and Box Brown
Approx 150 pages
20 of the best alt. cartoonists working in Right to Left manga-style.
---
---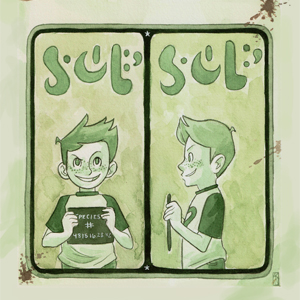 Space Case Sally and the Purloined Pest
By Ashley Quigg
$10.00
ISBN: 978-0-615-68051-4
spacecasesally.com
The collected full story in a snazzy paperback book! Sally is just your average everyday space-age teenager with an annoying above-average problem; her little brother Oliver. When little Oliver is kidnapped by space aliens,
however, it is up to Sally and her best friend Aimee to rescue him. Can Sally manage to keep from being vaporized and her sanity all in one piece? And more importantly, will she ever get to the mall?
---
---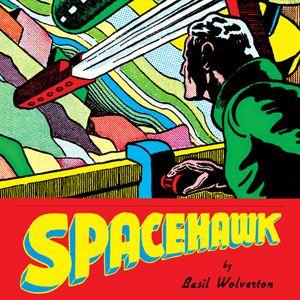 Spacehawk
By Basil Wolverton
Published by Fantagraphics Books
272 pages
9.25 x 13
$39.99
Softcover, Full color
ISBN: 978-1-60699-550-1
Basil Wolverton is one of the greatest, most idiosyncratic talents in comic book history. Though he is best known for his humorous grotesqueries in MAD magazine, it is his science-fiction character Spacehawk that Wolverton fans have most often demanded be collected. The wait is over, as Spacehawk features every story from Spacehawk's intergalactic debut in 1940 to his final, Nazi-crushing adventure in 1942. Spacehawk is the closest thing to a colorfully-costumed, conventional action hero Wolverton ever created, yet the strip is infused with Wolverton's quintessential weirdness: controlled, organic artwork of strangely repulsive aliens and monsters and bizarre planets, and stories of gruesome retribution that bring to mind Wolverton's peer, Fletcher Hanks. Spacehawk had no secret identity, no fixed base of operations beyond his spaceship, and no sidekicks or love interests. He had but one mission in life: to protect the innocent throughout the Solar System, and to punish the guilty.
---
---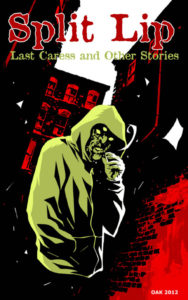 Split Lip: Last Caress and Other Stories
By Sam Costello
193 pages
$15.00
"The past is never dead. It's not even past," wrote William Faulkner. The horrors and traumas of the past may be behind us, but we're always within their reach in these 9 stories of desperate people and gruesome choices. All stories are written by series creator Sam Costello and drawn by artists including David Hitchcock, T.J. Kirsch, Anthony Peruzzo, and Erik Rose. Last Caress and Other Stories is the final Split Lip TPB and completes the series called "the best horror comic on the Internet," by Comics Should Be Good. All 4 volumes will be available at SPX 2012.
---
---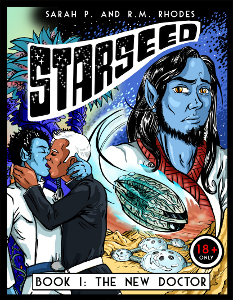 Starseed
Written by RM Rhodes
Illustrated by Sarah P.
Starseed is a gay porn space opera – you either perked up or you didn't – currently running as a webcomic at Starseedcomic.com, with new pages in black and white Tuesdays and every other Thursday. The print edition of the first book is be in full color. This first book introduces the crew of the experimental ship Starseed, as they go on their first official mission to deliver the antidote for a paleovirus that recently resurfaced in the mining settlement of Simvastin.
---
---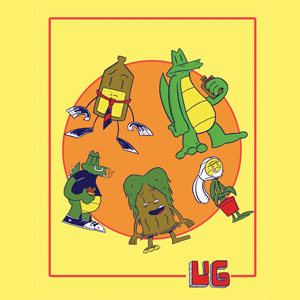 Steve Seck's Life is Good Vol. I – Some Stuff Happens
By Steve Seck
Self-published
200 pages
$14.00
"Steve Seck's Life is Good Vol. I – Some Stuff Happens" collects the first seven issues of the continuing adventures of an unemployed beer bottle & his homeless alligator friend in the big city. When Brownie the beer bottle gets fired from his mundane office job, his life is thrown into turmoil. He ends up getting drunk a lot with his best friend Charles the alligator, which leads them on rambling non-adventures through the city. While Brownie feels bad about himself & butts heads with Charles' old high school friend who recently moved to the city (the crust punk-wannabe Sewer Gator), Charles inadvertently becomes the poster-boy for a "Clean Up the Park" campaign run by some aging hippies. Filled with weird characters & humor more subtle than you would expect from a comic book starring a talking beer, it's no wonder that Rob Clough (TCJ.com / High-Low) called it "A cross between Pogo and Hate, if that makes any sense."
"Steve Seck delightfully reinvents the 'Talking-Beer-Bottle-Who-Is-Friends-With-a-Homeless-Alligator' genre for the 21st Century!" – Alex Robinson, Box Office Poison
"It's hard to hate something that is this consistently funny and engaging unless you're just trapped in a cycle of cynicism." – Kevin Bramer, Optical Sloth
---
---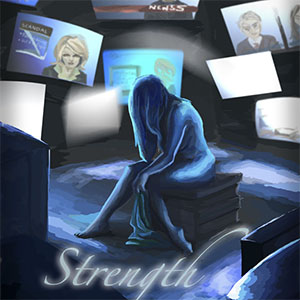 Strength #1 of 3
Writer: Shawn Padraic Murphy
Artist: Javier Garcia
Shawn Padraic Murphy / Padraic Productions
Distributor: ComixPress.com (physical) & LushComics.com (digital)
ISBN: 978-1-936921-02-7
shawnpmurphy.com
A world where superheros exist, where violence is more acceptable, and where nudity is an extremely untalked of taboo. Strength is a young superhero who wishes to do good in the world, but an early adventure almost stops her entire career. When her suit is destroyed in a supervillian fight, and her nude body televised across the world, she finds herself demonized by the media, and condemned by the very government that trained her; even though her actions saved the entire city. This is Strength's story.
---
---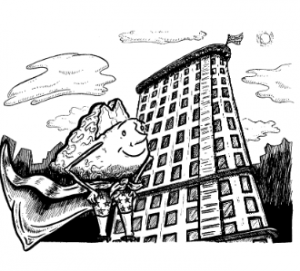 Super Lobotomy
By Sara Lindo
Published by Big Tee Pee
24 Pages
Black and White
www.theLindo.com
Brain Guy thinks he has what it takes to be a hero, and he's showing off his "courage", "strength" and mail-ordered cape in the Big City, much to the chagrin of the local residents. Will he learn what it truly means to be a hero (or, at least, what it means to be helpful)???
---
---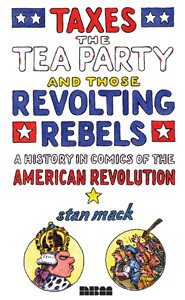 Taxes, The Tea Party and Those Revolting Rebels: A Comics History of the American Revolution
By Stan Mack (who will be signing at the show)
NBM Publishing
Distributed to the general trade by IPG
6×9
176 pages
Black and White
Hardcover
$14.99
ISBN 9781561636976
Here's the fun way to learn all about the Birth of the United States: in comics! "A cartoonist de-mythologizes the Founding Fathers and makes them more 'like us' says the New York Times. Uncannily relevant to today's world. Learn about the original revolt against taxes: the Boston Tea Party, and the original Occupy movement: the Rebels in revolt against the status quo. A whimsical and informative pictorial history featuring a chubby, insecure King George III, rebellious and misunderstood colonists, loudmouthed and insensitive aristocrats, and more. Updated from the original "Stan Mack's Real Life American Revolution" published by Avon books in 1994.
Imprint has a great interview of Mack on this book.
"I would grab it!" -Brigid Alverson, Robot 6, Comic Book Resources
"Mack has done his homework, so this is not a retread of the standard story; he brings a new perspective and a lot of hey-I-didnt-know-that facts to the history we all thought we knew." – School Library Journal
---
---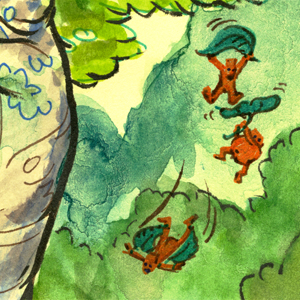 That Imperial Imp…Her Flatulence, The Queen
By Pat Barrett
Oak & Linden Comics
Debuting at SPX, That Imperial Imp…Her Flatulence, The Queen starring some tiny little naked orange forest people. They get into existential arguments while they push each other over. The Imps have
appeared previously at Top Shelf 2.0 and in my handmade comic series Oak & Linden #3.
"This graduate of the Center for Cartoon Studies is one of its best draftsmen and stylists. His Oak & Linden minicomics are well-crafted one-man anthologies, and the actual anthologies he's been a part of
(Nymphonomena and Tag Team in particular) are rather good." –Rob Clough, "Artists To Seek Out At SPX 2011," High-Low.
---
---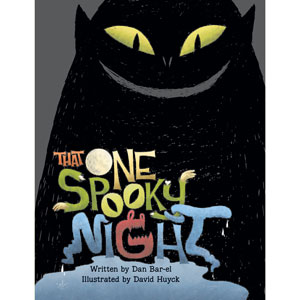 That One Spooky Night
Written by Dan Bar-el
Illustrated by David Huyck
Kids Can Press, Toronto
80 pages of comics
Three stories
Ages 7 and up
ISBN: 978-1554537518
thatonespookynight.com/
There can only be one night a year when a broom will go in search of a witch, when mermaids might swim in a bathtub and when a house party can get a little too batty. Here are three strange stories about that one spooky night!
David Huyck has illustrated his debut children's graphic novel, and he brings the book in both hard and soft cover to SPX. A limited number of exclusive, 2-color, letterpress prints are available with the purchase of hardcover copies direct from the illustrator. Get your copy before that one spooky night comes at the end of October!
---
---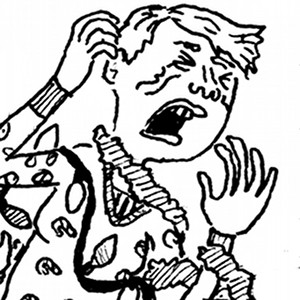 Them's the Breaks, Kid
By Tessa Brunton
Self-published
$4.00
Them's a Breaks, Kid is the debut anthology of comic collective Five True Fans. It features stories about navigating the messy, miserable parts of life (and trying to do some without frontal lobotomies). Contributors MariNaomi, Ric Carrasquillo, Cassie J. Sneider and Ignatz-nominee Tessa Brunton each bring their own unique style to this exploration of the funny, the nightmarish, and the heartbreaking with tales of old flames, chronic illness, monster toothaches and childhood mysteries.
---
---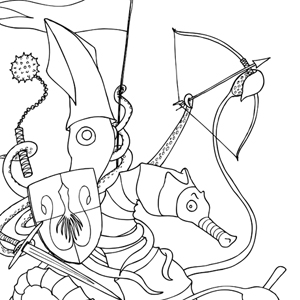 This is 65 Coloring Book of Awesome Things
By Jonathan Eaton
Printed by Alphagraphics
24 Pages
8.5 x 11
Are you awesome and do you like to color awesome things? Look no further than the official coloring book of This is 65 by Baltimore artist Jonathan Eaton. Inside you'll find amazing things like bears on ladders, sharks on jetpacks, Ke$ha passed out, and yes, a squid knight. This coloring book is also 100% kid friendly, so it's the perfect gift for sons, daughters, nieces and nephews or any children you may happen to know.
---
---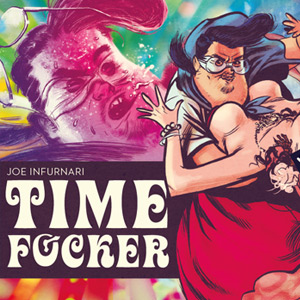 Time F#cker
By Joe Infurnari
In the Oven Press
$8 Regular (Limited to 200 copies)
$15 Deluxe Edition (Limited to 100 copies)
Sal Ghesboro has just found Thomas Edison's Peepshow Time Machine and he knows exactly what he's going to do with it. He's going back in time to impregnate the moms of his greatest detractors before they were born; Time F#cking them out of existence. And who is his first victim? His very own brother, of course!
---
---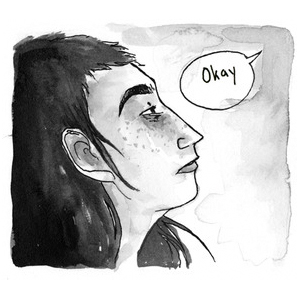 Tiny Bangs #1
By Olivia Horvath
Published by Hidden Fortress Press
36 pages
5 dollars
Black &White with color cover
cargocollective.com/oliviahorvath
A 2012 Xeric Award recipient. Tiny Bangs: a comic about passivity, gaze, and asserting autonomy and
complexity as a means of survival. This is the first of three volumes.
---
---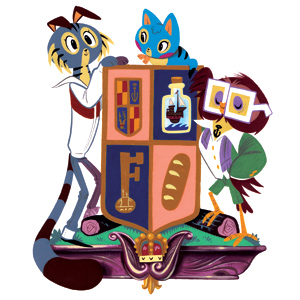 Tiny Kitten Teeth
By Becky Driestadt and Frank Gibson
Self-Published
Price: $30
ISBN: 978-0-9785016-3-1
tinykittenteeth.com
Tiny Kitten Teeth is a hand-painted all ages online comic that has been running for almost four years. Following a successful Kickstarter campaign, their 144 page cloth-bound hardcover will debut at SPX. Originally from New Zealand and now based out of Los Angeles, the comic is made by the couple artist and writer team of Becky and Frank. Tiny Kitten Teeth is an exploration of vintage illustration and animation art, as well as doused in a love for English satire. Artist Becky Dreistadt is a featured guest at SPX in 2012!
"Each and every panel of Tiny Kitten Teeth reveals so much talent and wit, I'm still not certain Becky and Frank are creating comics without the aid of dark, ancient magic." – Phil McAndrew
"F–k you if you don't love Tiny Kitten Teeth" – Jeph Jacques, Questionable Content
---
---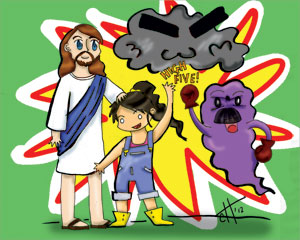 Trinity Force Four vol. 1: The Epic Friendship Begins
Written and drawn by Haemi Choung
Published by 789 Studio
$2.00 (Half the proceeds go to the ROCK Foundation)
www.haemichoung.com
What do you get when you group the Holy Trinity with a 10 year old adventurous girl and add a hint of shenanigans, fun and smidgen of the A-Team? You get TRINITY FORCE FOUR!!! Join Samantha, the brave 10 year old heroine, as she fights crime and daily problems with Jesus, the "easy on the eyes" mediator; the "rough, tough and scary enough" Holy Spirit; and the fluffy, wise, calm God as they go through a wide range of adventures- from rescuing a a kitten from a tree to dealing with a hostage situation to dealing with someone that steals. It's a great story for all to read- and learn from!
---
---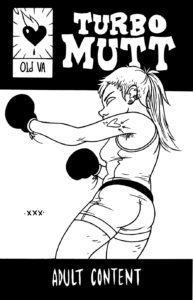 Turbo Mutt
Black and White
By Liz Suburbia
Self-published
5.5×8.5
16 pages
Enough dirty, squishy, hot porky cha-cha inside to choke a horse, if that's the kind of thing the horse is into. Adults only!
---
---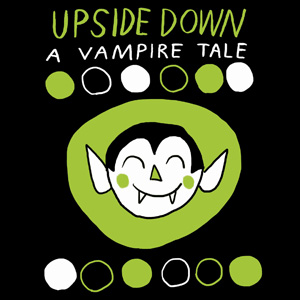 Upside Down (Book 1): A Vampire Tale
by Jess Smart Smiley
Published by Top Shelf Productions
Website
Two-color softcover with French flaps
144 pages
6" x 9"
All Ages
$9.95 (US)
ISBN 978-1-60309-088-9
Harold is a friendly young vampire who lives in a piano and LOVES candy. Pretty normal, huh? …until he sets out for a dentist appointment that turns into the biggest adventure of his life! Now he'll face bats, witches, magic spells, vampire frogs, mad scientists, and so much more! It's a wild magical romp for all ages, just in time for Halloween.
---
---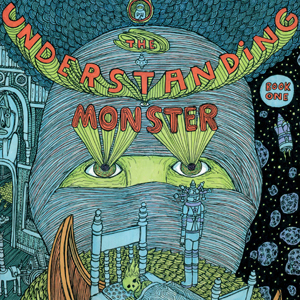 The Understanding Monster – Book One
By Theo Ellsworth
Published by Secret Acres
Hardcover
72 pages
9.25″ x 11.5″
Full Color
$21.95
ISBN 978-0-9831662-4-2
This series is a departure for reader and author alike. While maintaining the intimate nature of his debut Capacity, Ellsworth has taken his personal experience to an entirely new reality, exploding with color and energy. Presented in an oversized, full color, hardcover edition that captures the beauty of his hand painted artwork at nearly full size, The Understanding Monster – Book One is a wonder to behold.
---
---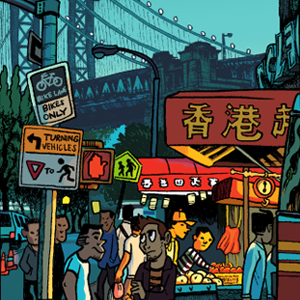 Urban Buzz
By Ned Hugar
Self-published
36 full-color pages
$6.00
Urban Buzz is a comic about a gay intercity beekeeper, his friends and love life. There will also be an Urban Buzz mini-comic zine and preview of the next issue.
"Urban Buzz is a rich, dense and colorful comic where the city is as much a character as the group of twenty-something friends whose everyday misadventures are chronicled here." -François Peneaud, The Gay Comics List
---
---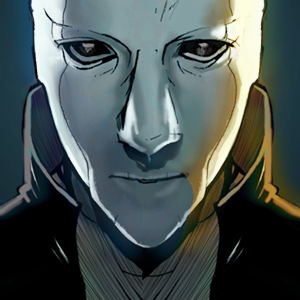 Vacant
By Heather Nunnelly
Self published via Comixpress.com
19 Pages
Fully Colored
$3.50 per issue
Website
Vacant is a science fiction web comic following Commander Hayze, an agent of "The Eye" a powerful alien government/ corporate agency. Sent on a seemingly simple rescue mission, Hayze stumbles upon a possible explanation for the near extermination of the human race that had taken place over 100 years prior. His only lead is a virus and, along with his crew, Hayze tries to find the cure.
---
---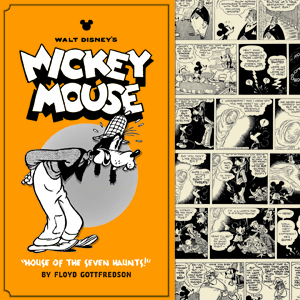 Walt Disney's Mickey Mouse Vol. 4: "House of the Seven Haunts!"
By Floyd Gottfredson, ed. by David Gerstein with Gary Groth
Published by Fantagraphics Books
280 Pages
10.5 x 8.5
$29.99
Hardcover, B/W with some color
ISBN: 978-1-60699-575-4
Who says dead men tell no tales? When grim ginning ghosts come out to socialise, they'll find fearless Mickey all ready to rumble. From Africa to Eastern Europe, our favorite big cheese is in for terrifying thrills – and he's bringing Goofy, Donald Duck, and Pegleg Pete along for the ride! When Mickey sets out to eject "The Seven Ghosts" from Bassett Manor, he finds more than just specters providing the scares. Next, our hero discovers an awesome "Island in the Sky" – and meets its maker, the powerful atomic scientist Dr. Einmug! Lovingly restored from Disney's original negatives and proof sheets, House of the Seven Haunts! also includes more than 50 pages of spooky supplementary features. This is the next volume in the series that won the 2012 Eisner Award: Best Archival Collection/Projects – Strips.
---
---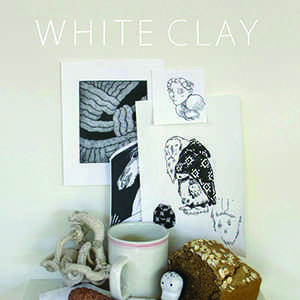 White Clay
By Thomas Herpich
Published by AdHouse Books
4C cover
32 1C pages
8.5 " x 11 " saddle stitched
$4.95 US funds
ISBN 978-1-9352331-8-39
From Thomas Herpich (a writer/character-designer/storyboard artist on the smash hit Adventure Time cartoon) comes a collection of experimental adventure/fantasy stories. Beautiful and strange, these comics are heartfelt attempts to examine the paradoxes and traps facing a human mind living today. Thomas' previous critically acclaimed comic making included Cusp & Gongwanadon.
---
---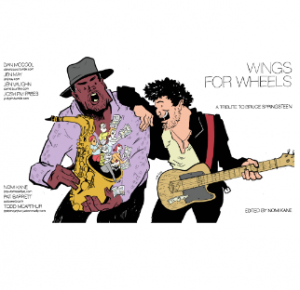 Wings for Wheels: A Tribute to Bruce Springsteen
Ed. by Nomi Kane
Self-published
$6
Wings for Wheels: A Tribute to Bruce Springsteen is a collection of comics about the power and ubiquity of The Boss. If you've ever spent a long drive listening to Nebraska or an evening of revelry belting out Born to Run in Karaoke, this book is for you! Bound beautifully as a sexy 45 sleeve, this collection is available for $6 featuring 40 jam-packed pages of work by Pat Barrett, Josh PM Frees, Jen Vaughn, Dan McCool, Jen May, Todd McArther, and Nomi Kane.
---
---
Winters in Lavelle, Vol. 2: Blue Eyes, Pearl Moon
By Kasey Van Hise
Collects chapters 5-7 of the comic
188 pages
$12.00
wintersinlavelle.com
The Winters siblings and companions have reached civiliation, but they are hardly out of danger. The crown prince of Lavelle and his men have also arrived in the town of Alderton. Their mission: obtain Amber, even if it means destroying those who stand in their way. Meanwhile, Ashton has become more secretive, more desperate- even risking the well being of those around him to escape. Can Kari and Aiden evade the grasp of the Prince and the enigmatic Commander Grissom? What is Ashton hiding?
---
---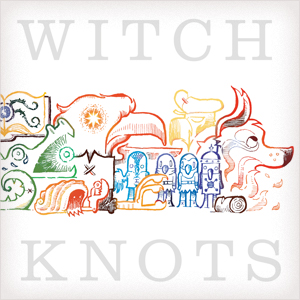 Witch Knots
By Ira Marcks
Self-published
Full-color
170pgs
Hardbound
$25.00
Witch Knots is a loving tribute to classic sci-fi, fantasy clichés and the great young adult fiction of the 60s & 70s. It's like an S.E. Hinton coming of age tale, stuck inside a dystopian world of Ray Bradbury's, with a dash of H.P. Lovecraft mythos.
Witch Knots is based on a collection of web comics by Ira Marcks from 2009 to 2011. In the spring of 2012, Ira revised and edited the story into a full color, hardcover graphic novel and self-published the book with a successful Kickstarter project. An excerpt from the book can be seen at: witchknots.com
Ira's work has been mentioned in Scott McCloud's blog, USA Today, Graphic NYC and the Drawn! blog.
---
---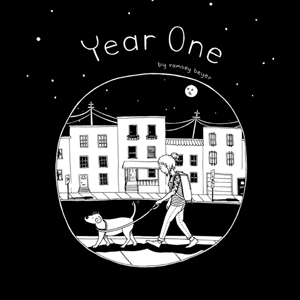 Year One
By Ramsey Beyer
Self-published
$14
Also available at everydaypants.com
Through weekly vignettes, Ramsey Beyer's "Year One" illustrates the story of her first year living in Philadelphia. Follow Ramsey and her canine companion, Rover, as she documents the excitement of unknown possibility, friendships old and new, complicated romance, grief, loss, and the growth that accompanies change. Ramsey's search for a sense of "home" comes with plenty of great punk anecdotes and memories along the way.
"I just have to write you to let you know that I received my copy of Year One yesterday and it is so beautiful! I had read all the comics online, but it was such a different experience to hold it in my hands and see all the detail. Year One is an amazing, touching, funny, heartfelt book. Congratulations on a job well done! It is so inspiring to see folks my age getting it done!"
---
---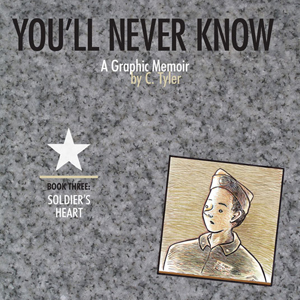 You'll Never Know Book 3: Soldier's Heart
By C. Tyler
Published by Fantagraphics Books
128 pages
12 x 10.25
$24.99
Hardcover, Full color
ISBN: 978-1-60699-548-8
In one of the most eagerly-anticipated graphic novels of 2012, *Soldier's Heart* concludes the story of Carol Tyler and her delving into her father's war experiences in a way that is both surprising and devastating — and rather than trying to summarize this episode and thus possibly spoil it for readers, we prefer to simply offer a selection of comments on the first two installments of this autobiographical masterpiece. *Booklist*: "Tyler'sfluid, expressive linework, complemented by subtly overlaid watercolors, gives ideal visual expression to a narrative that's at once sensitive and hard-nosed… Decades of drawing mostly autobiographical stories have honed her skills, enabling her to produce a work that ranks in quality with the graphic memoirs of Alison Bechdel (*Fun Home*) and Marjane Satrapi (*Persepolis*)."
"It's impossible not to compare *You'll Never Know* with Art Spiegelman's *Maus*, the first great graphic novel about what happened to a cartoonist's father during World War II… Tyler's book is a vivid, affecting, eccentrically stylish frame built around a terrible silence." – New York Times Book Review
---
---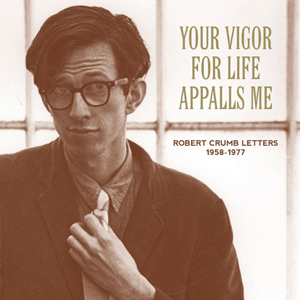 Your Vigor for Life Appalls Me: Robert Crumb Letters 1958-1977
Ed. by Robert Crumb
Published by Fantagraphics Books
272 pages
6 x 9
$19.99
Softcover, B/W
ISBN: 978-1-60699-560-0
Spanning the most formative era of his life, from the painful years of adolescence to the fame and fortune of early adulthood, this collection of personal correspondences with two near-lifelong friends sheds light on the artistic development, bitter struggle, and ultimate triumph of the world's greatest living cartoonist. Crumb writes about many key events in his life: the dissolution of his first marriage, the pain of being separated from his first child, his troubles with the IRS, and his obsessions with comics, music and women (including his earliest experiences with Aline Kominsky-Crumb, now his wife of over 30 years). An entertaining and revealing look into the mind of a great artist and thinker; this is Crumb's sketchbook of words, featuring scores of rare art, including entire letters drawn in cartoon form.
"R. Crumb's writing, a dimension of his comics that usually passes underappreciated, receives a welcome spotlight in these sparsely illustrated letters that exhibit the artist's ear for the American vernacular." — Rain Taxi Review of Books
---
---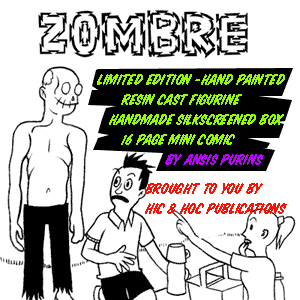 ZOMBRE hand painted resin cast figurine
Sculpted by Ansis Purins
Hic & Hic Publications
Hand painted, hand cut silkscreened box
Hand painted and signed. Includes free 16 page comic book inside.