For Immediate Release
Contact: Warren Bernard
Phone: 301-537-4615
Email: warren@spxpo.com
Bethesda, Maryland; September 11, 2017
This year's annual Small Press Expo Lecture is The Comic Book Legal Defense Fund: Comics & The Power of Intellectual Freedom.
Where: Library of Congress Madison Building — West Dining Room, 6th floor
Metro Stop: Capitol South
When: Friday, September 15, 2017, 12:00 noon-1:00 PM
A trend that began in the 1940s continues today—challenges to comic books! Charles Brownstein, Executive Director of the non-profit Comic Book Legal Defense Fund, will share the history of comic book censorship from the medium's origins to the present day.
Participants will learn about the history of comic book censorship, and how that history still informs challenges to graphic novels happening right now. Learn what CBLDF does to protect this valuable medium, discover some of the most frequently challenged comics and graphic novels, and what you can do to make a difference.
Emerge from this session with a new or renewed passion for comics, graphic novels, and manga and as a strong advocate for protecting this form of free speech!
A selection of comic books from the Serial and Government Publications Division will be on display.
This is the sixth annual SPX festival program sponsored by the Serial & Government Publications Division.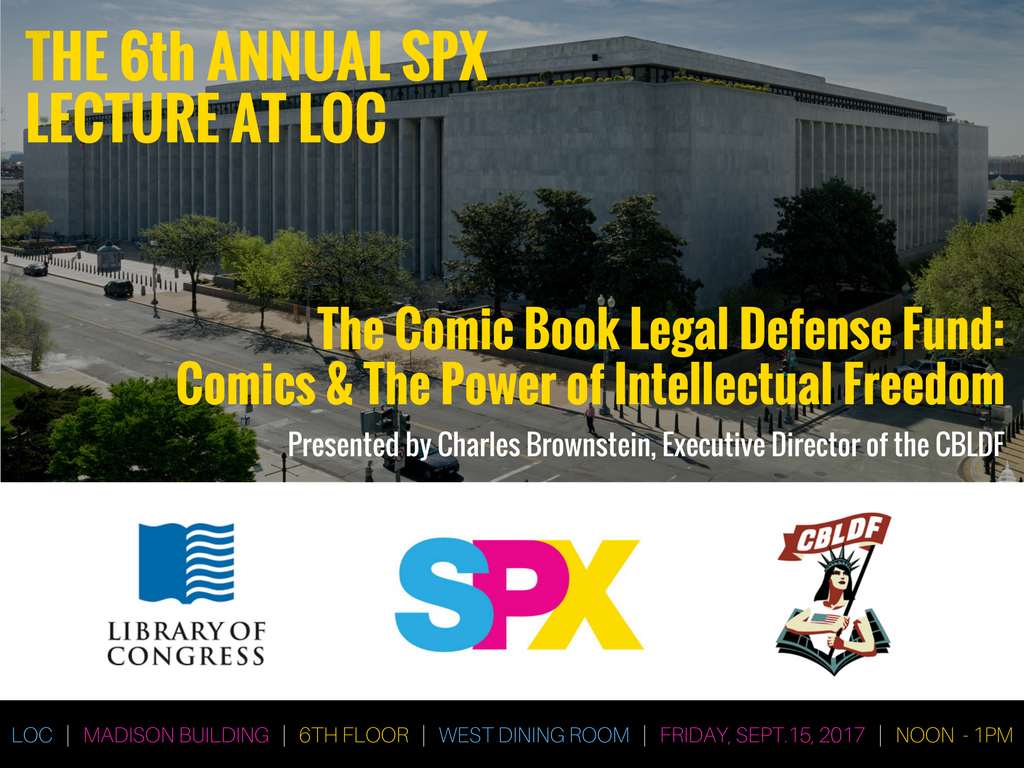 SPX also supports the Small Press Expo Collection at the Library of Congress, which preserves the history of both the artistic output of the creators who come to SPX, as well as the art that SPX itself generates as part of its yearly festival. It the first program of its type by a major institution in the United States to preserve the works of the indie comics community.
Small Press Expo (SPX) is the preeminent showcase for the exhibition of independent comics, graphic novels, and alternative political cartoons. SPX is a registered 501(c)3 nonprofit that brings together more than 600 artists and publishers to meet their readers, booksellers, and distributors each year. Graphic novels, mini comics, and alternative comics will all be on display and for sale by their authors and illustrators. The expo includes a series of panel discussions and interviews with this year's guests.
The Ignatz Award is a festival prize held every year at SPX recognizing outstanding achievement in comics and cartooning, with the winners chosen by attendees at the show.
As in previous years, profits from the SPX will go to support the SPX Graphic Novel Gift Program, which funds graphic novel purchases for public and academic libraries, as well as the Comic Book Legal Defense Fund (CBLDF), which protects the First Amendment rights of comic book readers and professionals. For more information on the CBLDF, visit their website at http://www.cbldf.org. For more information on the Small Press Expo, please visit https://www.smallpressexpo.com.