Small Press Expo Announces 20th Anniversary International Guests Simon Hanselman, Aisha Franz, Yvan Alagbé, Dominique Goblet, Mana Neyestani, Daniel Jiménez Quiroz, and More!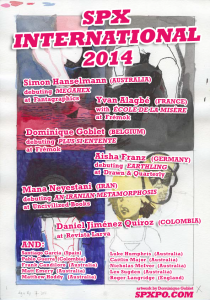 For Immediate Release
Contact: Warren Bernard
Phone: 301-537-4615
E-Mail: warren@spxpo.com
Bethesda, Maryland; August 12, 2014 – This year marks the 20th Anniversary ofSPX, which will be held September 13 and 14, 2014 at the North Bethesda Marriott Hotel & Conference Center. For our 20th birthday, we are pleased to announce a robust slate of international comics artists, publishers and critics from Australia, Germany, France, Belgium, Iran, Colombia, Spain and more, contributing to SPX's growing status as a global meeting place for the exchange of ideas, aesthetics, and points of view.

Simon Hanselmann will arrive from Australia to debut Megahex, his eagerly awaited new collection from Fantagraphics, collecting the darkly comedic and unexpectedly moving comics that have earned him an enormous following online. At SPX, Hanselmann will kick off a national book tour with Michael DeForge and Patrick Kyle; the trio will participate in a special live edition of the Inkstuds radio show atSPX, led by regular Inkstuds host Robin McConnell and special guest co-hostBrandon Graham.

Aisha Franz is a German cartoonist whose SPX debut and first book for Drawn & Quarterly is Earthling, which has also been published in German, French, Italian, and Spanish. Franz lives in Berlin where she is a member of the Treasure Fleet comics collective. In addition to an active illustration career she has contributed comics to  Pitchfork Review, Kus!, Kuti Kuti, and many more publications. Her second graphic novel, Brigitte und der Perlen-hort, has been published in German and French.

Yvan Alagbé and Dominique Goblet will travel to SPX from France and Belgium, respectively, with a range of work from the avant-garde Brussels-based publishing house Frémok. Alagbé co-founded the influential French publishing house Éditions Amok, which later merged with the Belgian publisher Fréon to form Frémok and continues to champion poetic work at the borderline of comics and fine art. Alagbé's new book École de la Misère, rendered in beautiful ink and wash, further expresses his clear-eyed, penetrating career-long investigation into mysterious desire and explosive cultural conflict.

Goblet, an early contributor to the Fréon flagship anthology Frigorevue, has produced a challenging and beautiful body of work that productively troubles the distinctions between fiction and autobiography, and between narrative and poetic image-making. At SPX she will debut the groundbreaking full-color graphic novelPlus si Entente, a book produced collaboratively with German cartoonist Kai Pfeiffer. Working internationally, the pair swapped pages and responded to ideas, images, compositions and colors proposed by the other to test the possibilities of narrative within the comics form.

Exhibiting as Frémok, Goblet and Alagbé will also bring with them many works from the publisher's catalog, including the award-winning collection of Kamagurka and Herr Seele's Cowboy Henk comic strips (an instant sell-out at MoCCA) and the American debut of Kamagurka and Seele's brand new Cowboy Henk book, Histoire de la Belgique (pour tous).

Mana Neyestani is an Iranian cartoonist and illustrator for economic, intellectual, political, cultural, and professional magazines. He is particularly known for his work for the newspaper Zan and Persian language Radio Zamaneh. A 2006 political cartoon by Neyestani prompted riots among the oppressed Azeri minority in Iran; the paper in which the cartoon appeared was promptly closed and Neyestani was imprisoned. Upon his temporary release three months later he left the country and currently resides in France. He is the recipient of the Cartoonists Rights NetworkInternational award for courage in editorial cartooning, 2010. His graphic novel An Iranian Metamorphosis was originally published in French, and will debut in an English-language edition from Uncivilized Books at SPX.

Publisher, editor, critic and event organizer Daniel Jiménez Quiroz is the editor of  Revista Larva, the leading Colombian comics anthology, which publishes work by artists from throughout South America. Larva has spun off the comics publishing house Editorial Robot, which has published work by artists including Peter Kuper and Powerpaola. Quiroz also co-organizes the Entreviñetas comics festival which is now in its fifth year and has featured guests including Gabrielle Bell, Ruppert & Mulot, and Anders Nilsen. At SPX, Quiroz will exhibit work from Colombia and will participate in a special panel about Spanish-language comics, including Spanish critic Santiago García, Colombian critic Pablo Guerra, and American publisherScott Brown. Quiroz's visit to SPX is supported by the Ministerio de Cultura of Colombia.

Many other international publishers and artists will exhibit at this year's event, including London-based New Zealander Roger Langridge and Australian cartoonists Frank Candiloro, Matt Emery, Luke Humphris, Matthew Hoddy,Caitlin Major, Nicholas McIvor and Lex Sugden. SPX's 20th anniversary event will offer a unique opportunity to encounter the work and perspectives of internationalartists, and to more fully appreciate the truly global character of the comics form.

About SPX
Small Press Expo (SPX) is the preeminent showcase for the exhibition of independent comics, graphic novels, and alternative political cartoons. SPX is a registered 501(c)3 non-profit that brings together more than 600 artists and publishers to meet their readers, booksellers, and distributors each year. Graphic novels, mini comics, and alternative comics will all be on display and for sale by their authors and illustrators. SPX also has a two tracks of of panel discussions and interviews with this year's guests that run through both days of the event.

The Ignatz Award is a festival prize held every year at SPX, with the winners chosen by attendees at the show. All works nominated for Ignatz Awards are donated to the Small Press Expo Collection at the Library of Congress, which is the first institutional collection in the United States dedicated to the indie comics field.

As in previous years, profits from the SPX will go to support the SPX Graphic Novel Gift Program, which funds graphic novel purchases for public and academic libraries, as well as the Comic Book Legal Defense Fund (CBLDF), which protects the First Amendment rights of comic book readers and professionals. For more information on the CBLDF, visit their website at http://www.cbldf.org.