Small Press Expo Announces Programming Schedule for SPX 2017
For Immediate Release
Contact: Warren Bernard
Phone: 301-537-4615
Email: warren@spxpo.com
Bethesda, Maryland; August 24, 2017
Media Release – Small Press Expo is pleased to announce the Programming Schedule for SPX 2017. SPX is continuing the festival's established tradition of rich, thought-provoking programming featuring leading comics artists and critics in conversation. As in previous years, the Programming Schedule features 22 sessions with two simultaneous tracks on both Saturday and Sunday, September 16 and 17.
The complete schedule with times and descriptions can be found at https://www.smallpressexpo.com/spx-2017-programming-schedule.
Here are some highlights:
• Tillie Walden discusses her new work, Spinning, focusing on her decade spent in competitive figure skating, with Small Press Expo executive director Warren Bernard.
• Jillian Tamaki (Boundless) and Eleanor Davis (You And A Bike And The Road) are two of our generation's greatest cartoonists. Both create beautiful imagery while telling incredibly poignant stories which are thoughtful and evocative. With moderator Jim Rugg.
•Moderator L.Nichols will explore the recent movement in comics toward exploring genderfluidity within a science-fiction context, with an emphasis on technology and utopian ideals. Panelists Jeremy Sorese (Curveball), Carta Monir (Secure Connect), Kevin Czap (Futchi Perf) and Rio Aubry Taylor (Jetty) will each discuss how their own work fits into this bold new vision of comics,
• Gene Luen Yang has distinguished himself as a prominent voice in youth-friendly literature through his books American Born Chinese and Boxers and Saints. He continues to inspire young readers by championing diversity as the recently appointed National Ambassador for Young People's Literature. Join us for a very special conversation with Gene as we spotlight Reading Without Walls. Moderated by Johanna Draper Carlson.
•Join moderator Jared Gardner, publisher Raighne Hogan and an array of 2dcloud artists as they celebrate and recount the history of this cutting-edge indy publisher and look toward its future.
Additionally, several panels will focus on the cartooning into today's political climate:
• Tom Spurgeon moderates political cartoonists Ann Telnaes, Matt Wuerker, Keith Knight and Ben Passmore as they explore the role and responsibility of being a political cartoonist in a time when the freedom of the press is under attack.
•In a world that seems increasingly difficult to satirize, come see how cartoonists Tommi Musturi (Simply Samuel), Aaron Lange (Trim), Sabin Cauldron (Maleficium), and Katie Fricas (The New Yorker) use different comedic tools to address the absurd, the awful and the just plain ridiculous. Moderated by Heidi MacDonald.
•Celebrants and detractors alike are chewing on the fact that Donald Trump was elected president. Shannon Wheeler and Robert Sikoryak will help you swallow. In their books Sh*t My President Says from Top Shelf and The Unquotable Trump from Drawn & Quarterly (respectively), these two cartoonists illustrate Trump's words for comedic effect and insight.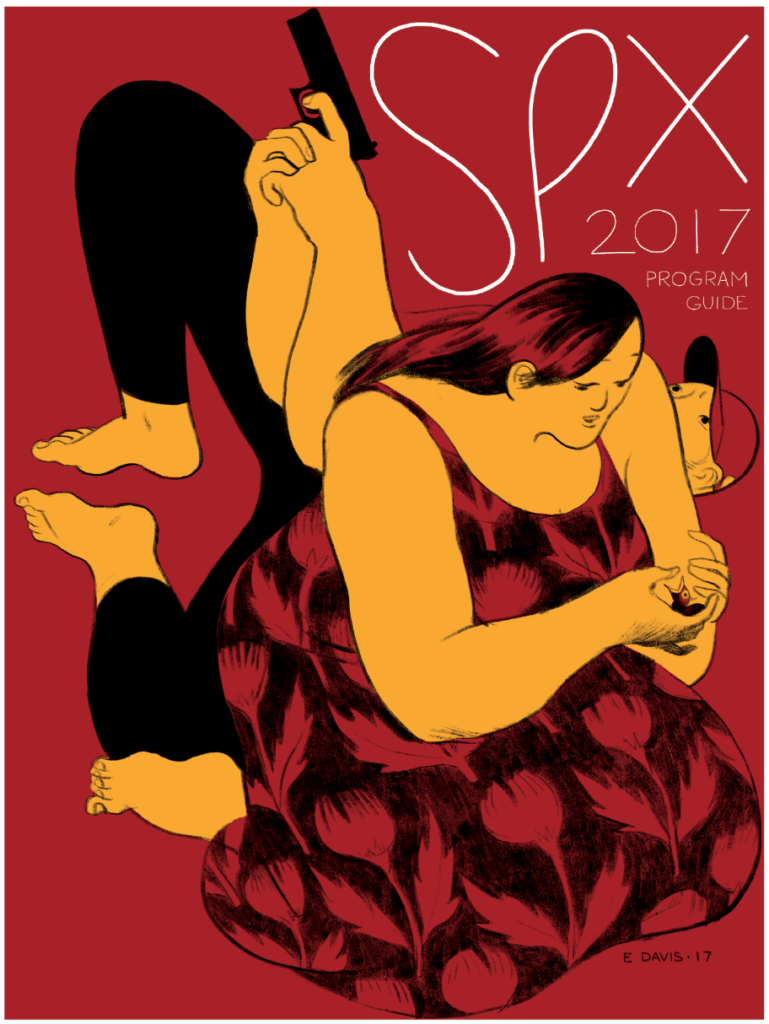 The SPX 2017 Program Guide cover by the exceptional Eleanor Davis
Small Press Expo (SPX) is the preeminent showcase for the exhibition of independent comics, graphic novels, and alternative political cartoons. SPX is a registered 501(c)3 nonprofit that brings together more than 650 artists and publishers to meet their readers, booksellers, and distributors each year. Graphic novels, mini comics, and alternative comics will all be on display and for sale by their authors and illustrators. The expo includes a series of panel discussions and interviews with this year's guests.
The Ignatz Award is a festival prize held every year at SPX recognizing outstanding achievement in comics and cartooning, with the winners chosen by attendees at the show.
As in previous years, profits from the SPX will go to support the SPX Graphic Novel Gift Program, which funds graphic novel purchases for public and academic libraries, as well as the Comic Book Legal Defense Fund (CBLDF), which protects the First Amendment rights of comic book readers and professionals. For more information on the CBLDF, visit their website at http://www.cbldf.org. For more information on the Small Press Expo, please visit https://www.smallpressexpo.com.