For Immediate Release
Contact: Catherine Fraas
Phone: (240) 393-6089
E-Mail: catherine@spxpo.com
Small Press Expo Announces the Richmond Public Library as the 2016 Recipient of the SPX Graphic Novel Gift Program
Washington, DC; September 13, 2016 – The Small Press Expo (SPX), the preeminent showcase for the exhibition of independent comics, graphic novels, and alternative political cartoons, is pleased to announce that the RichmondPublic Library was the 2016 recipient of the Small Press Expo Library Gift Program.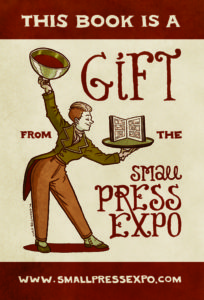 This program, the first of its kind in the United States, is an outright gift of graphic novels to the library as selected by the library's collections specialists, who selected 65 titles comprising 298 individual books.
There was a formal presentation of the books to Scott Firestine, Director of the Richmond Public Library by Small Press Expo Graphic Novel Gift Program Director Catherine Fraas on Saturday, September 10. The presentation was accompanied by special comics related events at the main library branch in downtown Richmond.
The books were selected by the library's collection staff from the offerings of publishers Fantagraphics, Top Shelf, Drawn & Quarterly, Adhouse Books, Cartoon Books, and Koyama Press, all of whom support this program.
The artist Lucy Bellwood designed a special bookplate that has been placed in all of the books donated by SPX. For more information on the SPX Graphic Novel Gift Program, go to http://www.spxpo.com/graphic-novel-gift-program.
SPX's Graphic Novel Gift Program is an expansion of the philanthropic and charitable endeavors that are part of its corporate charter, and is in addition to SPX's annual support to the Comic Book Legal Defense Fund. The targets of this program are public and academic library systems in the Washington, D.C. Metropolitan area as selected by the Small Press Expo.
The goals of this program are:
– to facilitate the availability of graphic novels to readers of all ages utilizing public and school libraries,
– to promote learning and literacy through the availability of graphic novels at local libraries, and
– to provide library systems with additional resources by which they can purchase graphic novels and comics.
SPX will be held Saturday, September 17 from 11am-7pm and Sunday, September 18, 12-6pm at the North Bethesda Marriott Convention Center in North Bethesda, Maryland. Admission is $10 for a single day and $15 for both days.
For further information on the Small Press Expo Graphic Novel Gift Program, please contact Catherine Fraas at catherine@spxpo.com.
For more information on the Small Press Expo, please visit https://www.smallpressexpo.com.