For Immediate Release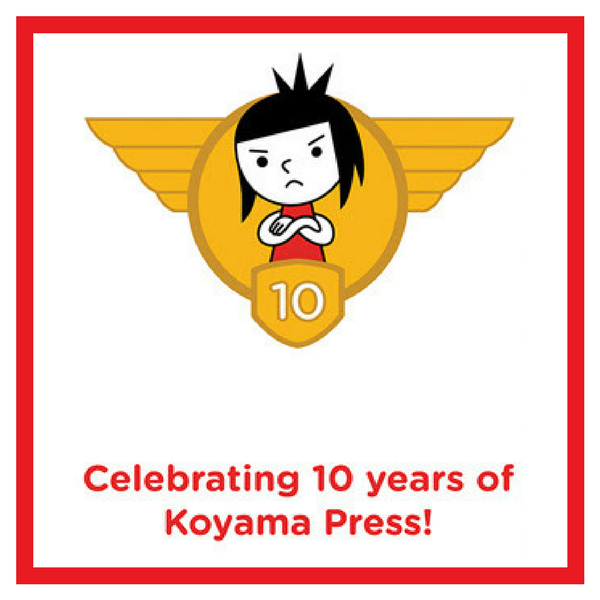 Contact: Warren Bernard
Phone: 301-537-4615
Email: warren@spxpo.com

Small Press Expo celebrates the 10th anniversary of Koyama Press
Bethesda, Maryland; August 3, 2017
Koyama Press has been making comics and art books for a decade, and Small Press Expo is excited to celebrate their anniversary year with them with an incredible slate of comics, programming and a number of other celebration surprises. Koyama Press guests will include Connor Willumsen, Noel Freibert, Eleanor Davis, Sophia Foster-Dimino and more.
Founded in 2007, Koyama Press is a Toronto-based small press. Our mandate is to promote and support a wide range of emerging and established artists. Projects include comics, graphic novels, art books, and zines. We are known for our alternative edge and diverse range of titles that include a myriad of genres from autobiography to photography, from horror to humour, and more.
Small Press Expo is proud to present the following programs highlighting the 10 years of Koyama Press:
Kick Ass Annie-versary: Koyama Press Turns 10
Annie Koyama has championed the work of emerging cartoonists for 10 years. As a leading publisher of underground comix, her roster features the work of many of today's top names in the indie comics scene, including Michael DeForge, Aidan Koch, Alex Schubert, Daryl Seitchik, and many more. Join KP alumni, new and old, in a very special panel spotlighting one our favorite curators of small press cartoonists and their work. Moderated by Rob Clough of High-Low.
Koyama & DeForge: Lose, Everybody Wins
For nearly a decade, Annie Koyama (Koyama Press) and Michael DeForge (Sticks Angelica, Folk Hero) have been wowing readers with their strange and darkly humorous, ongoing anthology series, Lose. Join us for a special conversation with a celebrated, master cartoonist and an award winning publisher as we take an insightful look at one of small press publishing's greatest partnerships. Moderated by Ryan Sands of Youth in Decline.
Full lineup as well as times and locations to be announced in the coming weeks.
Additionally, Koyama Press will be debuting its Fall 2017 releases at Small Press Expo, including Sophia Foster-Dimino's Sex Fantasy, GGs I'm Not Here, and Patrick Kyle's Everywhere Disappeared.
• Sophia Foster-Dimino's Sex Fantasy began as a loose, ephemeral zine that was produced in limited editions. These small comics in both size and length are esoteric and immensely personal. Covering a span of four years, the comics collected here build a relationship that is deeper than their elegantly drawn surfaces.
•In GG's I'm Not Here, a young, second-generation woman wanders through her city and memories encountering the world through a camera's lens; her independence pulled by the gravity of familial responsibility. She drifts until she encounters what could possibly be her potential self.
•A keen observer of the absurd, Patrick Kyle's stories in Everywhere Disappeared defamiliarize the machinations of life, work and art with droll dialogue and his angular, humanely geometric drawing and sci-fi settings that recall set design more than satellite images. Kyle's figures may be foreign, his settings strange, but his stories resonate deeply.
In the next few weeks, SPX will announce additional guests, special events, the 2017 Ignatz nominees and a full slate of programming.
Small Press Expo (SPX) is the preeminent showcase for the exhibition of independent comics, graphic novels, and alternative political cartoons. SPX is a registered 501(c)3 nonprofit that brings together more than 650 artists and publishers to meet their readers, booksellers, and distributors each year. Graphic novels, mini comics, and alternative comics will all be on display and for sale by their authors and illustrators. The expo includes a series of panel discussions and interviews with this year's guests.
The Ignatz Award is a festival prize held every year at SPX recognizing outstanding achievement in comics and cartooning, with the winners chosen by attendees at the show.
As in previous years, profits from the SPX will go to support the SPX Graphic Novel Gift Program, which funds graphic novel purchases for public and academic libraries, as well as the Comic Book Legal Defense Fund (CBLDF), which protects the First Amendment rights of comic book readers and professionals. For more information on the CBLDF, visit their website at http://www.cbldf.org. For more information on the Small Press Expo, please visit https://www.smallpressexpo.com.