BEHOLD!  THE SPX 2015 EXHIBITORS LIST!
The annual SPX exhibition is devoted to spotlighting the best and brightest talents in the comics medium. Please take some time to see where your favorite exhibitors will be around the show floor! We're so very happy to bring together this amazing group of creators for this year's show!
While you are basking in their reflected glory, don't forget to check out our full roster of SPECIAL GUESTS on their very own profile page.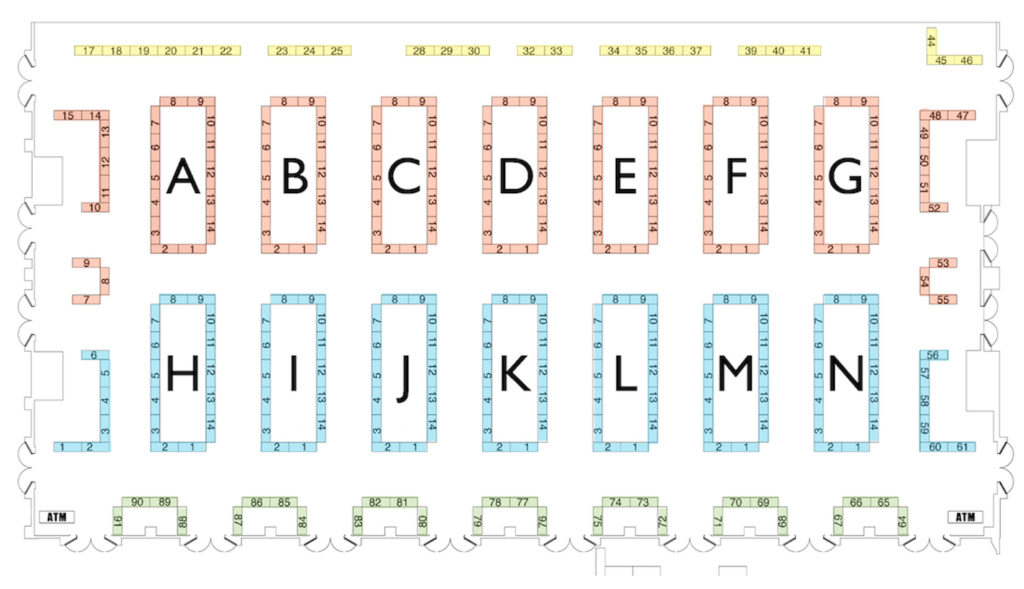 (Click the map to make it bigger!)
NOTE:  The exhibitor list is always in flux, so if believe you should be on it and you don't see your name, don't freak out.  Just drop us a line and we'll be happy to give you an update.  Keep calm and trust Sam.  Does something look funky?  Shoot us an email at Exhibitors@spxpo.com!
First Name

Last Name

Publisher

Location

2D Cloud

A10

Aaron

Cockle

A14

Aatmaja

Pandya

N4

Adam

Aylard

M12-14

Adam T.

Jones

H2

Aja

Moore

W83A

Al

Lukeheart

G2

Alan

Brown

F12

Alden

Viguilla

W36B

Alec

McGovern

G5B

Alex

Delaney

D1

Alex

Spiro

W76-78

Alexander

Gates

B8B

Alexandra

Beguez

F2

Alexis

Ziritt

W44-46

Ally Rom

Colthoff

L8-9

Alyssa

Truszkowski

Werdy Girl

A12B

Amanda

Spaid

H2

Amanda

Scurti

G7

Amanda

Coronado

W74

Amelia

Onorato

H4

Amy

Duengfelder

B8B

Amy

Godfrey

 Durham County Library

W7-8A

Ananth

Hirsh

W70B

Andrea

Kalfas

F6-7

Andrea

Tsurumi

M4

Andrew

Cohen

DC Conspiracy

W10-15

Andrew

Davis

A12B

Andrew

Izzo

I6

Andrew

MacLean

W44-46

Andy

Warner

C5

Andy

Burkholder

A10

Angela

Sprecher

I11B

Ann

Uland

H10-11

Ann

Couddou

W39

Anna

Bongiovanni

A12A

Anna

McGlynn

B13A

Anna

Ehrlemark

Floating World Comics / Study Group

J8-9

Anna

Sellheim

K10B

Anna

Petrillo

W48

Anne

Ishii

Massive Goods

L11B-12A

Anne

Thalheimer

M10

Annie

Stoll

C14

Annie

Koyama

Koyama Press

L1-2

Anthony

Meloro

A5A

Anthony

Clark

W23-25, W28-29

Arlin

Ortiz

C3

Audrey

Noguchi

E8

Avery Hill Publishing

D8

Autumn

Crossman-Serb

C8

Autumn

Haynes

G5A

Barbara

Geoghegan

B10B

Barbara

Guttman

B8A

Barry

Matthews

Secret Acres

L3-4

Becky

Dreistadt

W30

Ben

Horak

C6

Ben

Towle

Oni Press

E4B-5A

Ben

Steckler

Ben T. Steckler

J6

Ben

Sears

L1-2

Ben

Marra

N10

Bendik

Kaltenborn

W1-4

Benn

Ray

J7

Beth

Hetland

C5

Beth

Heinly

M5A

Betsy

Brock

E7

Big Planet Comics

D8

Birdcage Bottom Books

E14

Bill

Macken

L14

Bill

Griffith

W56-61

Bizhan

Khodabandeh

G12B

Blaise

Larmee

A10

Blue

Delliquanti

N12A

Bobby

Campbell

G14

Box

Brown

Retrofit Comics

D8

Brad

DeRocher

B2B

Brandon

Lehmann

D4

Brecht

Vandenbroucke

W1-4, W76-79A

Brendan

Colgan

M6

Brian

Elig

W75

Brian

Turner

N6B-7

Brooklyn Draw Jam

W75

Bruce

Worden

Black Market Books

I10

Bryan

Bornmueller

F4

C. Spike

Trotman

Iron Circus Comics

K9

Cailin

Marie

H2

Caitlin

Major

C1-2

Cameron

Nicholson

W36A

Campbell

Robinson

G14

Cara

Bean

E11B

Carey

Pietsch

B10A

Cari

Corene

Storyofthedoor

W74

Carla Speed

McNeil

W68A

Carlos Gabriel

Ruiz

F3

Carol

Dembicki

W10-15

Carolyn

Hinkson-Jenkins

School of Visual Arts

A2

Carolyn

Belefski

F14B

Carolyn C.

Nowak

B9

Cathryn

Virginia

B12

Cathy

Hannah

E12

Cathy G.

Johnson

N14

Catie

Donnelly

I12

CBLDF

Comic Book Legal Defense Fund

W84-87

Celine

Loup

H1

Joe

Davidson

K10B

Center for Cartoon Studies

K11

Charles

Forsman

K14A

Cheese

Hasselberger

J3-4

Chelsea

Carr

I5

Cheryl

Kaminsky

K2

Chris

Kindred

G3

Chris

Butcher

L10B-11A

Chris

Yates

W23-25, W28-29

Chris

Visions

W44-46

Chris

Pitzer

Adhouse Books

W53-55

Chris

Staros

Top Shelf Productions

W64-67

Chris

Ross

W64-67

Christian

Galuppi

L11B-12A

Christiann

MacAuley

I11A

Christina

Major

L8-9

Christine

Skelly

I5

Christopher

Southard

E5B

Christopher

Paulsen

L8-9

Christopher

Judge

N6A

Chu

B14A

Claire

Folkman

C7

Claire

Connelly

J1A

Clay

Yount

W89B-90

Cole

Closser

L1-2

Cole Zeus Jupiter

Morris

H6

Colleen

Venable

K3

Colleen

Lehmann

W83A

Corinne

Mucha

E11A

Coryn

LaNasa

L10A

Courtney

Menard

C13

Craig Coss

F2

Cricket Press

N6B-7

Cullen

Beckhorn

Neoglyphic Media

K12

Dakota

McFadzean

C6

Dan

Wyke

A12B

Dan

Stafford

Kilgore Books & Comics

I8-9A

Dana Jeri

Maier

H7A

Daniel

Spottswood

D14

Danielle

Corsetto

W33

Daryl

Seitchik

L1-2

DaShawn

Hall

Manneristic Studios

W18

Dave

Murray

Telegraph Gallery

B1

Dave

Kelly

So What? Press

B5A

Dave

Foland

F9

Dave

Roman

I1

Dave

McKenna

J3-4

Dave

Plunkert

N10

David

Nuss

G10

David

McGuire

K10A

David

Crispino

K4

David

Yoder

M12-14

David

McNeil

W68A

David

Ross

W9A

David

Mack

M12-14

Dax

Tran-Caffee

Failing Sky / Villainette

A13

Dean

Haspiel

Hang Dai Editions

W35

Dechanique

H1

Declan

McCarthy

B5B

Denis

St. John

M12-14

Denise

Clamors

W83B

Dennis

Last

W34

Derf

Backderf

G9

Diane

Huffman

W37

DJ

Wilkins

L7

Doug

Grove

H5

Drawn & Quarterly

W1-4

Dre

Grigoropol

A12B

Drew

MIller

K12

Drew

Weing

M12-14

Dustin

Harbin

L14

Dylan

Edwards

Northwest Press

H12A

Dylan

Horrocks

W56-61

Ed

Siemienkowicz

D13

Ed

Kanerva

L1-2

Ed

Piskor

N9

Ed

Luce

G11

Egypt

Urnash

D6

Eileen

McLain

C8

EJ

Barnes

Drowned Town Press

K6A

Eleanor

Davis

M12-14

Ellen

Lindner

D12A

Ellen

Levy

M7

Em

Huff

H1

Emi

Gennis

E9A

Emily

Gillis

Wayward Studios

F8

Emily

Parrish

W40B

Emily Forster

N4

Emma T.

Capps

C9

Eric

Colossal

C10

Eric

Boeker

D5A

Eric Alexander

Arroyo

N4

Erik

Siano

K7

Erika

Lane

Birdcage Bottom Books

E14

Ethan

Rilly

W53-55

Evan

Palmer

A11

Evan

Keeling

W10-15

Evan

Dahm

W32

Eve

Grandt

G13

Fala Lee

Hayes

F. Lee

B3-4

Fantagraphics

Fantagraphics

W56-61

Farel

Dalrymple

L3-4

Feifei

Ruan

F2

Floating World Comics

J8-9

François

Vigneault

Floating World Comics / Study Group

J8-9

Frank

Santoro

N8

Frank

Gibson

W30

Frans

Boukas

F13

Fred

Noland

W73

Frederik

Peeters

W21-22

G.E.

Gallas

I5

G.W.

Duncanson

K5

Gale

Galligan

W82

Gant

Powell

W75

Gemma

Correll

W69

Geoff

Vasile

W73

Geoff

Lapid

W76-78

Gina

Wynbrandt

A10

Georgia

Webber

D7B

Ginette

Montoya

J1A

Glenda

Villajuan

I4

Greg

Means

Tugboat Press

N2

Gregory

Benton

W35

H.

McGill

I2

H. Lela

Graham

W32

Haleigh

Buck

J7

Hallie

Burrier

W5

Harris

Smith

K5

Hazel

Newlevant

D10B

Heath

Walkemeyer

J6

Hic & Hoc Publications

M4

Hidden Fortress Press

K2

Hiro

Mcl

H13A

Hope

Wilder

Durham County Library

W7-8A

ian

densford

G5B

Ian

 Harker

Secret Prison

M5B

Ian

Black

W48

Ian

Higginbotham

A6A

Iasmin Omar

Aata

A4

Idiot Books

D2-3

Ignatz Voting

IGNATZ TABLE

W80

Iona

Fox

B13A

Isaac

Cates

E3-4A

Isaac

Klunk

I7A

Isabella

Rotman

D13

Isabelle

Melanon

M11

J. Chris

Campbell

G4

J.M.

Dragunas

W49

J.T.

Yost

Birdcage Bottom Books

E14

J.T.

Dockery

N6A

Jacob Monir

Canfield

B9

Jaime

Willems

L10A

Jaimel

Hemphill

NPC Comics

W37

James

Turner

G6

Jamie

Vayda

Birdcage Bottom Books

E14

Jane

Sands

L12B-13A

Janna

Morton

G6

Jared

Smith

D8

Jared

Cullum

G5A

Jason

Viola

E9B

Jason

Green

Ink and Drink Comics

F3

Jason

Leivian

Floating World Comics / Study Group

J8-9

Jason

Fischer

J8-9

Jason

Axtell

W10-15

Jason

Das

W75

Jason

Rodriguez

W10-15

Jason

Little

W20

Jay

Hosler

I13

Jaye

Collins

E6

JD

Glass

F4

Jeanne

D'Angelo

W1

Jeff

Whitman

NBM Graphic Novels

E1-2

Jeff

Zwirek

E13

Jeff

Sharp

K7

Jeff

Rowland

The Topatoco Corporation

W23-25, W28-29

Jen

Tong

K14B

Jenn

Woodall

H7B

Jenna

Workman

B8A

Jennie

Gross

W48

Jennifer

Weber

E6

Jennifer

Steiner

J10

Jennifer

Hayden

W64-67

Jenny Goldstick

F2

Jensine

Eckwall

C13

Jeremy

Tinder

E12

Jeremy

Whitley

Action Lab Comics

F9

Jeremy

Baum

W56-61

Jeremy

Sorese

W76-78

Jess

Fink

C10

Jess

Worby

W75

Jess Smart

Smiley

W64-67

Jesse

Mead

H4

Jessi

Zabarsky

N13

Jessica

Abel

W84-87

Jim

Coon

F14A

Jim

Safley

I11A

Jim

Rugg

N9

Jimmy

Reed

Cuddles and Rage

A1

Jimmy

Giegerich

F6-7

Jimmy

Malone

H2

Joan

Cornella

W56-61

Joe

Davidson

K10B

Joe

Procopio

Lost Art Books

M7

Joe

Infurnari

N5

Joe

Dunn

W88

Joe

Hunter

W89A

Joe

Carabeo

F14B

Joel

Alter

K14B

Joey

Weiser

M12-14

Joey

Joe Jo

N8

John

Gallagher

F5

John

Green

I1

John

Mc Farlane

J1B

John

Vestevich

I7B

John

Martz

L13B

John

Porcellino

I8-9A

Jon

Chad

N3

Jon

Rosenberg

W23-25, W28-29

Jonathan

LaMantia

D13

Jonathan

Baylis

G1

Jonathan

O'Briant

K13

Jonx

Rainer

H6

Jordan

Jeffries

J7

Jordan

Shiveley

A8-9

Jordan

Witt

I12

Jorge

Santiago

J13

Josceline

Fenton

B7A

Joseph

Carlough

Microcosm Publishing

A3

Josh

Kramer

C5

Josh

Bayer

D9-10A

Josh

Lees

W19A

Josh

O'Neill

Locust Moon

L5

Josh

Neufeld

W35

Joshua

Frankel

Z2 Comics

J5

Joshua W

Cotter

Fantagraphics / Adhouse

D14

Joyana

McDiarmid

W19A

JP

Coovert

One Percent Press

N14

JR

Zuckerberg

H9

JT

Wilkins

W10-15

Jude

Killory

H8

Julia

Gfrörer

M1

Julia

Pohl-Miranda

Drawn & Quarterly

W1-4

Julian

May

W40A

Julian

Hanshaw

W64-67

Justin

Skarhus

A10

K.

Sekelsky

M3A

Kali

Ciesemier

F6-7

Kane

Lynch

W40B

Karla

Pachecho

W23-25, W28-29

Kat

Roberts

K1

Kat

Feete

L8-9

Kat

Fajardo

A4

Kata

Kane

L8-9

Kate

deNeveu

B1

Kate

Lacour

J3-4

Kate

Beaton

W1-4

Kathryn

Immonen

W53-55

Kati

Driscoll

F12

Katie

Haegele

A3

Katie

Fricas

H8

Katie

Skelly

J11B

Kayla

Davis

Kayla Davis

E7

KC

Green

W23-25, W28-29

Keiler

Roberts

E10B

Keith

Mayerson

A2

Keith

McLean

C1-2

Keith

Knight

W51

Kelly

Bastow

C1-2

Kelly

Phillips

C7

Kelly

Miller

M3B

Kelsey

Short

K14B

Kenan

Rubenstein

E12

Kevin

Bolk

C4

Kevin

Budnik

K5

Kevin

Hooyman

J8-9

Kevin

Panetta

M8

Kevin

Czapiewski

N13

Kevin

Galeazzi

W8B

Kevin Jay

Stanton

C14

Kitty N.

Wong

W75

Kou

Chen

N4

Koyama Press

L1-2

Kris

Mukai

C3

Kris

Dresen

F4

Kristen

Gudsnuk

I4

Kristen

Wolfe

W89B-90

L.

Nichols

A14

Lara

Antal

So What? Press

B5A

Laura

Lannes

D10B

Laura

Knetzger

D7B

Laura

Terry

N3

Laura D.

Graves

Laura D. Graves

J2A

Lauren

Jordan

N12B

Leah

Walton

W64-67

Leigh

Luna

A11

Leigh

Walton

W64-67

Leila

Abdelrazaq

Just World Books

J2B

Leon

Avelino

L3-4

Lex

Skotty

I6

Lilli

Carre

W81A

Lisa

Eisenberg

F11A

Lisa

Hosler

I13

Liz

Reed

A1

Liz

Hastings

H5

Liz

Suburbia

W44-46, W56-61

Luke

Humprhis

C1-2

Luke

Janes

I8-9A

Luke

Pearson

W79A

Lupi

McGinty

E3-4A

M.

Bennardo

M3A

M.R.

Trower

H9

Maggie

Siegel-Berele

G6

Marc

Arsenault

Alternative

G10

Margaret

Trauth

D6

Margreet

de Heer

NBM Graphic Novels

E1-2

Maria

Hoey

K6B

Maritsa

Patrinos

C3

Mark

Rudolph

N6B-7

Mark

Burrier

W5

Mark

Britt

Image, Candlewick

W73

Marnie

Galloway

E12

Mathew

New

B14B

Matt

Deans

G2

Matt

Silady

California College of the Arts, MFA in Comics

J14

Matt

Young

M10

Matt

Ame

Hic & Hoc Publications

M4

Matt

Sandoval

N1

Matt

Cummings

N12B

Matt

Czap

N13

Matt

Dembicki

W10-15

Matt

Bors

W52

Matt Boyd

W23-25, W28-29

Matthew

Hoddy

C1-2

Matthew

Taylor

H6

Maureen

Sullivan

H2

Max

Currie

J13

Maya

Bradford

G9

MC

Wolfman

A6A

McPedro

W33

Meags

Fitzgerald

L1-2

meg

gandy

G3

Megan

Brennan

C8

Megan

Kearney

G13

Megan

Lavey-Heaton

M11

Megan

Baehr

N1

Meghan

Hogan

A10

Meghan

Turbitt

M5A

Melissa

Duffy

B12

Melissa

Esner

G9

Melissa

Mendes

K14A

Melissa

Albino

M11

Meredith

Gran

E10A

Michael

Rapa

Pearson Publishing

B10B

Michael

DeForge

L1-2

Michael

Spanier

M11

Michael

Bukowski

F12

Michael

Bracco

Spaghetti Kiss

W91

Michael Lee

Schroth

G14

Michel

Fiffe

K1

Mike

Holmes

E10A

Mike

Freiheit

E13

Mike

Wenthe

E3-4A

Mike

Bencze

H6

Mike

Czaps

H6

Mike

Riley

K4

Mike

Cowgill

W10-15

Miles

Cook

B5B

Miss

Lasko-Gross

J3-4

Mittie

Paul

D5B

MK

Reed

N2

Molly

Ostertag

B6B

Monica

Gallagher

W34

Morgan

Sawyer

W40A

Mouna

Toure

B3-4

Msami

Kiyono

F2

Muriel

N6B-7

Myken

Bomberger

H9

Nan

Roberts

W10-15

Nate

Dray

Diluvian Enterprises

F10

Nate

Powell

W64-67

Nathan

Fox

W44-46

Nathan

Tersteeg

A5A

NBM Graphic Novels

E1-2

Nechama

Frier

B3-4

Neil

Brideau

Radiator Comics

E12

Neil

Bramlette

Out of Step Arts

W44-46

Ngozi

Ukazu

W82

Nguyen

Nguyen

W48

Nick

Potter

B11A

Nick

Bertozzi

W20

Nickelodeon

F1

Noah

Van Sciver

I9B, W56-61

Nobrow

W76-78

Noel

Freibert

L1-2

Noelle

Stevenson

W71

Nora

Schaefer

L7

Olivia

Ramsey

W83A

Olivier

Morel

NBM Graphic Novels

E1-2

Out of Step Arts

W44-46

Pablo

Castro

A4

Pat

Barrett

C6

Pat

Kain

A6A

Patricia

Tran

W48

Patrick

Holt

Durham County Library

W7-8A

Paul

Hostetler

I7A

Paul

Lyons

Hidden Fortress Press

K2

Paul

Reinwand

C14

Paula

Bomfim

W72A

Paulina

Ganucheau

M8

Penina

Gal

E12

Peow! Studio

D8

Pete

Sickman-Garner

I10

Peter

Kuper

W21-22

Phil

Kahn

Guilded Age

I14

Phil

Rearich

J6

Phil

Chan

Digital Pimp

W88

Phillipa

Rice

W79B

Pranas T.

Naujokaitis

M2

Rachel

Dukes

G1

Rachel

Ray

Atomic Book Company

J7

Rachel

Whang

J7

Rachel

Maves

W40A

Rafer

Roberts

W10-15

Raighne

Hogan

2D Cloud

A10

Rainy

B3-4

Ramon

Gil

Scifies

I4

Rawn

Gandy

G2

Ray

Nadine

W83B

Reid

Psaltis

E12

Reilly

Hadden

B13A

Rel

C8

Retrofit Comics

D8

Richie

Pope

W36A

RM

Rhodes

H13B-14

Rob

Kirby

Ninth Art Press, Northwest Press

H12B

Rob

Sergel

L3-4

Robbi

Behr

Idiot Books & Bobbledy Books

D2-3

Robert

Ullman

G4

Robin

Ha

B5A

Robyn

Chapman

Paper Rocket

D11

rocketpony

I3

Ross

Nover

W89B-90

Rune

Ryberg

Adhouse Books

W53-55

Ryan

Sands

Youth in Decline

L12B-13A

Ryan

Cecil Smith

W50

Ryan Weber

F2

S.M.

Vidaurri

N4

Sabin

Cauldron

H8

Sally

Cantirino

D9-10A

Sam

Laggren

B11B

Sam

Bosma

F6-7

Sam

Henderson

G10

Sam

Spina

I8-9A

Sam

Alden

J11A

Sam

Humphrey

Self Made Hero

W21-22

Sam

Bosma

W76-78

Sandra

Chamberlain

K8

Santiago

Casares

W10-15

Sara

McHenry

C11

Sara

Lautman

H8

Sarah

Martinez

Interrobang

C4

Sarah

Becan

E3-4A, E12

Sarah

Dray

F10

Sarah

Ferrick

A10

Sarah

P

H13B-14

Sarah

Stevens

K13

Sarah

Turner

Cricket Press

N6B-7

Sarah

Hanshaw

W64-67

Sarah

Schanze

I2

Savannah

Zambrano

E5B

Scott

Roller

Rapt Studios

D1

Scott

Roberts

E10B

Scott

Sugiuchi

J7

Scott

McCloud

W84-87

Sean

Azzopardi

Sean Azzopardi

B7B

Sean

Ford

K3

Sean T.

Collins

M1

Secret Acres

L3-4

Self Made Hero

W21-22

Shannon

Wright

G3

Shannon

Wheeler

W64-67

Shirley

Jackson

Manneristic Studios

W18

Simon

Reinhardt

B13B

Simone

Nemes

G2

Sonia

Liao

A5B

Sophia

Weideman

M5A

Sophie

Goldstein

J12

SpaceMouse

Alastere

I3

Sparkplug

N11

Starren

Piece

B6A

Stasia

Archibald

J2A

Stephanie

Zuppo

H4

Stephen

Betts

D12A

Stephen

Vrattos

Fanfare-Ponent Mon

M9

Stephen

Floyd

N14

Steve

Cerio

G10

Steve

Steiner

Mullet Turtle Comics

J10

Steve

Conley

L6

Steven

Younkins

H5

Stuart

Immonen

W53-55

Study Group Comics

J8-9

Sydney

Cook

W39

T.J.

Kirsch

G1

Tabitha

Ramsey

W83A

Tait

Howard

M2

Tara

O'Connor

J1B

Ted

Rall

G8

Telegraph Gallery

B1

Teresa

Logan

W10-15

Terry

Nantier

NBM Graphic Novels

E1-2

Terry

Flippo

F14A

The Topatoco Corporation

W23-25, W28-29

Theo

Ellsworth

L3-4

Theora

Kvitka

J12

Thu

Nguyen

W48

Tim

Ferrara

C14

Tim

Chamberlain

Perigee

K8

Timothy

O'Briant

K13

Toby

Cypress

W44-46

Tom

Kaczynski

Uncivilized

A8-9

Tom

McHenry

C12

Tom

Hart

Sequential Artists Workshop

D9-10A

Tony

Breed

D7A

Top Shelf Productions

W64-67

Tory

Wallington

B3-4

Trevor

Henderson

H7B

Trung

Ngyuen

C9

Tucker

Stone

W76-78

Tyler

Hutchinson

W23-25, W28-29

Tyler

Boss

C13

Uncivilized

A8-9

Ursula

Minervini

H3

Ursula Murray

Husted

F4

Vanessa

Satone

G13

Virginia

Paine

Sparkplug

N11

Vivienne

Sharp

K7

Vreni

Nope

A4

Warren

Craghead

B2A

Wendy

Xu

C9

Whit

Taylor

K5

Will

Laren

W72A

Will

Dinski

W72B

William

Cardini

N11

Wyeth

Yates

G7

Yao

Ziao

W81B

Youth In Decline

L12B-13A

Yuko

Ota

W70B

Zach

Mason

K5