Step Three: Enter Registration Information
After filling your cart with tables and badgy goodness, you'll need to enter your registration info.
Don't freak out!  There is a lot on this page but it is really easy.
The stuff on the left, we'll use both for processing your payment and for your SPX registration info.
That right-hand column is just space for badge names. It would be exceedingly awesome if you would take a moment to enter the names of the folks in your group. That way they can all have fancy pre-printed badges ready when they arrive.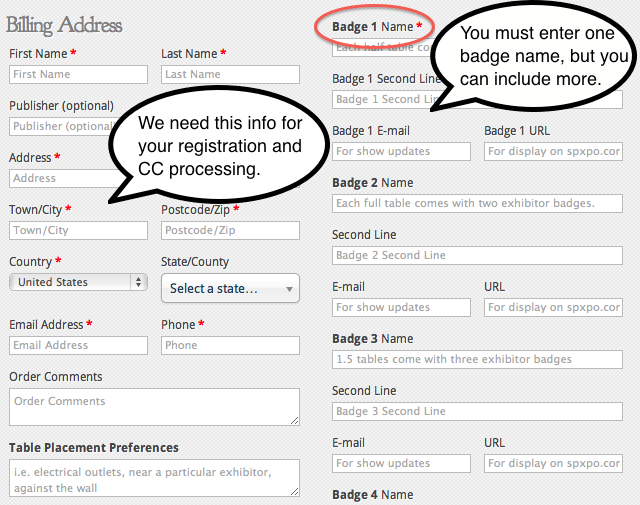 You'll find the Payment button at the bottom of the page, which will take you to Step Five: Processing Your Payment.
---
Online Registration Walkthrough
Step One: Get Your Logon ID/Password and Logon!
Step Two: Fill Your Cart
Step Three: Enter Registration Information (You are here)
Step Four: Processing Your Payment
Step Five: Sweet, Sweet Victory
---
Questions about Online Registration?
Email: exhibitors@spxpo.com, or hit us up via Twitter or Tumblr. But before you do that, check the handy dandy FAQ.