Step Six: Sweet, Sweet Victory
After you've clicked Confirm and Pay your work is done!  You'll see a confirmation of your table and badge order along with any additional information you entered in the registration process. An email confirmation is also headed your way.
Don't sweat typos or other small changes. We can handle them for you after the initial table registration is complete.
For now, congratulations!  You're all set for the show!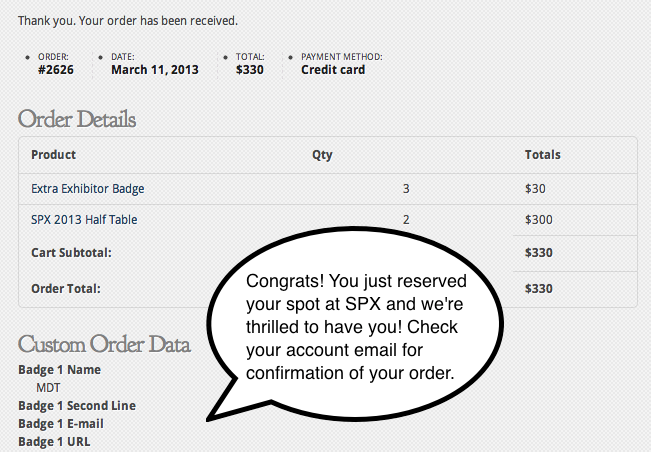 The Wait List
Table space is limited at SPX and a sellout of the exhibitor hall is pretty much guaranteed.
We will have a wait list that picks up when tables are sold out. Please use this list!
Every year many folks pick up tables because of cancellations or our ability to tweak the layout.
We're thrilled about this year's show and can't wait to see you there!
---
Online Registration Walkthrough
Step One: Pick Your Payment
Step Two: Fill Your Cart
Step Three: Enter Registration Information 
Step Four: Processing Your Payment
Step Five: Sweet, Sweet Victory (You are here)
---
Questions about Online Registration?
Email: exhibitors@spxpo.com, or hit us up via Twitter or Tumblr. But before you do that, check the handy dandy FAQ.