Step Three: Double Check Everything
Verification
As you click Add to Cart, look for the small purple Check next to the product you just ordered.
View Your Cart
Once you're finished adding items, scroll to the bottom of the Order page and you'll see your cart, ready for review.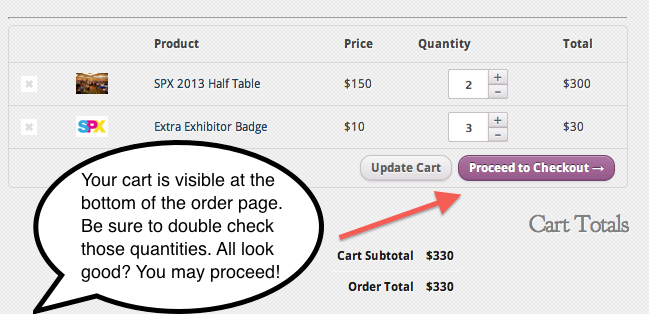 All set?  Then click Proceed to Checkout and get ready for Step Four: Enter Registration Information.
---
Online Registration Walkthrough:
Step One: Get Your Logon ID/Password and Logon!
Step Two: Fill Your Cart
Step Three: Double Check Everything (You are here)
Step Four: Enter Registration Information
Step Five: Processing Your Payment
Step Six: Sweet, Sweet Victory
---
Questions about Online Registration?
Email: exhibitors@spxpo.com, or hit us up via Twitter or Tumblr. But before you do that, check the handy dandy FAQ.