There are two items available for purchase: tables and extra exhibitor badges.
Your shopping cart starts Empty, so click on the appropriate icon and then click "Add to Cart".
Buying Tables
For ease of managing inventory, we are selling tables in half-table increments (3 feet). So, perhaps obviously, double your quantity relative to the number of full tables you need.  Be sure to click "Add to Cart" before moving on.
Buying Extra Badges
Each half table comes with one exhibitor badge (3 full tables = 6 badges, etc.). You do NOT have to order those badges, but you will need to provide the names of the people in the next step/when you Checkout..
Need more badges than what you get with your table(s)?
Just edit the badge quantity and  add them to your cart.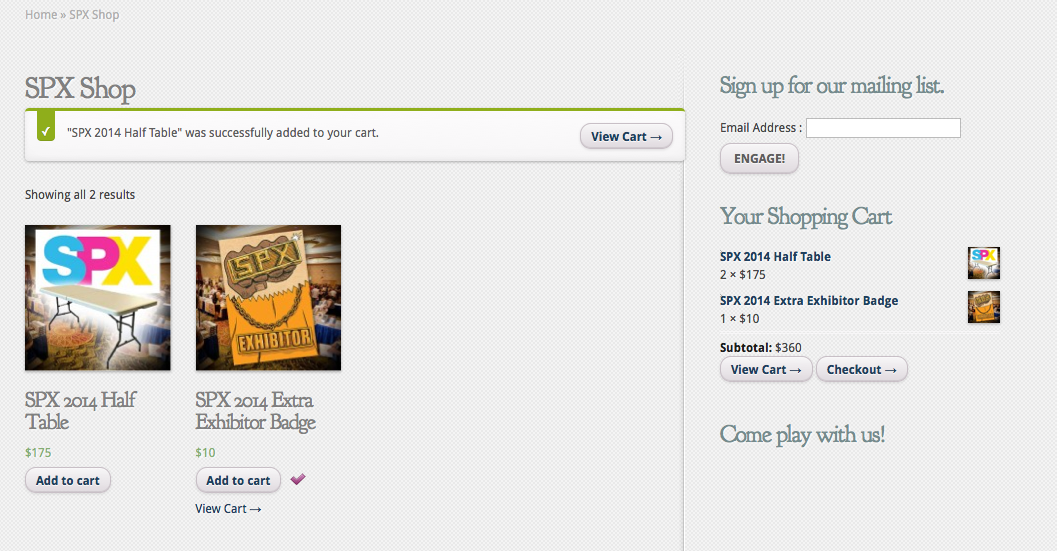 Once you've added your items, you'll see a summary of your order on the right hand side of the page.
Hit the Checkout button and away you go to Step Three: Enter Registration Information.
---
Online Registration Walkthrough
Step One: Get Your Logon ID/Password and Logon!
Step Two: Fill Your Cart (You are here)
Step Three: Enter Registration Information
Step Four: Processing Your Payment
Step Five: Sweet, Sweet Victory
---
Questions about Online Registration?
Email: exhibitors@spxpo.com, or hit us up via Twitter or Tumblr. But before you do that, check the handy dandy FAQ.