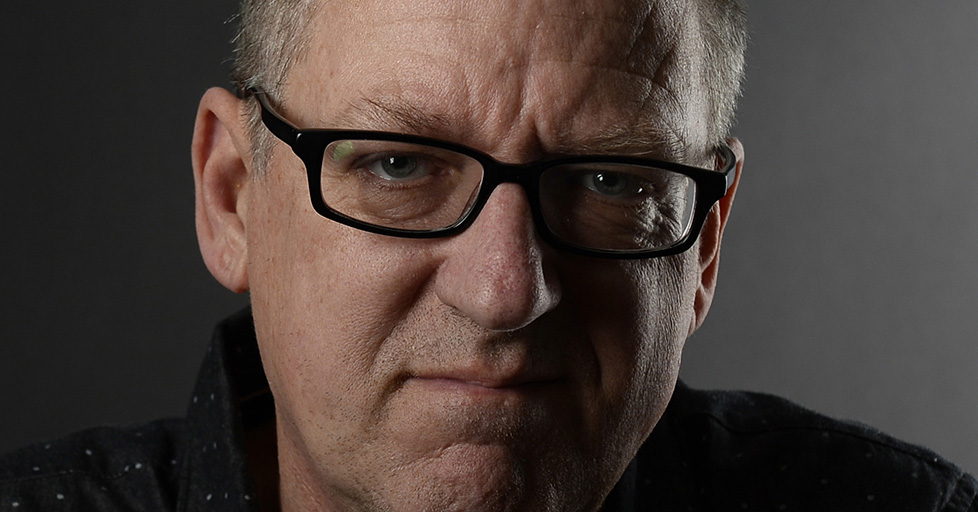 John Derf Backderf was born and raised in a small Ohio town outside of Akron. At age 8, he discovered comic books at the town's corner drug store and was doomed.
After a brief stint at art school, he dropped out and worked on the back of a garbage truck for a year, where he picked up the eventual pen name "Derf."
He later attended Ohio State University on a journalism scholarship and was a political cartoonist for the student paper, The Lantern, for three years. Derf began his professional career as a political cartoonist for a paper in South Florida, but was fired after two years for, as the editor put it, "general tastlessness."
In 1990, his freeform comic strip THE CITY debuted in The Cleveland Edition, beginning a 24-year run. THE CITY appeared in nearly 150 weekly papers around the country, including the DC City Paper and Baltimore City Paper, and won a Robert F. Kennedy Award for political satire.
When weekly papers began to fail, Derf abandoned strips for books. His first graphic novel, PUNK ROCK & TRAILER PARKS (SLG Publishing, 2009), a bawdy fictional account of the punk rock scene in Akron, Ohio, was cited by Booklist as "one of the stand-out graphic novels of the year." It became a bestseller in France after its 2014 release there and was awarded the Prix Bulles Zik literary prize.
Derf's most famous graphic novel is MY FRIEND DAHMER (Abrams Comicarts, 2012), a haunting account of his teenage friendship with the future serial killer. Time magazine listed it as one of the five best non-fiction books of the year. It received an Alex Award from the American Library Association, one of only ten books honored. It has been translated into 15 languages and was awarded an Angoulême Prize at the Angoulême International Comics Festival in France, as well as the Priz du Polar and Prix Literarie, the top scholastic book award, both in France. The film adaptation of MY FRIEND DAHMER premiered at the Tribeca Film Festival and played in cinemas in the US and abroad throughout 2017 and 2018.
His next graphic novel, TRASHED (Abrams Comicarts, 2016), inspired by his garbage truck career, won an Eisner Award, and was named book-of-the-year by the Green Party of France. TRASHED is also in development as a film project.
His most recent book is KENT STATE: FOUR DEAD IN OHIO (Abrams Comicarts, 2020). The Library Journal calls it "Incendiary. Required reading for all Americans." It was named book-of-the-year by Publisher's Weekly. KENT STATE won and Eisner for Best Nonfiction Graphic Novel, and a Ringo Award in the same category, as well as
the French Critics' Prize, and Derf's second Alex Award from the ALA.
Backderf has also been nominated for multiple Eisner and Ignatz Awards, as well as Harvey and Reuben Awards.
Derf lives in Cleveland, for reasons he can no longer remember.