Joel Priddy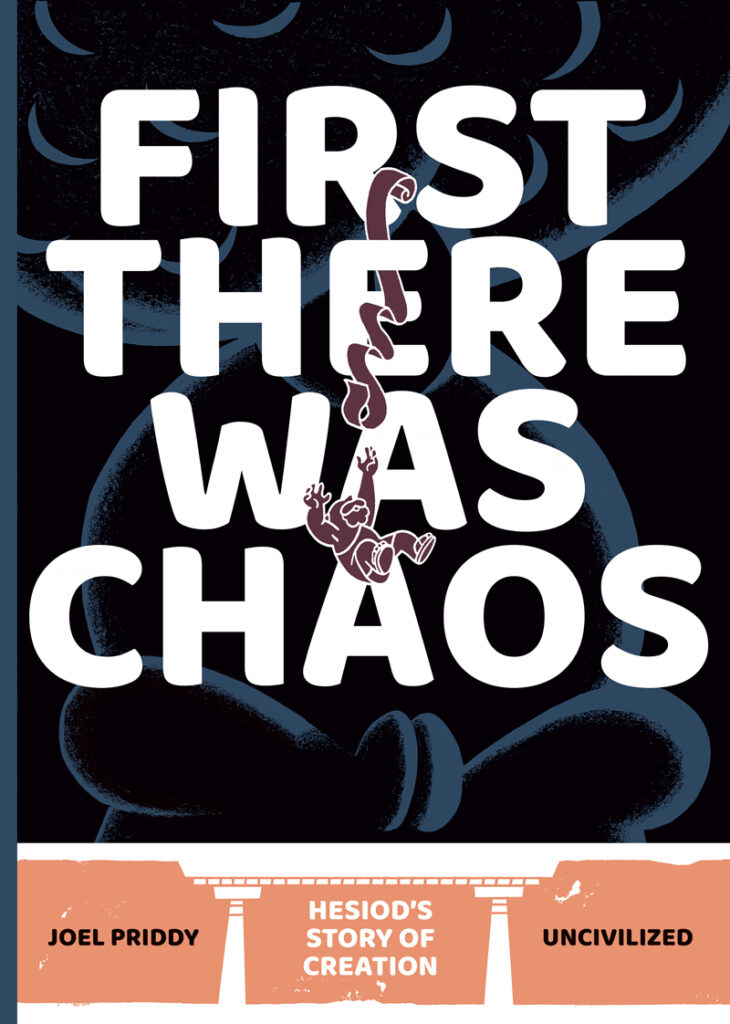 SPX Table W47-49
$34.95
Adults Only
Category: Fantasy, History, and Other
Hardcover, 232 pages, Color

"By adapting the very oldest of origin stories into 21st-century comics, Joel Priddy has jolted a forgotten text into life for modern readers. [First There Was Chaos] is inventive: handsomely wrought, and a darn fun read."
—Paul Karasik, How To Read Nancy

"This book exists on its own singular delightful frequency of sophisticated simplicity."
—Ben Acker, The Thrilling Adventure Hour

"The concept of evolution, of refinement, across generations from chaos to something perfect and good, which is at the heart of all Greek myth, is so apparent and central that this rings truer as an adaptation of myth than probably any comic I've ever read before."—Benito Cereno, Tales from the Bully Pulpit

"A formative tale about the act of creation in all forms — from the gods forming the universe out of the void of nothingness, down to the equally daunting prospect of the blank page for a poet's psyche — this is a fable of immense time and scope."
—Colin West MacDonald, Linoleum

Greek myth has inspired stories and art for millennia. And yet some stories and characters remain unfamiliar. First There Was Chaos explores the formless, primordial, and extraordinary forces that preceded the Olympian gods. These tales of Creation illustrate the creative process, giving cosmic form to the universal struggles of all creators.

Framing the narrative is the story of a poet struggling with his act of Creation, hoping to transform nothingness into beauty. His struggles parallel the tales of primordial beings, from the ambitions of formless Chaos to the birth of the first Olympian, Aphrodite.

Based on Hesiod's Theogony and other classic sources, First There Was Chaos synthesizes fragmentary myths into a compelling narrative accessible to a contemporary audience.

Joel Priddy is the creator of Pulpatoon: Pilgrimage (AdHouse Books) and The Gift of the Magi (HarperCollins). He has won several industry awards, including the Ignatz Award for Outstanding Debut, and has been nominated for several Eisner Awards, including Best Graphic Novel and Best Single Issue Comic. His work was included in The Best American Comics and The New York Times.