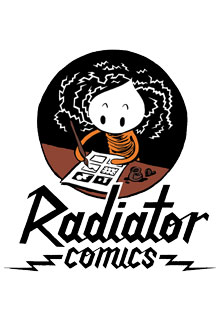 Radiator Comics distributes small press and self-published comics by over 200 emerging cartoonists! Launched in Chicago in 2014, Radiator Comics' goal is to expand the number of people who enjoy reading smart, sincere, and inventive comics. We do this by seeking out publications that are under the radar, and work to carry, promote, and sell them to individuals, bookstores, and libraries.
In addition to distribution, Radiator Comics publishes original comics by exciting new cartoonists, like Drew Lerman, Whit Taylor, Dave Ortega, Sam Sharpe & Peach S. Goodrich, and Coco Picard. In 2019, Radiator Comics received an Ellies Award from Oolite Arts and a Knight Arts Challenge Grant to produce publications and programming to engage South Florida with its cartooning community!
At SPX we're excited to be hosting three fantastic cartoonists whose work we distribute:
Audra Stang, The Audra Show
Lillie J. Harris, Wilderness
Mike Centeno, Futile Comics
Drew Lerman will be visiting the table to sign his Ignatz Award-nominated comic, Tales of Old Snake Creek
Neil Brideau will be on hand, staffing the table!
Radiator Comics is thrilled to be involved with three of the five Ignatz Award nominees in the Outstanding Series category!
Visit Radiator Comics's web site
SPX Table i9
Book Signings
Saturday
Audra Stang 4 – 7pm
Drew Lerman 3 – 4pm
Lillie J. Harris 1:30 – 5:30pm
Mike Centeno 11am – 3pm
Neil Brideau 11am – 1:30pm & 5:30 – 7pm
Sunday
Audra Stang 2 – 6pm
Drew Lerman 12 – 1pm
Lillie J. Harris 12 – 3pm
Mike Centeno 3 – 6pm
Neil Brideau 1 – 2pm