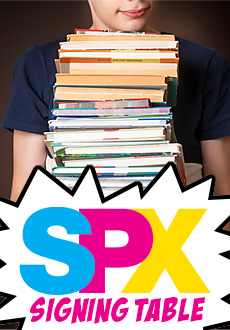 The SPX Signing Table is where Special Guests whose publishers are not at the show sign their books.
SPX is proud to host the following Special Guests for book signings at Table W87:
Visit SPX Signing Table's web site
SPX Table W86-87
Debuts
Bill Griffith looks at the life of Ernie Bushmiller and his influential comic strip Nancy in Three Rocks
Mariko and Jillian Tamaki's chronicles a queer adult relationship in New York City in Roaming.
Leslie Stein talks about the decision to reproduce in I Know You Rider.
Book Signings
Saturday
Bill Griffith
Noon-1PM and 5-6PM
Leslie Stein
Noon-1pm and 4-5PM
Sunday
Bill Griffith
Noon-1:00pm
Jullian and Mariko Tamaki
12:30-1:30pm and 3:30-4:30pm
Leslie Stein
Noon-1PMPM