Kevin Alvir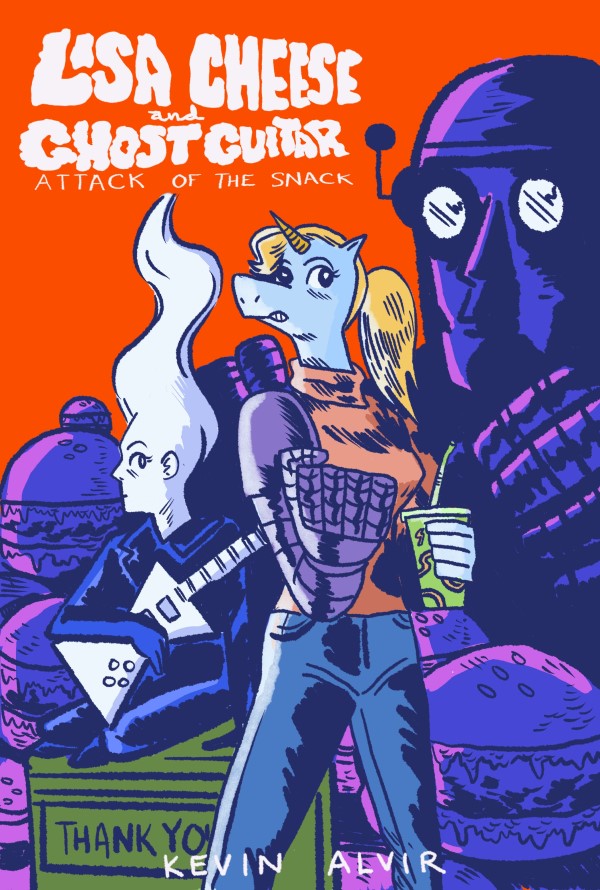 SPX Table W56-W59
$19.99
Published by Top Shelf Productions
Young Adult (13–17 years old)
Category: Fantasy
Lisa is a sweet unicorn girl with a cyborg arm… and anger issues… who's late for her first day of work. And if this occult fast food chain's minions don't stop attacking, she'll never achieve her dream of making it as a musician!

"Combining a vintage comics aesthetic with vibrant, saturated colors… this fun and chaotic comic evokes underground punk zines through its blend of anger, heart, and anti-corporate themes. Lisa's self-doubt and journey to find her place and purpose will resonate, particularly with older teens and new adults, while the absurd hilarity and exciting action sequences will keep readers captivated." — Kirkus Reviews

"Lisa Cheese and Ghost Guitar brought me back to the days when reading comics was taboo, full of subversion, provocation, and excitement. Alvir is a master of this style… I couldn't imagine a more perfect caper about magically corrupted foodstuffs, and that's just the beginning!" —Steve Orlando, writer of Scarlet Witch, Supergirl, and Midnighter

"This is raw and passionate cartooning that slaps. Visceral and violent one moment and endearingly cute the next, Lisa Cheese will charm anyone looking for a vigorous blast of pure comics." —James Kochalka, creator of Johnny Boo, Banana Fox, and American Elf

"An utterly unhinged comic overflowing with wit, absurdity, and pure childlike energy. Kevin Alvir delivers one infectiously memeable panel after another. Highly addictive reading." —The Comic Book Couples Counseling Podcast

"This book is an insane delight, blending the struggle of life's mundanities with fun larger-than-life elements to create a fully realized yarn about finding your place amid all the craziness. Where else are you gonna see such dynamic rage over non-dairy coffee? I loved the heck out of it." —Nick Cagnetti, writer/artist of Pink Lemonade

Lisa Cheese moved to Earth City hoping to make a name for herself as a folk singer… but her very first open mic was a disaster, leaving her with a bionic arm and an identity crisis. Now she's starting a crummy office job, her parents back in their home dimension are laying on the guilt trip, her sister's acting smug, and the cool girl at the record store leaves her tongue-tied. But none of that will matter if the city's demonic new burger corporation achieves its evil ambitions: Lisa's very life is at stake! Fortunately, she has allies…

The astounding first graphic novel from artist/musician Kevin Alvir is packed with off-the-charts creativity and electric energy, blending vintage comic-book aesthetics with contemporary concerns and crusty lo-fi passion. Once you meet Lisa Cheese you'll never be the same!