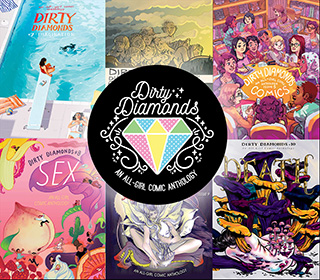 Dirty Diamonds is an award-winning all-girl comic anthology edited and published by cartoonists Kelly Phillips & Claire Folkman.
Founded in 2011 out of Philadelphia, the goal of Dirty Diamonds has been to give women and femme comics creators a dedicated outlet for telling their stories, and hundreds of artists from around the world have contributed their semi-autobiographical works, highlighting both their talents and unique experiences across 10 volumes. Each issue features comics around a central theme, including: Beauty, Imagination, Being, Sex, and Death.
Dirty Diamonds has been awarded the Philly Geek Award for Comic Creators of the Year (2015) and the DiNKy Award for Outstanding Anthology (2017). All volumes of Dirty Diamonds are also featured in the permanent comics collection at the Library of Congress.
The tenth installment of Dirty Diamonds represented the final installment of the original all-girl comic anthology series. The future of Dirty Diamonds is in the making! dirtydiamonds.net | @dirtydiamondsyo
About the editors:
Kelly Phillips is a cartoonist and illustrator in Philadelphia. Her comics are frequently based on her own life and experiences. She is the creator of Weird Me, the story of her teenage years as the moderately successful webmaster of a "Weird Al" Yankovic fan site, and she continues to channel her embarrassing personal history into comics as a cheap form of therapy. kellyphillips.net | @kellypcomics
Claire Folkman is an artist living and working in Philadelphia, PA.  She creates out of Mercer Street Studios where she makes comics, collages, videos and costumes. clairefolkman.tumblr.com | @clairefolkman / @clairecatharine
Visit Dirty Diamonds's web site
SPX Table L3
Book Signings
The editors of Dirty Diamonds will be available all weekend to sell and sign books! Find Kelly & Claire at Table L3 with all volumes of Dirty Diamonds – including the latest installment, Dirty Diamonds #10: DEATH – along with their own personal comics & art.
You can also find TONS of past Dirty Diamonds contributors at SPX all weekend long who will have their own comics and wares for sale and signing (and possibly some copies of Dirty Diamonds too)!
See below for the complete list of Dirty Diamonds alumni that will be exhibiting at this year's show:
Sage Coffey – W33A
Soumya Dhulekar – A4B
Emily K – H7
Glynnis Fawkes – W62
Ashanti Fortson – N6B
Shauna Grant – I12B
Alex Graudins – K7
Miranda Harmon – I5B
Beth Heinly (The 3:00 Book) – F4B
Stephanie Mannheim – K6B
Rebecca Mock – H12B
Hazel Newlevant – G5A
Carey Pietsch – J6B
Emily Ree – E9
Tia Roxae – W26B
Anna Sellheim – W12B
Spratty Lin – H7
Vreni Stollberger – K6A